Seeded growth of gold nanoparticles in aqueous solution of cationic gemini surfactants with different spacer length: influences of molecular and aggregate structures
Abstract
It is well known that surfactants play a vital role in aqueous-phase synthesis of gold nanoparticles (GNPs). However, to date, it remains challenging to fully elucidate the roles of surfactants, especially for the correlation between the molecular and aggregate structure of the employed surfactant and the structures of the resulting GNPs. In the study, the synthesis of GNPs in aqueous solution of a series of cationic gemini surfactants with different spacer length (12-s-12, s = 0, 2, 4, 6, 8, 10, and 12) has been investigated. A remarkable spacer length-dependent morphological evolution of nanorod→nanostar→nanoplate→spherical nanoparticle has been observed. The results show that the gemini surfactants can form the electrostatic complexes with AuI ions, and the complexes further self-assemble into the various aggregates of different sizes, which greatly alters the migration dynamics of AuI and eventually influences the growth kinetics of GNPs. The overall growth rate of the GNPs is determined by the combination of the monomer-AuI molecular weight, the size of aggregates, and the local concentration of AuI in the aggregates. Besides, the gemini surfactants with different spacer length could selectively anchor on various facets of GNPs, thus acting as the capping agents to direct the formation of the shaped GNPs. It is believed that the cationic gemini surfactants with different spacer length provide an excellent choice to control the growth kinetics and final morphology of GNPs, and this study provides new insights in surfactant-assisted synthesis of GNPs.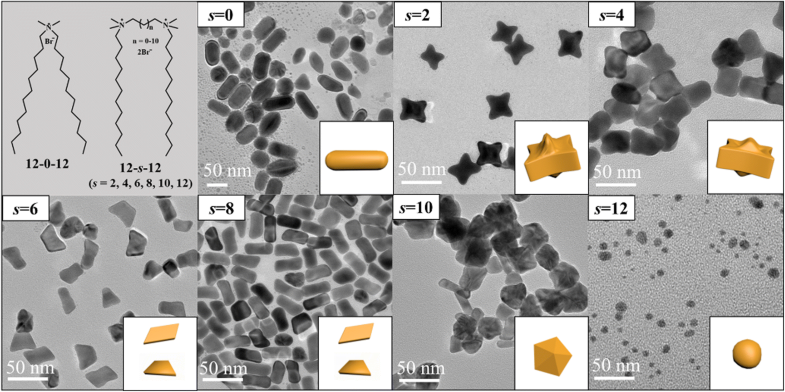 Keywords
Au nanoparticles 
Gemini surfactants 
Spacer length 
Aggregate structure 
Growth kinetics 
Precision engineering of nanoparticles 
Notes
Funding information
This work was financially supported by the National Natural Science Foundation of China (21633002), the Chongqing Science and Technology Commission (cstc2017shmsA30018), and the Foundation of Chongqing University of Arts and Sciences (P2017CH11, 2017RCH02).
Compliance with ethical standards
Conflict of interest
The authors declare that they have no competing interests.
Copyright information
© Springer Nature B.V. 2019