Facile spray drying approach to synthesize Sb2Se3/rGO composite anode for lithium-ion battery
Abstract
Novel Sb2Se3/reduced graphene oxide (rGO) composite, 1D Sb2Se3 nanorods wrapped with rGO, has been successfully synthesized by a facile spray drying method. Compared to as-prepared Sb2Se3 nanorods, the obtained Sb2Se3/rGO composite, as anode for lithium-ion batteries (LIBs), exhibited super electrochemical performances. The results suggest that Sb2Se3/rGO composite can retain a reversible capacity of 394 mAh g−1 over 200 cycles at 100 mA g−1 between 0.01 and 3 V (vs Li/Li+). Even at a high rate current density of 1000 mA g−1, a discharge capacity of 247 mAh g−1 was computed, indicating that this LIB possesses good rate capability. This improved electrochemical performance can be attributed to the 1D nanostructure, and also to the introduction of rGO, which provided more electron transport pathways and shortened the Li-ion diffusion through the electrolyte. Consequently, the cluster of 1D Sb2Se3 nanorods that are wrapped in the rGO nanostructure can efficiently buffer large volume changes and retain the structural stability during lithiation and delithiation process, resulting in an excellent electrochemical performance.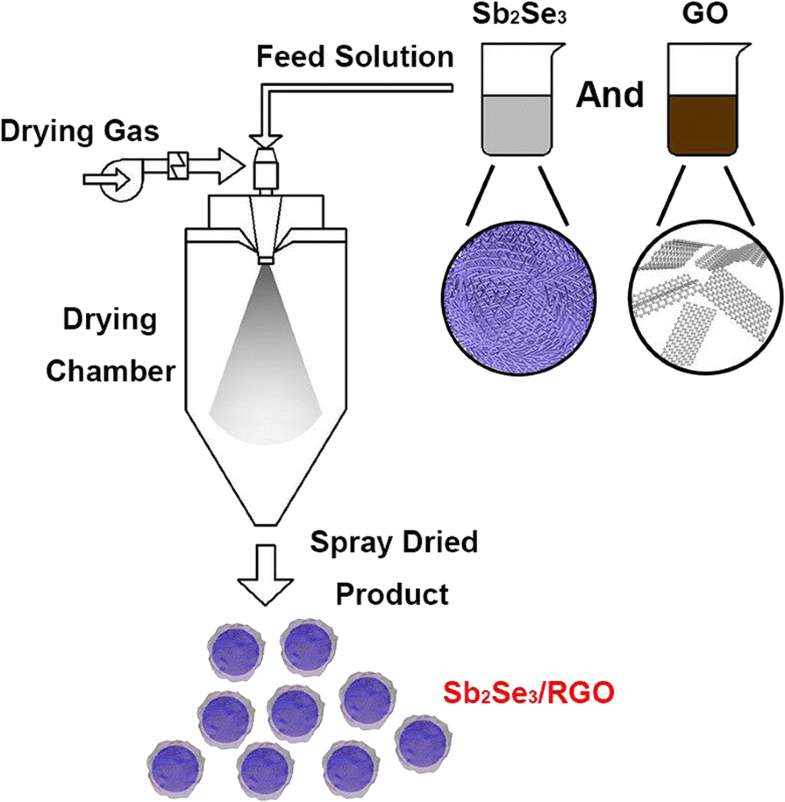 Keywords
Lithium-ion battery 
Sb2Se3/rGO composite 
Spray drying 
Energy storage 
Notes
Funding
This work was supported by the Program for the Outstanding Young Talents of Hebei Province (YG.Z.), Chunhui Project of Ministry of Education of the People's Republic of China (Grant No. Z2017010), and Cultivation project of National Engineering Technology Center (Grant No. 2017B090903008).
Compliance with ethical standards
Conflict of interest
The authors declare no conflict of interest.
Ethical approval
All relevant ethical standards were satisfied.
Copyright information
© Springer Nature B.V. 2019