Functional separator for Li/S batteries based on boron-doped graphene and activated carbon
Abstract
Lithium/sulfur (Li/S) batteries have received great attention due to their high theoretical energy density, but the "shuttle effect" of polysulfides restricts the further development of Li/S batteries. The construction of modified functional separator is an effective strategy to obstruct the diffusion of polysulfides. We report boron-doped graphene and activated carbon (B-G/AC)–modified functional separator for Li/S batteries. The B-G/AC composites are obtained via a one-step hydrothermal method and used as a functional layer to modify the battery separator. The B-G with highly porous three-dimensional (3D) network structure exhibits good electrical conductivity, and rich porous structure AC increases the specific surface area of the B-G/AC composite. The carbon coating layer can act as the second collector, utilizing the inactivated sulfur that is freed in the electrolyte. The modified separator can facilitate the polysulfide dissolution and migration towards the anode. The B-G/AC samples exhibit excellent electrochemical performances. The B-G/AC samples maintain a higher capacity of 1062 mA h g−1 after 100 cycles at 0.1 C than a routine separator (709 mA h g−1 after 100 cycles at 0.1 C). Diffusion experiments of polysulfides in U-shaped bottles also proved importance of B-G/AC as a separator. In addition, the B-G/AC samples also exhibit excellent cycling stability over 300 cycles, delivering a discharge capacity of 534 mA h g−1 when the current is 1 C. The present study confirms that separator modification is an effective technique that leads to good electrochemical performance.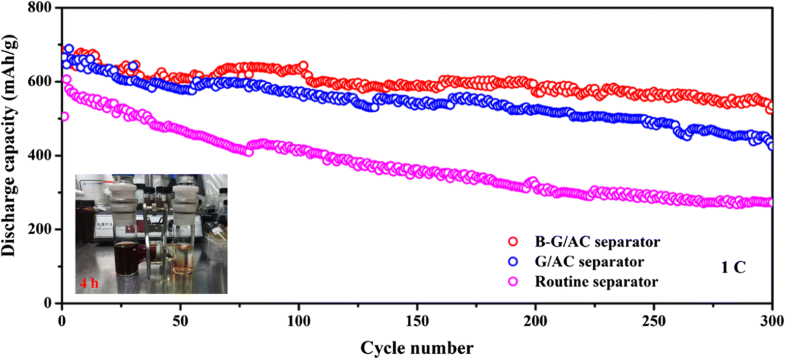 Keywords
Li/S batteries 
Boron-doped graphene/activated carbon (B-G/AC) 
Electrochemical performance 
Shuttle effect 
Functional separator 
Energy storage 
Notes
Funding information
This study received support from the Natural Science Foundation of Hebei Province of China (Project No. E2017202032) and Technology Foundation for returned overseas Chinese scholars (No. C2015003038).
Compliance with ethical standards
All relevant ethical standards were satisfied.
Conflict of interest
The authors declare that they have no conflict of interest.
Copyright information
© Springer Nature B.V. 2018