Facile fabrication of sandwich-like BiOI/AgI/g-C3N4 composites for efficient photocatalytic degradation of methyl orange and reduction of Cr(VI)
Abstract
Construction of heterojunction photocatalyst with excellent charge separation has attracted significant attention for solving the global energy crisis and environmental problems. Herein, a series of sandwich-structured BiOI/AgI/g-C3N4 composites were fabricated by a novel and facile method. The AgI was employed as a charge transmission bridge between BiOI and g-C3N4, which could result in more efficient charge transfer and better separation of charge carriers. The results indicated that the BiOI/AgI/g-C3N4 composites exhibited higher photocatalytic activity for the degradation of methyl orange (MO) and reduction of Cr(VI) than that of pure g-C3N4, BiOI, and BiOI/g-C3N4. The amount of AgI had a remarkable influence on the photocatalytic activity of the BiOI/AgI/g-C3N4 composites. Moreover, the BiOI/AgI/g-C3N4 composites exhibited high stability. Finally, a possible reaction mechanism on degradation of MO and reduction of Cr(VI) solutions over the composites was proposed. This work could facilitate a better understanding on the charge transfer process in the composite systems as well as provide a new approach to the rational design of novel advanced materials for practical photocatalytic application.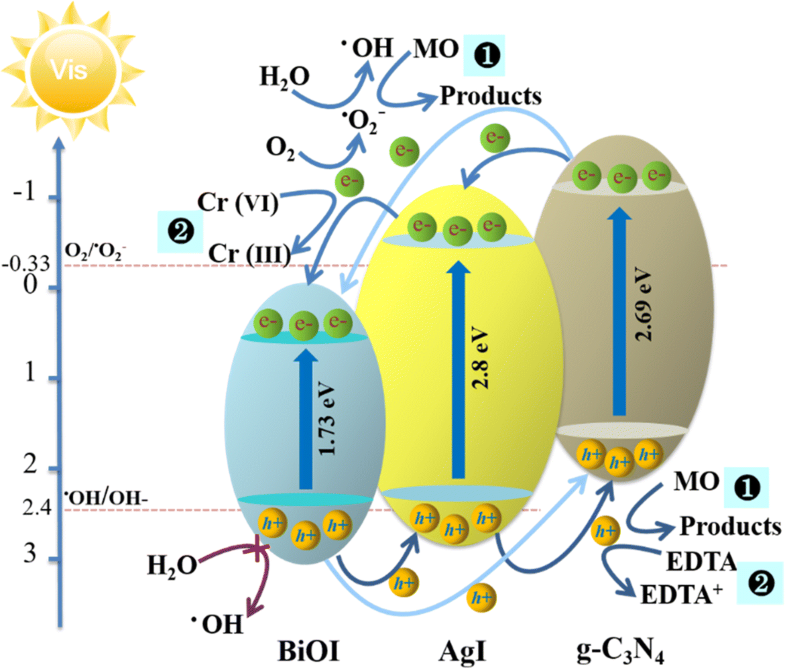 Keywords
BiOI/AgI/g-C3N4 
Nanocomposite 
Photocatalytic activity 
Reaction mechanism 
Notes
Funding information
This work was financially supported by the Natural Science Foundation of China (51778083), the China Postdoctoral Science Foundation (2017M622969), and the Scientific Research Foundation of State Key Laboratory of Coal Mine Disaster Dynamics and Control (2011DA105287-ZD201505).
Compliance with ethical standards
Conflict of interest
The authors declare that they have no conflict of interest.
Copyright information
© Springer Nature B.V. 2018