Surface voltammetric dealloying investigation on PdCu/C electrocatalysts toward ethanol oxidation in alkaline media
Abstract
Voltammetric dealloying is employed here to investigate the correlations between catalytic performance and surface composition and structure, taking ethanol oxidation reaction (EOR) on Pd-Cu alloy surface as a case study. First, home-made PdCu/C with a mean particle size of ca. 3.11 ± 0.6 nm is dealloyed by repetitive potential cycling in 0.5 M H2SO4. With dealloying cycles rising, the Cu component is gradually leached out and the corresponding Pd/Cu atomic ratio gradually increases from ca. 2.1 to 4.0; meanwhile, SEM images display that Pd-rich porous shell is formed due to dealloying-induced surface structural rearrangement, being verified by the appearance of ear-like peaks at − 0.015 V (vs. SCE) in CVs collected in 0.5 M H2SO4; furthermore, XPS spectra indicate that core-level binding energies of Pd 3d5/2 first positively shift to 336.1 eV and then oppositively move down to 334.9 eV, indicating that the d-band center of Pd composition is modulated by the dealloying treatment. Moreover, the voltammetric peak current densities for EOR follow the order of PdCu/C-DA15 > as-prepared PdCu/C ˃ > PdCu/C-DA30 ˃ commercial Pd/C ˃ PdCu/C-DA75, due to the modest downshift of Pd d-band center resulted by charge transfer and surface atomic rearrangement. In addition, the EOR durability gradually decays with the continuous loss of Cu, indicating that electro-oxidation of surface species also follows the so-called bi-functional mechanism. This work might provide some new insights into the catalysis enhancement by tuning the surface/interfacial structure of catalysts.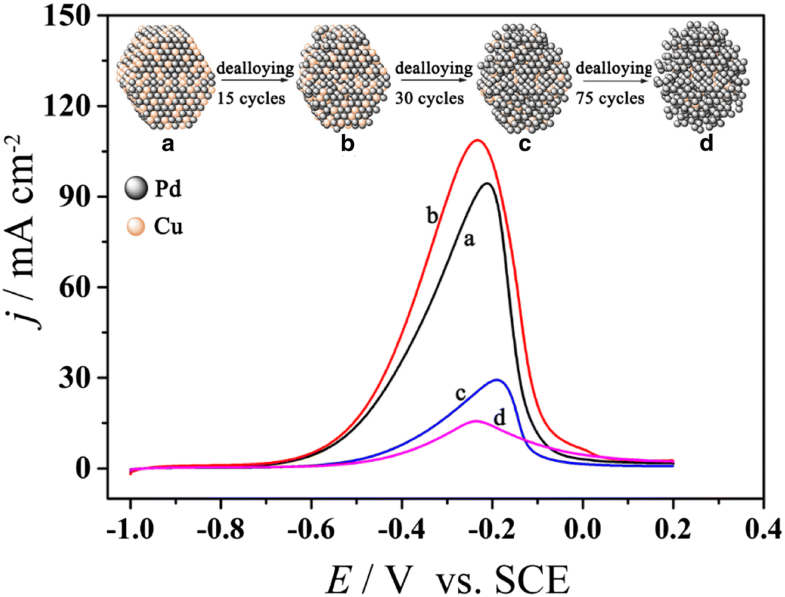 Keywords
PdCu dealloyment 
Ethanol oxidation 
Surface reconstruction 
Electronic effects 
Bi-functional mechanism 
Nanoscale surface phenomena 
Notes
Funding information
This work was supported by NSFC (grant numbers 21603177), Natural Science Foundation of Sichuan Province (grant numbers 2016JY0212), and the Fundamental Research Funds for the Central Universities (grant numbers 2018NZD04). Chan Zhu is financially supported by SMU innovation programs for graduate students (CX2018SZ133).
Compliance with ethical standards
Conflict of interest
The authors declare that they have no conflict of interest.
Copyright information
© Springer Nature B.V. 2018