Tuning Pt–Cu nanostructures by bromide ions and their superior electrocatalytic activities for methanol oxidation reaction
Abstract
Dendritic Pt–Cu nanoparticles were synthesized by a facile one-step method with the help of surfactant Brij58 at room temperature, and we also studied the effects of different Pt–Cu ratios on the morphology and size of nanoparticles. In addition, we further tuned the morphology of the Pt–Cu nanostructures by introducing bromide ions, eventually leading to the appearance of some tripod-like structures. Compared with dendritic Pt–Cu and commercial Pt black, these tripod-like Pt–Cu nanostructures exhibited higher electrocatalytic activity and CO tolerance for catalyzing methanol oxidation.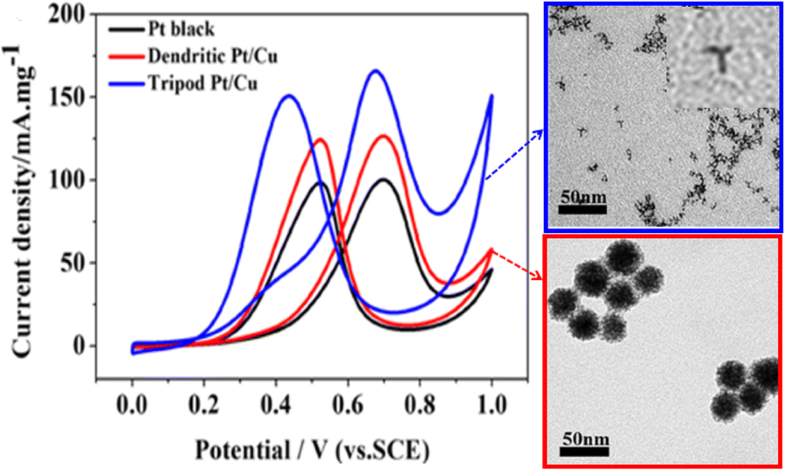 Keywords
Nanoparticle 
Bromide ions 
Tripod-like 
Methanol oxidation 
Nanostructured catalysts 
Notes
Funding information
This work was financially supported by the National Natural Science Foundation of China (21501106), the Scientific Research Foundation for the Returned Overseas Chinese Scholars and Qingdao Municipal Science and Technology Commission (16-5-1-86-jch), Chemistry Faculty Talents Foundation of Qingdao University of Science and Technology.
Compliance with ethical standards
Conflict of interest
The authors declare that they have no conflict of interest.
Copyright information
© Springer Nature B.V. 2018