First-principles investigation on the interlayer doping of SnSe2 bilayer
Abstract
Using density functional theory calculations, we systematically investigated the effects of numbers and types of transition metals (TM) on the magnetic property of SnSe2 bilayer nanosheet. Our results revealed that, when one TM is introduced into the interlayer, the magnetic moment induced by the Co and Ni is tiny while it is largely strengthened with the doping of V, Cr, Mn, and Fe. When two TMs are inserted into the interlayer, V and Cr make the system change into a weak antiferromagnetism (AFM) state while Mn-, Fe-, Co-doped systems display a weak ferromagnetism (FM) ground state. These FM states have the magnetic moments which double those of the one TM–doping systems. With the TM numbers further increasing to four, the robust AFM and FM features appear with the doping of Fe and Mn, respectively. Ni cannot induce any magnetism whatever the numbers of Ni are filling in. Interestingly, with the increase of the numbers of dopants, transitions from FM to AFM and AFM to FM are predicted to be realized on Fe-SnSe2 and Cr-SnSe2 systems, respectively. This kind of transition may be important for the applications in spintronic devices.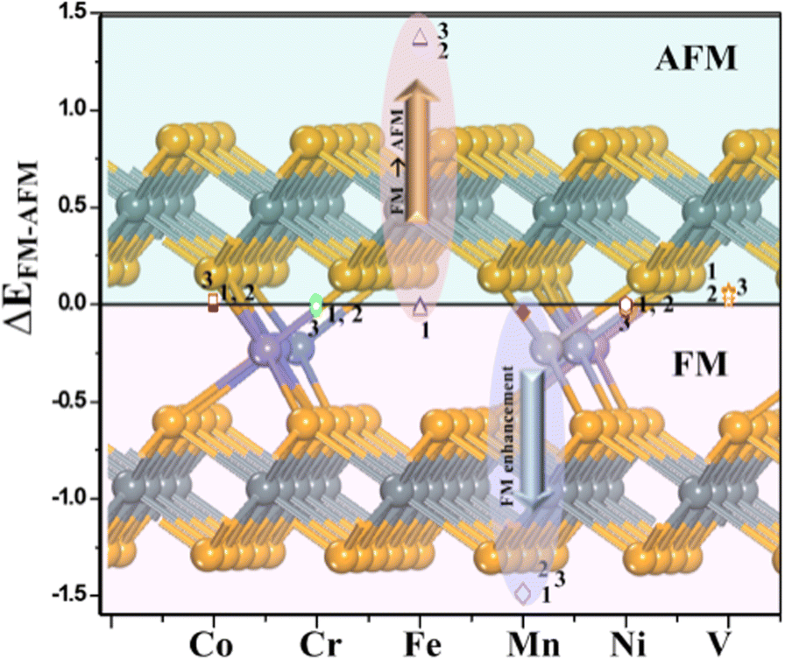 Keywords
Density functional theory 
Interlayer doping 
Ferromagnetism 
Antiferromagnetism 
SnSe2 
Spintronics application 
Modeling and simulation 
Notes
Acknowledgements
The numerical calculations in this paper have been done on the supercomputing system in the Supercomputing Center of University of Science and Technology of China.
Funding information
This work was supported by the National Natural Science Foundation of China Nos. 21705003 (J. Du) and 21573002 (Y. Huang).
Compliance with ethical standards
Conflict of interest
The authors declare that they have no conflict of interest.
Copyright information
© Springer Nature B.V. 2018