Reduced graphene oxide-based broad band photodetector and temperature sensor: effect of gas adsorption on optoelectrical properties
Abstract
Reduced graphene oxide (rGO) has found tremendous application due to its versatile and tunable properties. We have prepared rGO by the green hydrothermal method without using any toxic additives that comprise ~ 5–14 layers with an average interlayer distance of 3.5 Å. A device with Ag-rGO-Ag configuration has been fabricated that exhibits excellent stable and reproducible photoresponse properties ranging from UV-VIS (ultraviolet-visible) to the near IR (infrared) region. Responsivity and external quantum efficiency (EQE) values are as high as 0.71, 0.733, 0.230, and 0.313 A W−1 and 57, 85, 88, and 120% using 1550, 1064, 632, and 325 nm wavelength, respectively. We have shown that the temperature-dependent resistance follows a well-definite exponential behavior which indicates potential application of rGO as temperature sensor. Overall, these results suggest that rGO can be a potential material for low-cost, environment-friendly, and efficient broadband photodetector and temperature sensor. Also, pressure-dependent optoelectrical measurements have been carried out that reveal adsorption characteristics of various gases.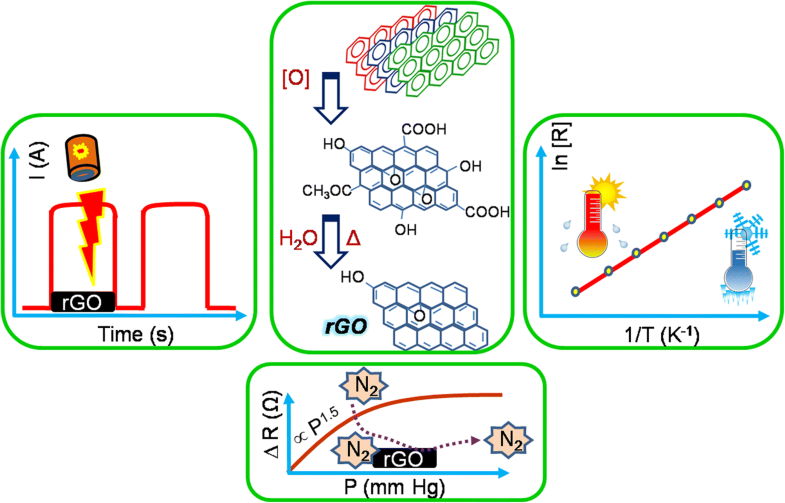 Keywords
Photodetector 
Temperature sensor 
Smart sensor, electrical transport 
Gas adsorption 
Nanolayers 
Notes
Acknowledgments
The authors would like to thank MNCF, IISc, for providing us with material characterization tools and the Experimental Condensed Matter Physics Lab, IISc, for assisting us with chopper measurements. Also, we thank Soumyadeep Dutta (CeNSE, IISc) for his help in the preparation of the graphical abstract.
Compliance with ethical standards
Conflict of interest
The authors declare that they have no conflict of interest.
Copyright information
© Springer Nature B.V. 2018
corrected publication November/2018