Impedance sensing platform for 4,4′-dibromobiphenyl based on a molecularly imprinted polymerized ionic liquid film/gold nanoparticle-modified glassy carbon electrode
Abstract
1-Vinyl-3-butyl-imidazolium hexafluorophosphate (VBimPF6) was used as a functional monomer to fabricate an imprinted film onto a glassy carbon electrode modified with gold nanoparticle under the conditions applying 4,4′-dibromobiphenyl (DiBB) as a template, ethylene glycol dimethacrylate (EGDMA) as a cross-linker, and ammonium persulfate and N,N,N′,N′-tetramethylethylenediamine as initiators at room temperature. After the fabrication process, the embedded DiBB template was removed to obtain a new electrochemical sensor with high specific recognition sites toward DiBB. The morphology of the electrode surface was characterized with scanning electron microscope and atomic force microscope. Electrochemical impedance spectroscopy was used to test the sensing performances of this newly developed electrode. The imprinted film exhibited high selectivity and sensitivity in the determination of DiBB. Under optimized conditions, the charge transfer resistance attributed to the interaction of DiBB with the electrode was found linearly related to the logarithm of DiBB concentration in the range from 0.005 to 10.0 μM. The estimated detection limit is 0.001 μM (S/N = 3). Therefore, this electrode shows great application potential for the determination of trace DiBB contents in soil samples.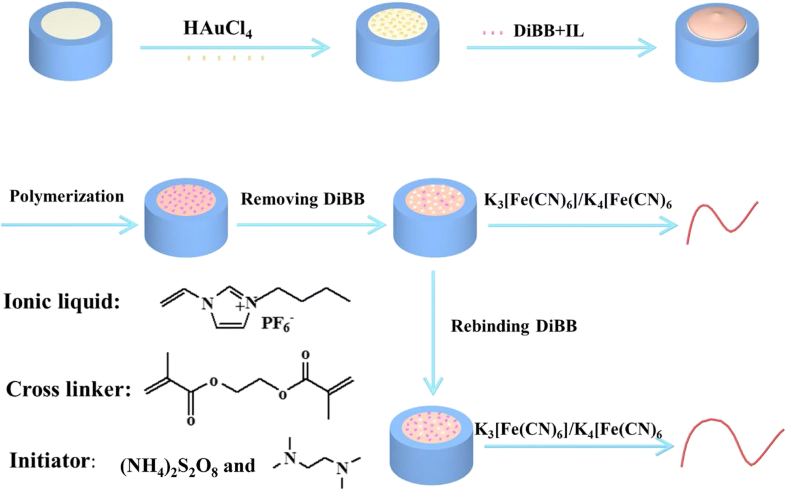 Keywords
4,4′-Dibromobiphenyl 
Ionic liquid 
Molecular imprinting 
Electrochemical impedance spectroscopy 
Sensor 
Thin layer 
Notes
Funding information
This study was financially supported by the National Natural Science Foundation of China (Nos. 21874157, 21675175, and 21275166), the Natural Science Foundation of Hubei Province, China (Nos. 2018CFB617 and 2015CFA092), Major Projects of Technical Innovation of Hubei Province (No. 2017ACA172), and the Program for Science & Technology Innovation Talents in University of Henan Province (No. 16HASTIT003).
Compliance with ethical standards
This article does not contain any studies with human participants or animals performed by any of the authors.
Conflict of interest
The authors declare that they have no conflict of interest.
Copyright information
© Springer Nature B.V. 2018