Plasmonic effects in composite metal nanostructures for sensing applications
Abstract
We have investigated numerically the plasmonic effect on a two-dimensional periodic array of metallic nanostructures. The unit cell of the array has an Ag nanosphere and nanorod pair formed in a single structure. Three-dimensional finite element method is used for the study on the sensing performance within the optical spectra. The study takes into account the influences of the structural and material parameters, the rotational angle of the metal nanostructure, the number of metal nanostructure per unit cell, and the localized surface plasmon resonances. The proposed nanostructures function as a refractive index sensor with a sensitivity of 400 nm/RIU (RIU is the refractive index unit), showing the characteristics of low transmittance (T = 3.90%), high absorptance (A = 94.5%), and near-zero reflectance (R = 0.15%), could be achieved by a triangular arrangement of nanostructures within a unit cell. We also show how the tailoring of the structural parameters relates to the specific sensing schematics of the sensor.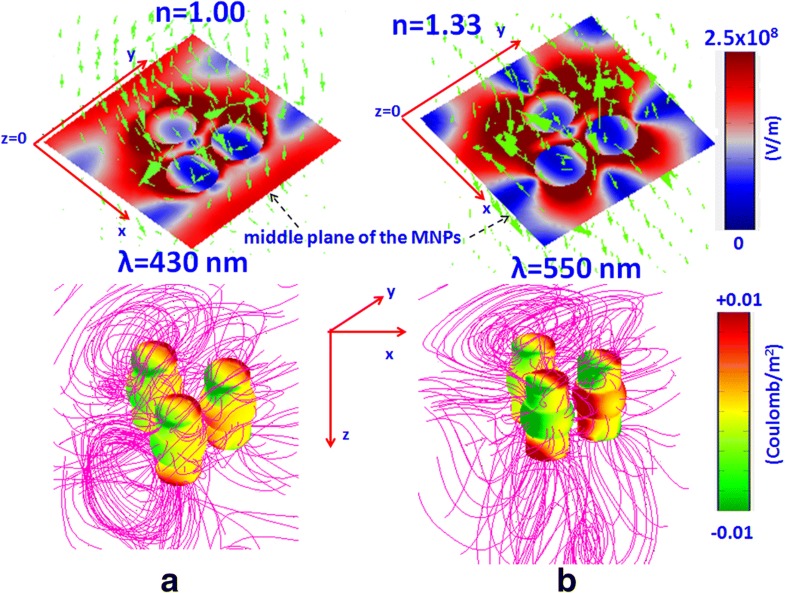 Keywords
Composite metal nanostructures 
Plasmonic sensor 
Metal nanoparticles 
Modeling and simulation 
Notes
Acknowledgements
This work was supported by the University Research Grant of Universiti Brunei Darussalam (grant no. UBD/OAVCRI/CRGWG (004)/170101) and Ministry of Science and Technology of Taiwan (MOST 106-2112-M-019-005-MY3).
Compliance with ethical standards
Conflict of interest
The authors declare that they have no conflict of interest.
Copyright information
© Springer Nature B.V. 2018