Abstract
Bike sharing system as mode of public transport is very popular in the world. This smart solution can be described as answer to an increasingly frequent traffic congestion and parking problems in many cities all around the world. This issue is beginning to relate to some cities in Slovakia as well. Bicycles address traffic congestion as they form a valid substitution for cars on short trips, contribute to the use of public transport by providing effective last-mile connectivity and simply take up less space on the road. As the system of shared bicycles works from 2016, it is relatively new in Slovakia. This is a reason why this system still has some problems and deficiencies that need to be optimized. Presented paper focused on the city of Nitra, which is currently struggling with the issue of traffic congestion. The main aim of paper is to point out the opportunities and constraints arising from the concept of shared bicycles in the conditions of city of Nitra. Our proposals and recommendations are based on the opinions of the citizens of Nitra obtained from conducted marketing survey(625 respondents – citizens of Nitra). The results of the survey have brought important insights into improving the strategy of shared bicycles, focusing on attractiveness for citizens, and ultimately, urban transport solutions.
This is a preview of subscription content, log in to check access.
Access options
Buy single article
Instant access to the full article PDF.
US$ 39.95
Price includes VAT for USA
Subscribe to journal
Immediate online access to all issues from 2019. Subscription will auto renew annually.
US$ 99
This is the net price. Taxes to be calculated in checkout.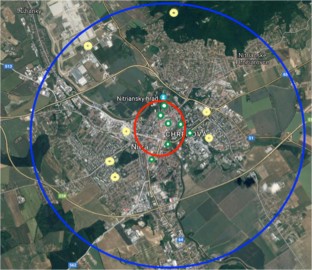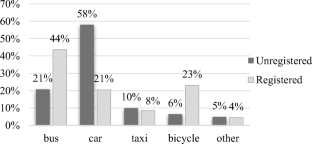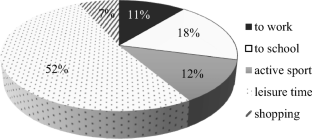 References
1.

EasyPark Group, https://easyparkgroup.com/smart-cities-index/, last accessed 03 Jan 2019

2.

Wachs M (2002) Fighting traffic congestion with information technology. Issues Sci Technol 19(1):5–15

3.

Finch and Break, https://www.finchandbeak.com/1108/smart-cities-smart-transit-bike-shares.htm, last Accessed 12 Sept 2018

4.

The City Fix, http://thecityfix.com/blog/bike-sharing-the-newest-mode-of-public-transport/, last Accessed 13 Sept 2018

5.

Keene, D., McDonald, P.: Bicycle commuting: improving personal and global well-being–one revolution at a time (2018), https://digitalcommons.spu.edu/common_learning/dcl_2018/dcl_2018_events/1/, last Accessed 05 Jan 2019

6.

Cichosz M (2013) IT solutions in logistics of smart bike-sharing systems in urban transport. Management 17(2):272–283

7.

Abraham JE et al. (2002) Investigation of Cycling Sensitivities. In: Transportation Research Board Annual Conference, pp. 1–12. Washington, DC

8.

Heinen E, Maat K, Van Wee B (2013) The effect of work-related factors on the bicycle commute mode choice in the Netherlands. Transportation 40(1):23–43

9.

Dargay JM, Hanly M (2007) Volatility of car ownership, commuting mode and time in the UK. Transport Res Part A: Policy Pract 41(10):934–948

10.

Susilo YO, Maat K (2007) The influence of built environment to the trends in commuting journeys in the Netherlands. Transportation 34(5):589–609

11.

Parkin J, Wardman M, Page M (2008) Estimation of the determinants of bicycle mode share for the journey to work using census data. Transportation 35(1):93–109

12.

Rietveld P (2000) Non-motorised modes in transport systems: a multimodal chain perspective for the Netherlands. Transp Res Part D: Transp Environ 5(1):31–36

13.

Cervero R, Denman S, Jin Y (2019) Network design, built and natural environments, and bicycle commuting: evidence from British cities and towns. Transp Policy 74(1):153–164

14.

Bárta V (2016) Nitra: Ako si Ťa pamätáme, 1st edn. AB Art Press, Slovenská Ľupča

15.

City of Nitra Homepage, https://www.nitra.sk/, last Accessed 27 Sept 2018

16.

Nitra 24 Homepage, https://nitra.dnes24.sk/v-nitre-uz-funguje-zdielanie-bicyklov-stala-sa-tak-prvym-mestom-na-slovensku-275985, last Accessed 28 Sept 2018

17.

Záborský J (2018) Prvé dojmy z bikesharingu. Trend. 39(27):52–53

18.

Arriva Homepage, https://arriva.bike/portfolio-item/arriva-bike-stanoviste-c-5305-mestsky-park/, last Accessed 28 Sept 2018
Additional information
Publisher's note
Springer Nature remains neutral with regard to jurisdictional claims in published maps and institutional affiliations.
About this article
Cite this article
Holienčinová, M., Kádeková, Z., Holota, T. et al. Smart Solution of Traffic Congestion through Bike Sharing System in a Small City. Mobile Netw Appl (2020). https://doi.org/10.1007/s11036-020-01516-4
Keywords
Bike sharing

Citizen

Traffic congestion

Transport