Abstract
Tuberculosis (TB) poses an important health challenge and a significant economic burden for Kazakhstan and in Central Asia. Recent findings show a number of immunological related processes and host Mycobacterium tuberculosis defense are impacted by a variety of genes of the human host including those that play a part in the vitamin D metabolism. We investigated the genetic variation of genes in the vitamin D metabolic pathway of a cohort 50 TB cases in Kazakhstan and compared them to 34 controls living in the same household with someone infected with TB. We specifically analyzed 11 SNPs belonging to the following genes: DHCR7, CYP2R1, GC-1, CYP24A1, CYP27A1, CYP27B1, VDR and TNFα. These genes play a number of different roles including synthesis, activation, delivery and binding of the activated vitamin D. Our preliminary results indicate significant association of VDR (vitamin D receptor) SNPs (rs1544410, BsmI, with OR = 0.425, CI 0.221–0.816, p = 0.009 and rs731236, TaqI with OR = 0.443, CI 0.228–0.859, p = 0.015) and CYP24A1 (rs6013897 with OR = 0.436, CI 0.191–0.996, p = 0.045) with TB. Interaction of genetic variation of VDR and CYP24A1 may impact susceptibility to TB. The findings provided initial clues to understand individual genetic differences in relation to susceptibility and protection to TB.
This is a preview of subscription content, log in to check access.
Access options
Buy single article
Instant unlimited access to the full article PDF.
US$ 39.95
Price includes VAT for USA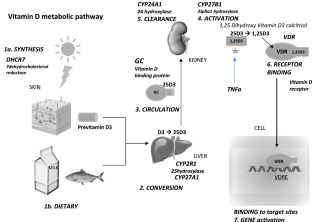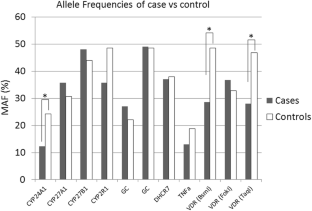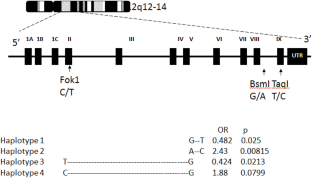 References
1.

Global Tuberculosis Report 2018. World Health Organization, Geneva; 2018. Licence: CC BY-NC-SA 3.0 IGO

2.

Adenov M (2018) Statistic TB reviews. Ministry of Health Republic of Kazakhstan, National Scientific Center for Phthisiopulmomology, Almaty (in Russian)

3.

Ding F, Kong Y (2015) Host immune factors related to susceptibility to tuberculosis in animal models. J Immun Res 2(1):1014

4.

Silva-Ramírez B, Saenz-Saenz CA, Bracho-Vela LA et al (2019) Association between vitamin D receptor gene polymorphisms and pulmonary tuberculosis in a Mexican population. Indian J Tuberc 66:70–75. https://doi.org/10.1016/j.ijtb.2018.04.005

5.

Azad AK, Sadee W, Schlesinger LS (2012) Innate immune gene polymorphisms in tuberculosis. Infect Immun 80:3343–3359

6.

Fol M, Druszczynska M, Wlodarczyk M, Ograczyk E, Rudnicka W (2015) Immune response gene polymorphisms in tuberculosis. Acta Biochim Pol 62(4):633–640

7.

Wang Y, Li H-j (2019) A meta-analysis on associations between vitamin D receptor genetic variants and tuberculosis. Microb Pathog 130:59–64. https://doi.org/10.1016/j.micpath.2019.02.027

8.

Garra AO', Redford PS, McNab FW, Bloom CI, Wilkinson RJ, Berry MP (2013) The immune response in tuberculosis. Annu Rev Immunol 31:475–527

9.

Cai L, Li Zh, Guan X, Cai K, Wang L, Liu J, Tong Y (2019) The research progress of host genes and tuberculosis susceptibility. Oxid Med Cell Longev. https://doi.org/10.1155/2019/9273056

10.

Mohammadi A, Khanbabaei H, Nasiri-Kalmarzi R et al (2019) Vitamin D receptor ApaI (rs7975232), BsmI (rs1544410), Fok1 (rs2228570), and TaqI (rs731236) gene polymorphisms and susceptibility to pulmonary tuberculosis in an Iranian population: a systematic review and meta-analysis. J Microbiol Immunol Infect. https://doi.org/10.1016/j.jmii.2019.08.011

11.

Sassi F, Tamone C, D'Amelio P (2018) Vitamin D: nutrient, hormone, and immunomodulator. Nutrients 10(11):1656. https://doi.org/10.3390/nu10111656

12.

Kim EW, Teles RMB, Haile S, Liu PT, Modlin RL (2018) Vitamin D status contributes to the antimicrobial activity of macrophages against Mycobacterium leprae. PLoS Negl Trop Dis 12(7):e0006608. https://doi.org/10.1371/journal.pntd.0006608

13.

Haussler MR, Haussler CA, Bartik L et al (2008) Vitamin D receptor: molecular signaling and actions of nutritional ligands in disease prevention. Nutr Rev 66(10 Suppl 2):98–112. https://doi.org/10.1111/j.1753-4887.2008.00093.x

14.

Vanherwegen AS, Gysemans C, Mathieu C (2017) Regulation of immune function by vitamin D and its use in diseases of immunity. Endocrinol Metab Clin N Am 46:1061–1094. https://doi.org/10.1016/j.ecl.2017.07.010

15.

Martineau AR, Leandro ACC, Anderson ST et al (2010) Association between GC genotype and susceptibility to TB is dependent on vitamin D status. Eur Respir J 35(5):1106–1112

16.

Junaid K, Rehman A, Jolliffe DA, Wood K, Martineau AR (2016) Vitamin D deficiency associates with susceptibility to tuberculosis in Pakistan, but polymorphisms in VDR, DBP and CYP2R1 do not. BMC Pulm Med 16:73. https://doi.org/10.1186/s12890-016-0240-2

17.

DeLuca HF (2004) Overview of general physiologic features and functions of vitamin D. Am J Clin Nutr 80(6 Suppl):1689–1696. https://doi.org/10.1093/ajcn/80.6.1689S

18.

Davis A, Terlikbayeva A, Aifah A et al (2017) Risks for tuberculosis in Kazakhstan: implications for prevention. Int J Tuberc Lung Dis 21(1):86–92. https://doi.org/10.5588/ijtld.15.0838

19.

Hermosilla S, You P, Aifah A et al (2017) Identifying risk factors associated with smear positivity of pulmonary tuberculosis in Kazakhstan. PLoS ONE 12(3):e0172942. https://doi.org/10.1371/journal.pone.0172942

20.

Guidelines on tuberculosis control in Republic of Kazakhstan (2008) Ministry of Health Republic of Kazakhstan. National TB Center, Almaty (in Kazakh, Russian)

21.

Junaid K, Rehman A (2019) Impact of vitamin D on infectious disease-tuberculosis—a review. Clin Nutr Exp 25:1–10. https://doi.org/10.1016/j.yclnex.2019.02.003

22.

Yang BF, Han CL (2006) Meta-analysis of relationship of vitamin D receptor polymorphism and tuberculosis. China Trop Med 6:1347–1349 (in Chinese)

23.

Gao L, Tao Y, Zhang L, Jin Q (2010) Vitamin D receptor genetic polymorphisms and tuberculosis: updated systematic review and meta-analysis. Int J Tuberc Lung Dis 14(1):15–23

24.

Panda S, Tiwari A, Luthra K et al (2019) Association of Fok1 VDR polymorphism with vitamin D and its associated molecules in pulmonary tuberculosis patients and their household contacts. Sci Rep 9:15251. https://doi.org/10.1038/s41598-019-51803-8

25.

Nnoaham KE, Clarke A (2008) Low serum vitamin D levels and tuberculosis: a systematic review and meta-analysis. Int J Epidemiol 37:113–119. https://doi.org/10.1093/ije/dym247

26.

Arnedo-Pena A, Juan-Cerdan JV, Romeu-Garcia MA et al (2015) Vitamin D status and incidence of tuberculosis infection conversion in contacts of pulmonary tuberculosis patients: a prospective cohort study. Epidemiol Infect 143:1731–1741

27.

Gurjav U, Ankhbat M, Ganbaatar G et al (2019) Vitamin D deficiency is associated with tuberculosis infection among household contacts in Ulaanbaatar, Mongolia. Int J Tuberc Lung Dis 23(8):919–923. https://doi.org/10.5588/ijtld.19.0047

28.

Areeshi MY, Mandal RK, Panda AK, Haque S (2014) Vitamin D receptor ApaI gene polymorphism and tuberculosis susceptibility: a meta-analysis. Genet Test Mol Biomark 18(5):323–329. https://doi.org/10.1089/gtmb.2013.0451
Acknowledgements
We like to acknowledge that the SNP genotyping was done with the support and the use of the SNP array developed by Fitgenes Pty Ltd, Melbourne Australia. We are grateful to Columbia University Global Health Research Center of Central Asia, Almaty and National TB Center, Almaty for organizational support of study participant recruitment.
Funding
This work was supported by the Nazarbayev University School of Medicine Social Policy Grant 2016 and by the Ministry of Education and Science of the Republic of Kazakhstan (Grants No. AP05134737, 0111RK00442).
Ethics declarations
Conflict of interest
The authors declare that there no conflict of interest. Author CKC has minimal shares in Fitgenes Pte Ltd. Fitgenes Pte Ltd had no role in the design of the study; in the collection or interpretation of data; in the writing of the manuscript, or in the decision to publish the results.
Ethics approval
All procedures performed in studies involving human participants were in accordance with the ethical standards of Ethics Committee of Center for Life Sciences, National Laboratory Astana, Kazakhstan. Informed consent was obtained from all individual participants included in the study.
Additional information
Publisher's Note
Springer Nature remains neutral with regard to jurisdictional claims in published maps and institutional affiliations.
About this article
Cite this article
Sadykov, M., Azizan, A., Kozhamkulov, U. et al. Association of genetic variations in the vitamin D pathway with susceptibility to tuberculosis in Kazakhstan. Mol Biol Rep (2020). https://doi.org/10.1007/s11033-020-05255-3
Received:

Accepted:

Published:
Keywords
Tuberculosis

SNP

VDR

Kazakhstan

Vitamin D