Abstract
Unilateral ureteral obstruction (UUO) induces kidney injury. Oleuropein as a major compound of olive leaves modulates the inflammatory parameters and decreases oxidative stress. Accordingly, we evaluate the renoprotective effect of oleuropein against 3-day UUO rats. Forty rats were randomly divided into five groups (n = 8) including control, UUO and UUO + oleuropein groups (50, 100 and 200 mg/kg). UUO model was induced by left ureter ligation and continued for 3-day. Rats were treated synchronic daily for 3-day, then mean arterial pressure (MAP), renal perfusion pressure (RPP), renal blood flow (RBF), serum creatinine level, and also superoxide dismutase (SOD), glutathione peroxidase (GPx) activity levels and malondialdehyde (MDA) concentration (in the obstructed kidney) were measured. The western blotting method was applied to evaluate the Bax, Bcl-2, cleaved caspase-3 and TNF-α proteins expression level. The hematoxylin and eosin method was applied to evaluate the kidney tissue damage score (KTDS). UUO significantly increased RVR, KTDS, and MDA, cleaved caspase-3, Bax, serum creatinine and TNF-α protein levels (P < 0.05), and also significantly decreased RBF, SOD, and GPx and Bcl-2 protein expression levels (P < 0.001) in the obstructed kidney and oleuropein (200 mg/kg) significantly ameliorated the changes induced by UUO. Our findings showed that oleuropein has a renoprotective effect against 3-day UUO. The mechanisms underlying the observed effects may be related to its antioxidative stress, anti-apoptotic, and anti-inflammatory effects.
This is a preview of subscription content, log in to check access.
Access options
Buy single article
Instant unlimited access to the full article PDF.
US$ 39.95
Price includes VAT for USA
Subscribe to journal
Immediate online access to all issues from 2019. Subscription will auto renew annually.
US$ 99
This is the net price. Taxes to be calculated in checkout.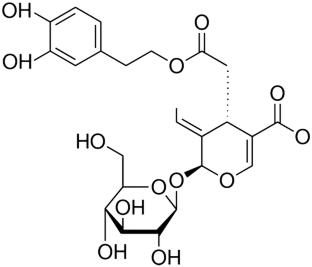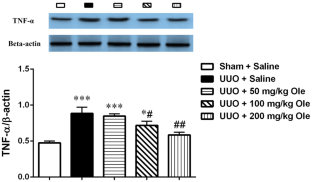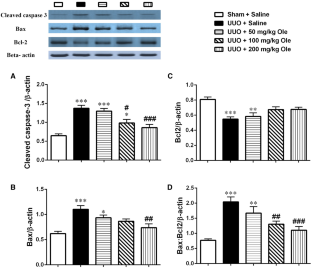 References
1.

Vaughan ED, Marion D, Poppas DP, Felsen D (2004) Pathophysiology of unilateral ureteral obstruction: studies from Charlottesville to New York. J Urol 172(6 Part 2):2563–2569. https://doi.org/10.1097/01.ju.0000144286.53562.95

2.

Klahr S, Purkerson ML (1994) The pathophysiology of obstructive nephropathy: the role of vasoactive compounds in the hemodynamic and structural abnormalities of the obstructed kidney. Am J Kidney Dis 23(2):219–223. https://doi.org/10.1016/s0272-6386(12)80975-9

3.

Klahr S (2008) Obstructive uropathy. In: Seldin and Giebisch's The Kidney. Elsevier, Amsterdam, pp 2247–2282

4.

Hvistendahl JJ, Pedersen TS, Djurhuus JC, Pedersen EB, Frøkiær J (2002) Losartan attenuates renal vasoconstriction in response to acute unilateral ureteral occlusion in pigs. Urol Res 30(3):169–177. https://doi.org/10.1007/s00240-002-0240-y

5.

Hassanshahi J, Maleki M, Nematbakhsh M (2017) Renin-angiotensin system and unilateral ureteral obstruction. Physiol Pharmacol 21(4):266–278

6.

Yoo KH, Thornhill BA, Chevalier RL (2000) Angiotensin stimulates TGF-β1 and clusterin in the hydronephrotic neonatal rat kidney. Am J Physiol 278(3):R640–R645. https://doi.org/10.1152/ajpregu.2000.278.3.R640

7.

Klahr S Urinary tract obstruction. In: Seminars in nephrology, 2001. vol 2. Elsevier, Amsterdam, pp 133–145

8.

Chevalier RL, Forbes MS, Thornhill BA (2009) Ureteral obstruction as a model of renal interstitial fibrosis and obstructive nephropathy. Kidney Int 75(11):1145–1152. https://doi.org/10.1038/ki.2009.86

9.

Miyajima A, Kosaka T, Seta K, Asano T, Umezawa K, Hayakawa M (2003) Novel nuclear factor κB activation inhibitor prevents inflammatory injury in unilateral ureteral obstruction. J Urol 169(4):1559–1563. https://doi.org/10.1097/01.ju.0000045686.21766.c1

10.

Zhang G, Oldroyd S, Huang L, Yang B, Li Y, Ye R, El Nahas A (2001) Role of apoptosis and Bcl-2/Bax in the development of tubulointerstitial fibrosis during experimental obstructive nephropathy. Nephron Exp Nephrol 9(2):71–80. https://doi.org/10.1159/000052597

11.

Docherty NG, O'Sullivan OE, Healy DA, Fitzpatrick JM, Watson RWG (2006) Evidence that inhibition of tubular cell apoptosis protects against renal damage and development of fibrosis following ureteric obstruction. Am J Physiol 290(1):F4–F13. https://doi.org/10.1152/ajprenal.00045.2005

12.

Gulmi FA, Felsen D, Vaughan E (2012) Pathophysiology of urinary tract obstruction. Smith's textbook of endourology. Wiley-Blackwell, West Sussex, pp 95–119

13.

Ucero AC, Gonçalves S, Benito-Martin A, Santamaría B, Ramos AM, Berzal S, Ruiz-Ortega M, Egido J, Ortiz A (2010) Obstructive renal injury: from fluid mechanics to molecular cell biology. Open Access J Urol 2:41

14.

Geyikoglu F, Emir M, Colak S, Koc K, Turkez H, Bakir M, Hosseinigouzdagani M, Cerig S, Keles ON, Ozek NS (2017) Effect of oleuropein against chemotherapy drug-induced histological changes, oxidative stress, and DNA damages in rat kidney injury. J Food Drug Anal 25(2):447–459. https://doi.org/10.1016/j.jfda.2016.07.002

15.

El-Razek MHA (2007) A new ester isolated from Ferula assa-foetida L. Biosci Biotechnol Biochem. https://doi.org/10.1271/bbb.70065

16.

Potočnjak I, Škoda M, Pernjak-Pugel E, Peršić MP, Domitrović R (2016) Oral administration of oleuropein attenuates cisplatin-induced acute renal injury in mice through inhibition of ERK signaling. Mol Nutr Food Res 60(3):530–541. https://doi.org/10.1002/mnfr.201500409

17.

Somova L, Shode F, Ramnanan P, Nadar A (2003) Antihypertensive, antiatherosclerotic and antioxidant activity of triterpenoids isolated from Olea europaea, subspecies africana leaves. J Ethnopharmacol 84(2–3):299–305. https://doi.org/10.1016/s0378-8741(02)00332-x

18.

Al-Azzawie HF, Alhamdani M-SS (2006) Hypoglycemic and antioxidant effect of oleuropein in alloxan-diabetic rabbits. Life Sci 78(12):1371–1377. https://doi.org/10.1016/j.lfs.2005.07.029

19.

Pourkhodadad S, Alirezaei M, Moghaddasi M, Ahmadvand H, Karami M, Delfan B, Khanipour Z (2016) Neuroprotective effects of oleuropein against cognitive dysfunction induced by colchicine in hippocampal CA1 area in rats. J Physiol Sci 66(5):397–405. https://doi.org/10.1007/s12576-016-0437-4

20.

Perrinjaquet-Moccetti T, Busjahn A, Schmidlin C, Schmidt A, Bradl B, Aydogan C (2008) Food supplementation with an olive (Olea europaea L.) leaf extract reduces blood pressure in borderline hypertensive monozygotic twins. Phytother Res 22(9), 1239–1242. DOI: 10.1002/ptr.2455.

21.

Scheffler A, Rauwald H, Kampa B, Mann U, Mohr F, Dhein S (2008) Olea europaea leaf extract exerts L-type Ca2+ channel antagonistic effects. J Ethnopharmacol 120(2):233–240

22.

Impellizzeri D, Esposito E, Mazzon E, Paterniti I, Di Paola R, Bramanti P, Morittu VM, Procopio A, Britti D, Cuzzocrea S (2011) The effects of oleuropein aglycone, an olive oil compound, in a mouse model of carrageenan-induced pleurisy. Clin Nutr 30(4):533–540. https://doi.org/10.1016/j.clnu.2011.02.004

23.

Sarbishegi M, Mehraein F, Soleimani M (2014) Antioxidant role of oleuropein on midbrain and dopaminergic neurons of substantia nigra in aged rats. Iran Biomed J 18(1):16. https://doi.org/10.6091/ibj.1274.2013

24.

Khalatbary A, Zarrinjoei GR (2012) Anti-inflammatory effect of oleuropein in experimental rat spinal cord trauma. Iran Red Cresc Med J 14(4):229

25.

Omar SH (2010) Oleuropein in olive and its pharmacological effects. Sci Pharm 78(2):133–154. https://doi.org/10.3797/scipharm.0912-18

26.

Cumaoglu A, Rackova L, Stefek M, Kartal M, Maechler P, Karasu Ç (2011) Effects of olive leaf polyphenols against H2O2 toxicity in insulin secreting β-cells. Acta Biochim Pol. https://doi.org/10.18388/abp.2011_2284

27.

Chimento A, Casaburi I, Rosano C, Avena P, De Luca A, Campana C, Martire E, Santolla MF, Maggiolini M, Pezzi V (2014) Oleuropein and hydroxytyrosol activate GPER/GPR 30-dependent pathways leading to apoptosis of ER-negative SKBR 3 breast cancer cells. Mol Nutr Food Res 58(3):478–489. https://doi.org/10.1002/mnfr.201300323

28.

Liu C, Mei W, Tang J, Yuan Q, Huang L, Lu M, Wu L, Peng Z, Meng J, Yang H (2015) Mefunidone attenuates tubulointerstitial fibrosis in a rat model of unilateral ureteral obstruction. PLoS ONE 10(6):e0129283. https://doi.org/10.1371/journal.pone.0129283

29.

Hassanshahi J, Maleki M, Nematbakhsh M (2018) Renal blood flow and vascular resistance responses to angiotensin II in irreversible and reversible unilateral ureteral obstruction rats: the role of angiotensin II type 1 and 2 receptors. J Nephropathol. 10.15171/jnp.2018.15.

30.

Hassanshahi J, Nematbakhsh M (2018) The role of Mas receptor on renal hemodynamic responses to angiotensin 1–7 in both irreversible and reversible unilateral ureteral obstruction rats. Adv Biomed Res 7:12

31.

Samimiat A, Khosravi MS, Hassanshahi J, Nematbakhsh M (2018) The effect of AT2 and Mas receptors antagonists on renal hemodynamic and excretory disorders induced by ischemia/reperfusion in male and female rats. Physiol Pharmacol 22(2):133–140

32.

Hantz H, Adesuyi A, Adebayo O (2001) Differential effects of U46619 on renal regional hemodynamics in the rat: involvement of endothelin. J Pharmacol Exp Ther 299(1):372–376

33.

Wang B, Liu D, Zhu Q-h, Li M, Chen H, Guo Y, Fan L-p, Yue L-s, Li L-y, Zhao M (2016) Rutin ameliorates kidney interstitial fibrosis in rats with obstructive nephropathy. Int Immunopharmacol 35:77–84. https://doi.org/10.1016/j.intimp.2016.03.029

34.

Sancak EB, Tan YZ, Turkon H, Silan C (2017) Attenuation of partial unilateral ureteral obstruction–induced renal damage with hyperbaric oxygen therapy in a rat model. Int Braz J Urol 43(5):946–956. https://doi.org/10.1590/S1677-5538.IBJU.2016.0565

35.

Bulotta S, Celano M, Lepore SM, Montalcini T, Pujia A, Russo D (2014) Beneficial effects of the olive oil phenolic components oleuropein and hydroxytyrosol: focus on protection against cardiovascular and metabolic diseases. J Transl Med 12(1):219. https://doi.org/10.1186/s12967-014-0219-9

36.

Andreadou I, Iliodromitis EK, Mikros E, Constantinou M, Agalias A, Magiatis P, Skaltsounis AL, Kamber E, Tsantili-Kakoulidou A, Kremastinos DT (2006) The olive constituent oleuropein exhibits anti-ischemic, antioxidative, and hypolipidemic effects in anesthetized rabbits. J Nutr 136(8):2213–2219. https://doi.org/10.1093/jn/136.8.2213

37.

Rocha BS, Gago B, Barbosa RM, Laranjinha J (2009) Dietary polyphenols generate nitric oxide from nitrite in the stomach and induce smooth muscle relaxation. Toxicology 265(1–2):41–48. https://doi.org/10.1016/j.tox.2009.09.008

38.

Li C, Wang W, Kwon T-H, Knepper MA, Nielsen S, Frøkiær J (2003) Altered expression of major renal Na transporters in rats with unilateral ureteral obstruction. Am J Physiol 284(1):F155–F166. https://doi.org/10.1152/ajprenal.00272.2002

39.

Østergaard M, Christensen M, Nilsson L, Carlsen I, Frokiaer J, Norregaard R (2013) ROS-dependence of cyclooxygenase-2 induction in rats subjected to unilateral ureteral obstruction. Am J Physiol. https://doi.org/10.1152/ajprenal.00352.2013

40.

Keeney JT, Miriyala S, Noel T, Moscow JA, Clair DKS, Butterfield DA (2015) Superoxide induces protein oxidation in plasma and TNF-α elevation in macrophage culture: insights into mechanisms of neurotoxicity following doxorubicin chemotherapy. Cancer Lett 367(2):157–161. https://doi.org/10.1016/j.canlet.2015.07.023

41.

Visioli F, Caruso D, Galli C, Viappiani S, Galli G, Sala A (2000) Olive oils rich in natural catecholic phenols decrease isoprostane excretion in humans. Biochem Biophys Res Commun 278(3):797–799. https://doi.org/10.1006/bbrc.2000.3879

42.

Tavafi M, Ahmadvand H, Toolabi P (2012) Inhibitory effect of olive leaf extract on gentamicin-induced nephrotoxicity in rats. Iran J Kidney Dis 6(1):25–32

43.

Beiranvand A, Rasoulian B, Alirezaei M, Hashemi P, Pilevarian A, Ezatpour B (2010) Pretreatment with Olive Leaf Extract partially attenuates cisplatin-induced nephrotoxicity in rats. Yafteh 11(5):35–44

44.

Nekooeian AA, Khalili A, Khosravi MB (2014) Effects of oleuropein in rats with simultaneous type 2 diabetes and renal hypertension: a study of antihypertensive mechanisms. J Asian Nat Prod Res 16(9):953–962. https://doi.org/10.1080/10286020.2014.924510

45.

Bazmandegan G, Amirteimoury M, Kaeidi A, Shamsizadeh A, Khademalhosseini M, Nematollahi MH, Fatemi I (2019) Sumatriptan ameliorates renal injury induced by cisplatin in mice. Iran J Basic Med Sci 22(5):563–567. https://doi.org/10.22038/ijbms.2019.33620.8020

46.

Rasoulian B, Kaeidi A, Pourkhodadad S, Dezfoulian O, Rezaei M, Wahhabaghai H, Alirezaei M (2014) Effects of pretreatment with single-dose or intermittent oxygen on Cisplatin-induced nephrotoxicity in rats. Nephro Urol. https://doi.org/10.5812/numonthly.19680

47.

Rasoulian B, Hajializadeh Z, Esmaeili-Mahani S, Rashidipour M, Fatemi I, Kaeidi A (2019) Neuroprotective and antinociceptive effects of rosemary (Rosmarinus officinalis L.) extract in rats with painful diabetic neuropathy. J Physiol Sci 69(1):57–64. https://doi.org/10.1007/s12576-018-0620-x

48.

Dehnamaki F, Karimi A, Pilevarian AA, Fatemi I, Hakimizadeh E, Kaeidi A, Allahtavakoli M, Rahmani MR, Khademalhosseini M, Bazmandegan G (2019) Treatment with troxerutin protects against cisplatin-induced kidney injury in mice. Acta Chir Belg 119(1):31–37. https://doi.org/10.1080/00015458.2018.1455418

49.

Kaeidi A, Taati M, Hajializadeh Z, Jahandari F, Rashidipour M (2015) Aqueous extract of Zizyphus jujuba fruit attenuates glucose induced neurotoxicity in an in vitro model of diabetic neuropathy. Iran J Basic Med Sci 18(3):301

50.

Misseri R, Meldrum DR, Dagher P, Hile K, Rink RC, Meldrum KK (2004) Unilateral ureteral obstruction induces renal tubular cell production of tumor necrosis factor-α independent of inflammatory cell infiltration. J Urol 172(4 Part 2):1595–1599. https://doi.org/10.1097/01.ju.0000138902.57626.70

51.

Zhao Q, Bai Y, Li C, Yang K, Wei W, Li Z, Pan L, Li X, Zhang X (2017) Oleuropein protects cardiomyocyte against apoptosis via activating the reperfusion injury salvage kinase pathway in vitro. Evid Based Complem Alt Med. https://doi.org/10.1155/2017/2109018

52.

Cerig S, Geyikoglu F, Bakir M, Colak S, Sonmez M, Koc K (2016) Hepatoprotective effect of oleuropein against cisplatin-induced liver damage in rat. World Acad Sci Eng Technol 10:260–267. https://doi.org/10.5281/zenodo.1124303

53.

Geyikoglu F, Isikgoz H, Onalan H, Colak S, Cerig S, Bakir M, Hosseinigouzdagani M, Koc K, Erol HS, Saglam YS (2017) Impact of high-dose oleuropein on cisplatin-induced oxidative stress, genotoxicity and pathological changes in rat stomach and lung. J Asian Nat Prod Res 19(12):1214–1231. https://doi.org/10.1080/10286020.2017.1317751

54.

Koc K, Cerig S, Ozek NS, Aysin F, Yildirim S, Cakmak O, Hosseinigouzdagani M, Geyikoglu F (2019) The efficacy of oleuropein against non-steroidal anti-inflammatory drug induced toxicity in rat kidney. Environ Toxicol 34(1):67–72. https://doi.org/10.1002/tox.22658
Acknowledgements
This study was supported by Rafsanjan University of Medical Sciences (Grant # 97098).
Ethics declarations
Conflict of interest
The authors declare that there are no conflicts of interest.
Additional information
Publisher's Note
Springer Nature remains neutral with regard to jurisdictional claims in published maps and institutional affiliations.
About this article
Cite this article
Kaeidi, A., Sahamsizadeh, A., Allahtavakoli, M. et al. The effect of oleuropein on unilateral ureteral obstruction induced-kidney injury in rats: the role of oxidative stress, inflammation and apoptosis. Mol Biol Rep 47, 1371–1379 (2020) doi:10.1007/s11033-019-05237-0
Received:

Accepted:

Published:

Issue Date:
Keywords
Unilateral ureteral obstruction

Oleuropein

Oxidative stress

Inflammation

Apoptosis

Rat