Abstract
Matrix metallopeptidase 2 (MMP-2) and matrix metallopeptidase 9 (MMP-9) are involved in the breakdown of extracellular matrix in normal physiological processes as well as in disease processes, such as cancer metastasis. We conducted this work to study the role of MMP-2 and MMP-9 in breast cancer by measuring their plasma concentrations before and after surgery. Also, to examine if their levels can reflect the stage of disease and prognosis. Forty-eight breast cancer patients and 13 patients with benign breast diseases were included in the study. MMP-2 and MMP-9 levels were measured by ELISA and semi-quantitative real-time PCR. MMP-2 and MMP-9 levels in plasma were determined by ELISA immediately before surgery and during 6 to 12 months after curative surgery. We observed a significant increase in the level of MMP-9 mRNA expression in breast cancer patients in comparison to their normal breast tissues and to tissues of benign breast disease. In all TNM tumor stages, the plasma levels of MMP-2 and MMP-9 were increased significantly before curative surgery in the studied patients with breast carcinoma and decreased significantly after surgery. Both MMP-2 and MMP-9 may be used as a possible marker for follow-up or as a marker that reflects the response of the disease to treatment.
This is a preview of subscription content, log in to check access.
Access options
Buy single article
Instant unlimited access to the full article PDF.
US$ 39.95
Price includes VAT for USA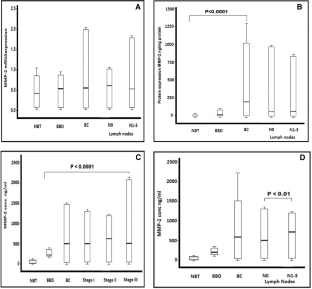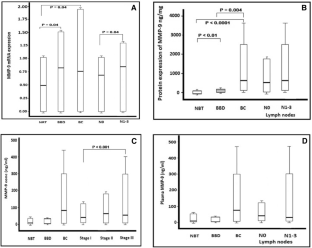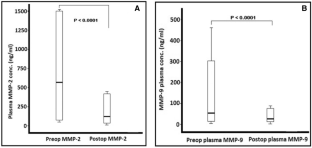 References
1.

Abdelaziz AH, Abdou AM, Habeeb CN (2018) Breast cancer treatment waiting time, patient and provider contributions: an Egyptian breast cancer centre experience. Ann Oncol. https://doi.org/10.1093/annonc/mdy297.015

2.

Kashiwagi S, Tsujio G, Asano Y, Goto W, Takada K, Takahashi K, Morisaki T et al (2018) Study on the progression types of cancer in patients with breast cancer undergoing eribulin chemotherapy and tumor microenvironment. J Transl Med 16(1):54

3.

Cardoso AP, Pinto ML, Pinto AT, Oliveira MI, Pinto MT, Gonçalves R, Relvas JB, Figueiredo C, Seruca R, Mantovani A, Mareel M, Barbosa MA, Oliveira MJ (2014) Macrophages stimulate gastric and colorectal cancer invasion through EGFR Y1086, c-Src, Erk1/2 and Akt phosphorylation and smallGTPase activity. Oncogene 33:2123–2133

4.

Lu P, Weaver VM, Werb Z (2012) The extracellular matrix: a dynamic niche in cancer progression. J Cell Biol 196:395–406

5.

Cruciat CM, Ohkawara B, Acebron SP, Karaulanov E, Reinhard C, Ingelfinger D, Boutros M, Niehrs C (2010) Requirement of prorenin receptor and vacuolar H+-ATPase-mediated acidification for Wnt signaling. Science 327:459–463

6.

Chung C, Mader CC, Schmitz JC, Atladottir J, Fitchev P, Cornwell ML, Koleske AJ, Crawford SE, Gorelick F (2011) The vacuolar-ATPase modulates matrix metalloproteinase isoforms in human pancreatic cancer. Lab Investig 91:732–743

7.

Malcherczyk D, Heyse TJ, El-Zayat BF, Kunzke V, Moll R, Fuchs-Winkelmann S, Paletta JRJ (2018) Expression of MMP-9 decreases metastatic potential of chondrosarcoma: an immunohistochemical study. BMC Musculoskelet Disord 19(1):9

8.

Deryugina EI, Quigley JP (2006) Matrix metalloproteinases and tumor metastasis. Cancer Metastasis Rev 25(1):9–34

9.

Talvensaari-Mattila A, Pääkkö P, Turpeenniemi-Hujanen T (2003) Matrix metalloproteinase-2 (MMP-2) is associated with survival in breast carcinoma. Br J Cancer 89(7):1270–1275

10.

Bando E, Yonemura Y, Endou Y, Sasaki T, Taniguchi K, Fujita H et al (1998) Immunohistochemical study of MT-MMP tissue status in gastric carcinoma and correlation with survival analyzed by univariate and multivariate analysis. Oncol Rep 5(6):1483–1488

11.

Hua H, Li M, Luo T, Yin Y, Jiang Y (2011) Matrix metalloproteinases in tumorigenesis: an evolving paradigm. Cell Mol Life Sci 68(23):3853–3868

12.

Amin MB, Greene FL, Edge SB, Compton CC, Gershenwald JE, Brookland RK, Meyer L, Gress DM, Byrd DR, Winchester DP (2017) The eighth edition AJCC cancer staging manual: continuing to build a bridge from a population-based to a more 'personalized' approach to cancer staging. CA: Cancer J Clin 67(2):93–99

13.

Ishikawa T, Ichikawa Y, Mitsuhashi M, Momiyama N, Chishima T, Tanaka K, Yamaoka H, Miyazakic K, Nagashima Y, Akitaya T, Shimada H (1996) Matrilysin is associated with progression of colorectal tumor. Cancer Lett 107:5–10

14.

Pellikainen JM, Ropponen KM, Kataja VV, Kellokoski JK, Eskelinen MJ, Kosma V-M (2004) Expression of matrix metalloproteinase (MMP)-2 and MMP-9 in breast cancer with a special reference to activator protein-2, HER2, and prognosis. Clin Cancer Res 10(22):7621

15.

Li H, Qiu Z, Li F, Wang C (2017) The relationship between MMP-2 and MMP-9 expression levels with breast cancer incidence and prognosis. Oncol Lett 14(5):5865–5870

16.

Lebeau A, Müller-Aufdemkamp C, Allmacher C, Sauer U, Nerlich A, Lichtinghagen R, Löhrs U (2004) Cellular protein and mRNA expression patterns of matrix metalloproteinases-2, -3 and -9 in human breast cancer: correlation with tumour growth. J Mol Histol 35:443–455

17.

Katunina AI, Gershtein ES, Ermilova VD, Tereshkina IV, Nazarenko AY, Tyleuova AA, Dvorova EK, Karabekova ZK, Gritskevich MV, Berezov TT (2011) Matrix metalloproteinases 2, 7, and 9 in tumors and sera of patients with breast cancer. Bull Exp Biol Med 151:359–362

18.

Giannelli G, Erriquez R, Fransvea E, Daniele A, Trerotoli P, Schittulli F, Grano M, Quaranta M, Antonaci S (2004) Proteolytic imbalance is reversed after therapeutic surgery in breast cancer patients. Int J Cancer 109:782–785

19.

Shah FD, Shah PM, Patel PS (2010) Clinical significance of matrix metalloproteinase 2 and 9 in breast cancer. BMC Cancer 46:194–202

20.

Yang J, Min K-W, Kim D-H, Son BK, Moon KM, Wi YC, Bang SS, Oh YH, Do S-I, Chae SW, Oh S, Kim YH, Kwon MJ (2018) High TNFRSF12A level associated with MMP-9 overexpression is linked to poor prognosis in breast cancer: gene set enrichment analysis and validation in large-scale cohorts. PLoS ONE 13(8):e0202113

21.

Radenkovic S, Konjevic G, Jurisic V et al (2014) Values of MMP-2 and MMP-9 in tumor tissue of basal-like breast cancer patients. Cell Biochem Biophys 68:143

22.

Jonsson A, Hjalmarsson C, Falk P, Ivarsson ML (2016) Levels of matrix metalloproteinases differ in plasma and serum—aspects regarding analysis of biological markers in cancer. Br J Cancer 115(6):703–706

23.

Zucker S, Lysik RM, Zarrabi HM, Moll U, Tickle SP, Stetler-Stevenson W, Baker TS, Docherty AJ (1994) Plasma assay of matrix metalloproteinases (MMPs) and MMP-inhibitor complexes in cancer. Potential use in predicting metastasis and monitoring treatment. Ann N Y Acad Sci 732:248–262

24.

Mehner C, Hockla A, Miller E, Ran S, Radisky DC, Radisky ES (2014) Tumor cell-produced matrix metalloproteinase 9 (MMP-9) drives malignant progression and metastasis of basal-like triple negative breast cancer. Oncotarget 5(9):2736–2749

25.

Remacle AG, Noel A, Duggan C et al (1998) Assay of matrix metalloproteinases types 1, 2, 3 and 9 in breast cancer. Br J Cancer 77:926–931

26.

Stankovic S, Konjevic G, Gopcevic K et al (2010) Activity of MMP-2 and MMP-9 and sera of breast cancer patients. Pathol Res Pract 206(4):241–247

27.

Sillanpää S, Anttila M, Voutilainen K, Ropponen K, Turpeenniemi-Hujanen T, Puistola U et al (2007) Prognostic significance of matrix metalloproteinase-9 (MMP-9) in epithelial ovarian cancer. Gynecol Oncol 104(2):296–303

28.

Nart D, Yaman B, Yılmaz F, Zeytunlu M, Karasu Z, Kılıç M (2010) Expression of matrix metalloproteinase-9 in predicting prognosis of hepatocellular carcinoma after liver transplantation. Liver Transpl 16:621–630

29.

Zhang Haiyan, Li Guang, Zhang Zhen, Wang Surong, Zhang Shiqian (2017) MMP-2 and MMP-9 gene polymorphisms associated with cervical cancer risk. Int J Clin Exp Pathol 10(12):11760–11765
Ethics declarations
Conflict of interest
The author declares no conflict of interest.
Additional information
Publisher's Note
Springer Nature remains neutral with regard to jurisdictional claims in published maps and institutional affiliations.
About this article
Cite this article
Alrehaili, A.A., Gharib, A.F., Karam, R.A. et al. Clinical significance of plasma MMP‐2 and MMP‐9 levels as biomarkers for tumor expression in breast cancer patients in Egypt. Mol Biol Rep 47, 1153–1160 (2020). https://doi.org/10.1007/s11033-019-05216-5
Received:

Accepted:

Published:

Issue Date:
Keywords
MMP-2

MMP-9

Breast cancer

TNM staging