Abstract
Renal cell carcinoma (RCC) is a highly deadly urological tumor due to its high metastatic incidence and its notorious chemoresistance. The nuclear transcription factor kappa B (NF-κB) family has been associated with apoptosis resistance and cellular invasion in RCC. The purpose of this study was to evaluate the impact of NF-κB1 gene silencing on the colony formation, cell migration and invasion abilities of the RCC cell line. Renca–mock and Renca-shRNA-NF-κB1 cells were used in this work. NF-κB1 downregulation was assessed by western blotting. The mRNA expression levels of interleukin-1 beta (IL-1β) and MMP-9 were assessed by real-time quantitative polymerase chain reaction (RT-qPCR). The IL-1β levels in the culture media were determined by a commercial ELISA kit. The MMP-9 protein expression and gelatinolytic activity were evaluated by western blotting and zymography, respectively, and the migration and invasion abilities were analysed. The expression levels of p105 and p50 in Renca-shRNA-NF-κBmoc1 cells were significantly reduced compared with those in the Renca–mock cells. The colony numbers of shRNA-NF-кB1 cells were lower than the colony numbers of the Renca–mock cells. NF-κB1 knockdown inhibited the cell migration and invasion of Renca-shRNA-NF-κB1 cells. These cells also exhibited reduced levels of IL-1β. The MMP-9 expression and activity levels were significantly reduced in Renca-shRNA-NF-κB1 cells. Taken together, these results indicate that the downregulation of NF-κB1 suppresses the tumourigenicity of RCC by reducing MMP-9 expression and activity; thus, NF-κB1 could be a molecular target for RCC treatment.
This is a preview of subscription content, log in to check access.
Access options
Buy single article
Instant unlimited access to the full article PDF.
US$ 39.95
Price includes VAT for USA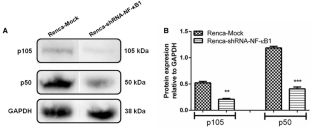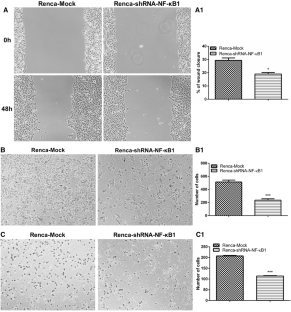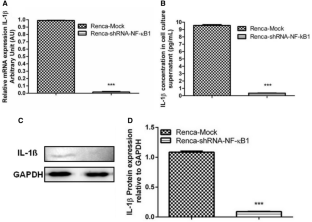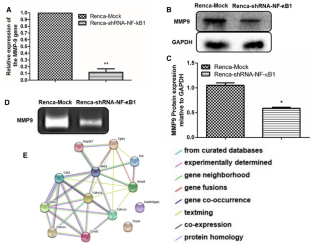 References
1.

Gao Y, Li H, Ma X, Fan Y, Ni D, Zhang Y, Huang Q, Liu K, Li X, Wang L, Gu L, Yao Y, Ai Q, Du Q, Song E, Zhang X (2017) KLF6 Suppresses metastasis of clear cell renal cell carcinoma via transcriptional repression of E2F1. Cancer Res 77:330–342

2.

Foguer K, Braga MS, Peron JPS, Bortoluci KR, Bellini MH (2016) Endostatin gene therapy inhibits intratumoral macrophage M2 polarization. Biomed Pharmacother 79:102–111

3.

Kim W, Zachary G, Daaka Y (2012) Rap1GAP regulates renal cell carcinoma invasion. Cancer Lett 320(1):65–71

4.

Zarrabi K, Fang C, Wu S (2017) New treatment options for metastatic renal cell carcinoma with prior anti-angiogenesis therapy. J Hematol Oncol 10(1):38

5.

Shenoy N, Pagliaro L (2016) Sequential pathogenesis of metastatic VHL mutant clear cell renal cell carcinoma: putting it together with a translational perspective. Ann Oncol 27:1685–1695

6.

An J, Rettig MB (2005) Mechanism of von Hippel-Lindau protein-mediated suppression of nuclear factor kappa B activity. Mol Cell Biol 25(17):7546–7556

7.

Karin M (2009) NF-κB as a critical link between inflammation and cancer. Cold Spring Harb Perspect Biol 1(5):a000141

8.

Zhang Q, Lenardo MJ, Baltimore D (2017) 30 Years of NF-κB: a blossoming of relevance to human pathobiology. Cell 168(1–2):37–57

9.

Voronov E, Carmi Y, Apte RN (2014) The role IL-1 in tumor-mediated angiogenesis. Front Physiol 5:114

10.

Braga MS, Foguer K, Chaves KCB, Lima LS, Scavone C, Bellini MH (2014) Involvement of the NF-кB/p50/Bcl-3 complex in response to antiangiogenic therapy in a mouse model of metastatic renal cell carcinoma. Biomed Pharmacother 68:873–879

11.

Lewis AM, Varghese S, Xu H, Alexander HR (2006) Interleukin-1 and cancer progression: the emerging role of interleukin-1 receptor antagonist as a novel therapeutic agent in cancer treatment. J Transl Med 4:48

12.

Oya M, Takayanagi A, Horiguchi A, Mizuno R, Ohtsubo M, Marumo K, Shimizu N, Murai M (2003) Increased nuclear factor-kappa B activation is related to the tumor development of renal cell carcinoma. Carcinogenesis 24:377–384

13.

Meteoglu I, Erdogdu IH, MeydanN Erkus M, Barutca S (2008) NF-KappaB expression correlates with apoptosis and angiogenesis in clear cell renal cell carcinoma tissues. J Exp Clin Cancer Res 27:53

14.

Cai H, Sun L, Cui L, Cao Q, Qin C, Zhang G, Mao X, Wang M, Zhang Z, Shao P, Yin C (2013) A functional insertion/deletion polymorphism (-94 ins/del ATTG) in the promoter region of the NFKB1 gene is related to the risk of renal cell carcinoma. Urol Int 91(2):206–212

15.

Gupta SC, Kim JH, Prasad S, Aggarwal BB (2010) Regulation of survival, proliferation, invasion, angiogenesis, and metastasis of tumor cells through modulation of inflammatory pathways by nutraceuticals. Cancer Metastasis Rev 29(3):405–434

16.

Kessenbrock K, Plaks V, Werb Z (2010) Matrix metalloproteinases: regulators of the tumor microenvironment. Cell 141(1):52–67

17.

Roomi MV, Ivanov V, Kalinovsky T, Niedzwiecki A, Rath M (2006) Modulation of human renal cell carcinoma 786-0 MMP-2 and MMP-9 activity by inhibitors and inducers in vitro. Med Oncol 23(2):245–250

18.

Lin YW, Lee LM, Lee WJ, Chu CY, Tan P, Yang YC, Chen WY, Yang SF, Hsiao M, Chien MH (2016) Melatonin inhibits MMP-9 transactivation and renal cell carcinoma metastasis by suppressing Akt-MAPKs pathway and NF-κB DNA-binding activity. J Pineal Res 60(3):277–290

19.

Ikegami A, Teixeira LFS, Braga MS, Dias MHS, Lopes EC, Bellini MH (2018) Knockdown of NF-κB1 by shRNA inhibits the growth of renal cell carcinoma in vitro and in vivo. Oncol Res 26(5):743–751

20.

Szklarczyk D, Morris JH, Cook H, Kuhn M, Wyder S, Simonovic M, Santos A, Doncheva NT, Roth A, Bork P et al (2017) The STRING database in 2017: quality-controlled protein-protein association networks, made broadly accessible. Nucleic Acids Res 45(D1):D362–D368

21.

Bosman MC, Schuringa JJ, Vellenga E (2016) Constitutive NF-κB activation in AML : causes and treatment strategies. Crit Rev Oncol Hematol 98:35–44

22.

Scartozzi M, Bearzi I, Pierantoni C, Mandolesi A, Loupakis F, Zaniboni A, Catalano V, Quadri A, Zorzi F, Berardi R, Biscotti T, Labianca R, Falcone A, Cascinu S (2007) Nuclear factor-kB tumor expression predicts response and survival in irinotecan-refractory metastatic colorectal cancer treated with cetuximab-irinotecan therapy. J Clin Oncol 25(25):3930–3935

23.

Habib R, Akhtar J, Taqi M, Yu C, Zhang C (2015) Lentiviral vector-mediated survivin shRNA delivery in gastric cancer cell lines significantly inhibits cell proliferation and tumor growth. Oncol Rep 34(2):859–867

24.

Zhong MA, Zhang H, Qi XY, Lu AG, You TG, Gao W, Guo XL, Zhou ZQ, Yang Y, Wang CJ (2011) ShRNA-mediated gene silencing of heat shock protein 70 inhibits human colon cancer growth. Mol Med Rep 4(5):805–810

25.

Qian BZ, Pollard JW (2010) Macrophage diversity enhances tumor progression and metastasis. Cell 141:39–51

26.

Curiel TJ, Coukos G, Zou L, Alvarez X, Cheng P, Mottram P, Evdemon-Hogan M, Conejo-Garcia JR, Zhang L, Burow M, Zhu Y, Wei S, Kryczek I, Daniel B, Gordon A, Myers L, Lackner A, Disis ML, Knutson KL, Chen L, Zou W (2004) Specific recruitment of regulatory T cells in ovarian carcinoma fosters immune privilege and predicts reduced survival. Nat Med 10(9):942–949

27.

Latz E (2010) The inflammasomes: mechanisms of activation and function. Curr Opin Immunol 22:28–33

28.

Chen CY, Hsiao HL, Yang CM (2012) PI3-K/Akt/JNK/NF-κB is essential for MMP-9 expression and outgrowth in human limbal epithelial cells on intact amniotic membrane. Stem Cell Res 9(1):9–23

29.

Tang D, Tao D, Fang Y, Deng C, Xu Q, Zhou J (2017) TNF-alpha promotes invasion and metastasis via NF-Kappa B pathway in oral squamous cell carcinoma. Med Sci Monit Basic Res 23:141–149

30.

Kridel SJ, Chen E, Kotra LP, Howard EW, Mobashery S, Smith JW (2001) Substrate hydrolysis by matrix metalloproteinase-9. J Biol Chem 276(23):20572–20578

31.

Coussens LM, Tinkle CL, Hanahan D, Werb Z (2000) MMP-9 supplied by bone marrow derived cells contributes to skin carcinogenesis. Cell 103(3):481–490

32.

Peri S, Devarajan K, Yang DH, Knudson AG, Balachandran S (2013) Meta-analysis identifies NF-κB as a therapeutic target in renal cancer. PLoS ONE 8(10):e76746
Acknowledgements
We would like to thank Ms. Amanda Ikegami for her valuable technical support on this project. This study was supported by FAPESP (Process number 2014/19265-7), CNPQ and CNEN.
Ethics declarations
Conflict of interest
On behalf of all authors, the corresponding author states that there is no conflict of interest.
Additional information
Publisher's Note
Springer Nature remains neutral with regard to jurisdictional claims in published maps and institutional affiliations.
About this article
Cite this article
Teixeira, L.F.S., Peron, J.P.S. & Bellini, M.H. Silencing of nuclear factor kappa b 1 gene expression inhibits colony formation, cell migration and invasion via the downregulation of interleukin 1 beta and matrix metallopeptidase 9 in renal cell carcinoma. Mol Biol Rep 47, 1143–1151 (2020). https://doi.org/10.1007/s11033-019-05212-9
Received:

Accepted:

Published:

Issue Date:
Keywords
Renal cell carcinoma

NF-κB1

shRNA

IL-1β

MMP-9

Colony formation

Migration

Invasion