Abstract
Ischemic heart disease (IHD), a severe condition of myocardium facing impediment in the supply of basic needs for cellular metabolism is caused by atherosclerosis. Though statin drugs could control the use of surgery on IHD patients, the complete rehabilitation or prophylaxis can be achieved through herbal-based medicines viz. either in the form of crude extract or pure phytocompounds. In the present study, pretreatment with leaf extract of Nelumbo nucifera Gaertn. was investigated for cardioprotective activity—in vitro by mitigating H2O2-induced oxidative stress. Analysis such as estimation of antioxidants, lipid peroxidation, and DNA fragmentation assay revealed significant protective effect of plant extract on cardiomyocytes. Reactive oxygen species detection was done by using 2′,7′-dichlorofluorescein diacetate, apoptosis detection with Acridine Orange/Ethidium Bromide and nuclear damage detection by diamidino-2-phenylindole which confirmed the protective effect of N. nucifera extract. In addition, gene expression studies of apoptotic regulatory genes (Bcl2 and Cas-9) resulted in significant protection of nucifera extract pretreated and maintained cells. To conclude, in vitro cardioprotective activity of N. nucifera against H2O2 induced oxidative stress was achieved at the concentration of 50 µg/ml. Therefore, major phytocompounds present in extract could be beneficial in managing cardiac complications in the future.
This is a preview of subscription content, log in to check access.
Access options
Buy single article
Instant unlimited access to the full article PDF.
US$ 39.95
Price includes VAT for USA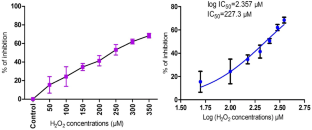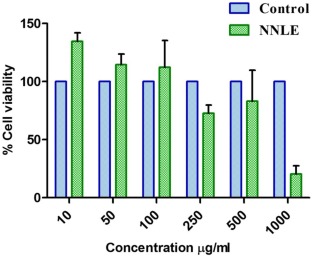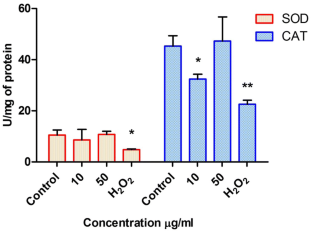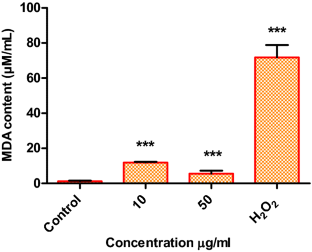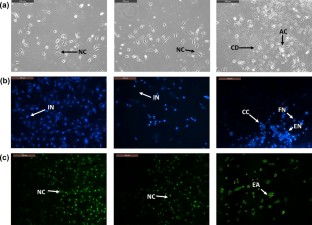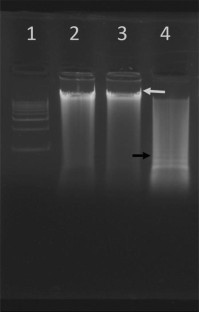 References
1.

WHO (2010) Cardiovascular disease. https://www.who.int/health-topics/cardiovascular-diseases/. Accessed 20 Sept 2010

2.

Prabhakaran D, Jeemon P, Roy A (2016) Cardiovascular diseases in India: current epidemiology and future directions. Circulation 133:1605–1620. https://doi.org/10.1161/CIRCULATIONAHA.114.008729

3.

Ke C, Gupta R, Xavier D et al (2018) Divergent trends in ischaemic heart disease and stroke mortality in India from 2000 to 2015: a nationally representative mortality study. Lancet Glob Health 6:e914–e923. https://doi.org/10.1016/S2214-109X(18)30242-0

4.

Roessner A, Kuester D, Malfertheiner P, Schneider-Stock R (2008) Oxidative stress in ulcerative colitis-associated carcinogenesis. Pathol-Res Pract 204:511–524. https://doi.org/10.1016/j.prp.2008.04.011

5.

Mukherjee PK, Mukherjee D, Maji AK (2009) The sacred lotus (Nelumbo nucifera)—phytochemical and therapeutic profile. J Pharm Pharmacol 61:407–422. https://doi.org/10.1211/jpp/61.04.0001

6.

Panth N, Paudel KR, Karki R (2016) Phytochemical profile and biological activity of Juglans regia. J Integr Med 14:359–373. https://doi.org/10.1016/S2095-4964(16)60274-1

7.

Mishra LC (2003) Scientific basis for ayurvedic therapies. CRC Press, Boca Raton

8.

Durairaj B, Dorai A (2010) Antiplatelet activity of white and pink Nelumbo nucifera Gaertn flowers. Braz J Pharm Sci 46:579–583

9.

Wu CH, Yang MY, Chan KC et al (2010) Improvement in high-fat diet-induced obesity and body fat accumulation by a Nelumbo nucifera leaf flavonoid-rich extract in mice. J Agric Food Chem 58:7075–7081. https://doi.org/10.1021/jf101415v

10.

Rai S, Wahile A, Mukherjee K et al (2006) Antioxidant activity of Nelumbo nucifera (sacred lotus) seeds. J Ethnopharmacol 104:322–327

11.

Sohn D-H, Kim Y-C, Oh S-H et al (2003) Hepatoprotective and free radical scavenging effects of Nelumbo nucifera. Phytomedicine 10:165–169

12.

Zhu MZ, Wu W, Jiao LL et al (2015) Analysis of flavonoids in lotus (Nelumbo nucifera) leaves and their antioxidant activity using macroporous resin chromatography coupled with LC-MS/MS and antioxidant biochemical assays. Molecules 20:10553–10565. https://doi.org/10.3390/molecules200610553

13.

Khare CP (2007) Indian medicinal plants: an illustrated dictionary. Springer, Berlin, pp 699–700

14.

Wang HM, Yang WL, Yang SC, Chen CY (2011) Chemical constituents from the leaves of Nelumbo nucifera gaertn. cv. Rosa-plena. Chem Nat Compd 47:316–318. https://doi.org/10.1007/s10600-011-9919-z

15.

Lalitha G, Poornima P, Archanah A, Padma VV (2013) Protective effect of neferine against isoproterenol-induced cardiac toxicity. Cardiovasc Toxicol 13:168–179. https://doi.org/10.1007/s12012-012-9196-5

16.

Park C, So HS, Kim SJ et al (2006) Samul extract protects against the H2O2-induced apoptosis of H9c2 cardiomyoblasts via activation of extracellular regulated kinases (Erk) 1/2. Am J Chin Med 34:695–706. https://doi.org/10.1142/S0192415X06004211

17.

Coyle CH, Martinez LJ, Coleman MC et al (2006) Mechanisms of H2O2-induced oxidative stress in endothelial cells. Free Radic Biol Med 40:2206–2213. https://doi.org/10.1016/j.freeradbiomed.2006.02.017

18.

Mao CY, Bin LuH, Kong N et al (2014) Levocarnitine protects H9c2 rat cardiomyocytes from H2O2-induced mitochondrial dysfunction and apoptosis. Int J Med Sci 11:1107–1115. https://doi.org/10.7150/ijms.9153

19.

Liu JY, Lee MJ, Chen HM et al (2011) Ocimum gratissimum aqueous extract protects H9c2 myocardiac cells from H2O2 -Induced cell apoptosis through Akt signalling. Evid-Based Complement Altern Med. https://doi.org/10.1155/2011/578060

20.

Ilavenil S, Kim DH, Il Jeong Y et al (2015) Trigonelline protects the cardiocyte from hydrogen peroxide induced apoptosis in H9c2 cells. Asian Pac J Trop Med 8:263–268. https://doi.org/10.1016/S1995-7645(14)60328-X

21.

Li Y, Liu YJ, Lv G et al (2014) Propofol protects against hydrogen peroxide-induced apoptosis in cardiac H9c2 cells is associated with the NF-κB activation and PUMA expression. Eur Rev Med Pharmacol Sci 18:1517–1524

22.

Yin Y, Guan Y, Duan J et al (2013) Cardioprotective effect of Danshensu against myocardial ischemia/reperfusion injury and inhibits apoptosis of H9c2 cardiomyocytes via Akt and ERK1/2 phosphorylation. Eur J Pharmacol 699:219–226. https://doi.org/10.1016/j.ejphar.2012.11.005

23.

Branco AF, Pereira SL, Moreira AC et al (2011) Isoproterenol cytotoxicity is dependent on the differentiation state of the cardiomyoblast H9c2 cell line. Cardiovasc Toxicol 11:191. https://doi.org/10.1007/s12012-011-9111-5

24.

Bradford MM (1976) A rapid and sensitive method for the quantitation of microgram quantities of protein utilizing the principle of protein-dye binding. Anal Biochem 72:248–254. https://doi.org/10.1016/0003-2697(76)90527-3

25.

Atale N, Chakraborty M, Mohanty S et al (2013) Cardioprotective role of Syzygium cumini against glucose-induced oxidative stress in H9C2 cardiac myocytes. Cardiovasc Toxicol 13:278–289. https://doi.org/10.1007/s12012-013-9207-1

26.

Beauchamp C, Fridovich I (1971) Superoxide dismutase: improved assays and an assay applicable to acrylamide gels. Anal Biochem 44:276–287

27.

Aebi H (1974) Catalase. Methods Enzym Anal. https://doi.org/10.1016/B978-0-12-091302-2.50032-3

28.

Devkar RV, Pandya AV, Shah NH (2012) Protective role of Brassica olerecea and Eugenia jambolana extracts against H2O2 induced cytotoxicity in H9C2 cells. Food Funct 3:837–843. https://doi.org/10.1039/C2FO00001F

29.

Turner NA, Xia F, Azhar G et al (1998) Oxidative stress induces DNA fragmentation and caspase activation via the c-Jun NH2-terminal kinase pathway in H9c2 cardiac muscle cells. J Mol Cell Cardiol 30:1789–1801. https://doi.org/10.1006/jmcc.1998.0743

30.

Hosseinzadeh L, Behravan J, Mosaffa F et al (2011) Curcumin potentiates doxorubicin-induced apoptosis in H9c2 cardiac muscle cells through generation of reactive oxygen species. Food Chem Toxicol 49:1102–1109. https://doi.org/10.1016/j.fct.2011.01.021

31.

Zamperone A, Pietronave S, Colangelo D et al (2014) Protective effects of clovamide against H2O2-induced stress in rat cardiomyoblasts H9c2 cell line. Food Funct 5:2542–2551. https://doi.org/10.1039/C4FO00195H

32.

Banerjee A, Dasgupta N, De B (2005) In vitro study of antioxidant activity of Syzygium cumini fruit. Food Chem 90:727–733. https://doi.org/10.1016/J.FOODCHEM.2004.04.033

33.

Valko M, Leibfritz D, Moncol J et al (2007) Free radicals and antioxidants in normal physiological functions and human disease. Int J Biochem Cell Biol 39:44–84. https://doi.org/10.1016/J.BIOCEL.2006.07.001

34.

Subashini R, Sumathi P (2012) Cardioprotective effect of Nelumbo nucifera on mitochondrial lipid peroxides, enzymes and electrolytes against isoproterenol induced cardiotoxicity in Wistar rats. Asian Pac J Trop Dis 2:S588–S591. https://doi.org/10.1016/S2222-1808(12)60227-8

35.

Lee HJ, Chen CC, Chou FP et al (2010) Water extracts from Nelumbo nucifera leaf reduced plasma lipids and atherosclerosis in cholesterol-fed rabbits. J Food Biochem 34:779–795. https://doi.org/10.1111/j.1745-4514.2009.00315.x

36.

Wijeratne SS, Cuppett SL, Schlegel V (2005) Hydrogen peroxide induced oxidative stress damage and antioxidant enzyme response in Caco-2 human colon cells. J Agric Food Chem 53:8768–8774

37.

Ott M, Gogvadze V, Orrenius S, Zhivotovsky B (2007) Mitochondria, oxidative stress and cell death. Apoptosis 12:913–922. https://doi.org/10.1007/s10495-007-0756-2

38.

Chang YM, Te Tsai C, Wang CCR et al (2013) Alpinate oxyphyllae fructus (Alpinia oxyphylla Miq) extracts inhibit angiotensin-II induced cardiac apoptosis in H9c2 cardiomyoblast cells. Biosci Biotechnol Biochem 77:229–234. https://doi.org/10.1271/bbb.120541

39.

Nguyen KH, Ta TN, Pham THM et al (2012) Nuciferine stimulates insulin secretion from beta cells—an in vitro comparison with glibenclamide. J Ethnopharmacol 142:488–495. https://doi.org/10.1016/j.jep.2012.05.024

40.

Keepers YP, Pizao PE, Peters GJ et al (1991) Comparison of the sulforhodamine B protein and tetrazolium (MTT) assays for in vitro chemosensitivity testing. Eur J Cancer Clin Oncol 27:897–900. https://doi.org/10.1016/0277-5379(91)90142-Z

41.

Zhang F, Huang B, Zhao Y et al (2013) BNC protects H9c2 cardiomyoblasts from H2O2-induced oxidative injury through ERK1/2 signaling pathway. Evid-Based Complement Altern Med. https://doi.org/10.1155/2013/802784

42.

Liu W, Yi D-D, Guo J-L et al (2015) Nuciferine, extracted from Nelumbo nucifera Gaertn, inhibits tumor-promoting effect of nicotine involving Wnt/β-catenin signaling in non-small cell lung cancer. J Ethnopharmacol 165:83–93. https://doi.org/10.1016/j.jep.2015.02.015

43.

Vipin AV, Rao R, Kurrey NK et al (2017) Protective effects of phenolics rich extract of ginger against Aflatoxin B1-induced oxidative stress and hepatotoxicity. Biomed Pharmacother 91:415–424. https://doi.org/10.1016/J.BIOPHA.2017.04.107

44.

Du Y, Guo H, Lou H (2007) Grape seed polyphenols protect cardiac cells from apoptosis via induction of endogenous antioxidant enzymes. J Agric Food Chem 55:1695–1701. https://doi.org/10.1021/jf063071b

45.

Song R, Zhang J, Zhang L et al (2015) H2O2 induces myocardial hypertrophy in H9c2 cells: a potential role of Ube3a. Cardiovasc Toxicol 15:23–28. https://doi.org/10.1007/s12012-014-9264-0

46.

Thounaojam MC, Jadeja RN, Devkar RV, Ramachandran AV (2011) In vitro evidence for the protective role of Sida rhomboidea. Roxb extract against LDL oxidation and oxidized LDL-induced apoptosis in human monocyte-derived macrophages. Cardiovasc Toxicol 11:168–179. https://doi.org/10.1007/s12012-011-9110-6

47.

Griffioen KJS, Kamendi HW, Gorini CJ et al (2007) Reactive oxygen species mediate central cardiorespiratory network responses to acute intermittent hypoxia. J Neurophysiol 97:2059–2066. https://doi.org/10.1152/jn.00975.2006

48.

Umadevi S, Gopi V, Simna SP et al (2012) Studies on the cardio protective role of gallic acid against AGE-induced cell proliferation and oxidative stress in H9C2 (2-1) cells. Cardiovasc Toxicol 12:304–311. https://doi.org/10.1007/s12012-012-9170-2

49.

Ćurčić MG, Stanković MS, Mrkalić EM et al (2012) Antiproliferative and proapoptotic activities of methanolic extracts from Ligustrum vulgare L. as an individual treatment and in combination with palladium complex. Int J Mol Sci 13:2521–2534. https://doi.org/10.3390/ijms13022521

50.

Balaji K, Gothandam KM (2016) Cytotoxic effect on cancerous cell lines by biologically synthesized silver nanoparticles. Braz Arch Biol Technol 59:1–8. https://doi.org/10.1590/1678-4324-2016150529

51.

Vineetha VP, Prathapan A, Soumya RS, Raghu KG (2013) Arsenic trioxide toxicity in H9c2 myoblasts—damage to cell organelles and possible amelioration with Boerhavia diffusa. Cardiovasc Toxicol 13:123–137. https://doi.org/10.1007/s12012-012-9191-x

52.

Sun X, Sun GB, Wang M et al (2011) Protective effects of cynaroside against H2O2-induced apoptosis in H9c2 cardiomyoblasts. J Cell Biochem 112:2019–2029. https://doi.org/10.1002/jcb.23121

53.

Klimaszewska-Wisniewska A, Halas-Wisniewska M, Tadrowski T et al (2016) Paclitaxel and the dietary flavonoid fisetin: a synergistic combination that induces mitotic catastrophe and autophagic cell death in A549 non-small cell lung cancer cells. Cancer Cell Int 16:1–23. https://doi.org/10.1186/s12935-016-0288-3

54.

Park S, Kim M-Y, Lee DH et al (2009) Methanolic extract of onion (Allium cepa) attenuates ischemia/hypoxia-induced apoptosis in cardiomyocytes via antioxidant effect. Eur J Nutr 48:235–242. https://doi.org/10.1007/s00394-009-0007-0

55.

Kongseng S, Yoovathaworn K, Wongprasert K et al (2016) Cytotoxic and inflammatory responses of TiO2 nanoparticles on human peripheral blood mononuclear cells. J Appl Toxicol 36:1364–1373. https://doi.org/10.1002/jat.3342

56.

Sengupta A, Molkentin JD, Paik JH et al (2011) FoxO transcription factors promote cardiomyocyte survival upon induction of oxidative stress. J Biol Chem 286:7468–7478. https://doi.org/10.1074/jbc.M110.179242

57.

Wong RSY (2011) Apoptosis in cancer: from pathogenesis to treatment. J Exp Clin Cancer Res 30:87

58.

Kim NH, Kang PM (2010) Apoptosis in cardiovascular diseases: mechanism and clinical implications. Korean Circ J 40:299–305. https://doi.org/10.4070/kcj.2010.40.7.299
Acknowledgements
It is a pleasure to thank Dr N.M Ganesh Babu, (Head, Centre for Herbal Gardens & Landscaping, FRLHT, Bengaluru) who identified plant material. We thank Prof. W. Christopher Rajasekaran (Assistant Professor, School of Social Sciences and Languages (SSL), Vellore Institute of Technology, Vellore) for English language correction.
Ethics declarations
Conflict of interest
The authors declare that there are no conflicts of interest.
Additional information
Publisher's Note
Springer Nature remains neutral with regard to jurisdictional claims in published maps and institutional affiliations.
About this article
Cite this article
Harishkumar, R., Manjari, M.S., Rose, C. et al. Protective effect of Nelumbo nucifera (Gaertn.) against H2O2-induced oxidative stress on H9c2 cardiomyocytes. Mol Biol Rep 47, 1117–1128 (2020). https://doi.org/10.1007/s11033-019-05208-5
Received:

Accepted:

Published:

Issue Date:
Keywords
Nelumbo nucifera

H9c2 cardiomyocytes

Antioxidant

Reactive oxygen species

DNA fragmentation

Gene expression