Abstract
Correct classification of genomic variants causing potentially aberrant splicing is of utmost importance for patient management, especially in clinically actionable genes such as BRCA1/2. In this article, we report molecular evaluation of the BRCA1 c.439T>C (rs794727800, p.Leu147=) variant based on RNA of a patient suffering with high-grade serous ovarian cancer syndrome, to add new evidence to the only in silico data available for this variant. High Resolution Melting Analysis (HRMA) was used for the first time to investigate the spliceogenicity of a BRCA1 variant. HRMA with Sanger sequencing provided evidence that the c.439C allele does not cause aberrant splicing of the BRCA1 exon 7. In addition, HRMA with Sanger highlighted a different expression of the naturally occurring BRCA1 r.442_444del (c.442_444delCAG, p.Gln148del, at DNA level) isoform between blood and tumor, in this patient. HRMA is an alternative molecular approach to analyze spliceogenic properties of the c.439T>C variant and potentially for all those BRCA1/2 variants affecting splicing sites. These new evidences allowed to classify definitively the c.439T>C variant as benign. Furthermore, the different BRCA1 r.442_444del expression opens the discussion to consider a wider classification criteria for the splicing variants, including molecular evaluation at tissue level, which is an aspect currently scarcely considered in BRCA1/2 variant classification recommendations.
This is a preview of subscription content, log in to check access.
We're sorry, something doesn't seem to be working properly.
Please try refreshing the page. If that doesn't work, please contact support so we can address the problem.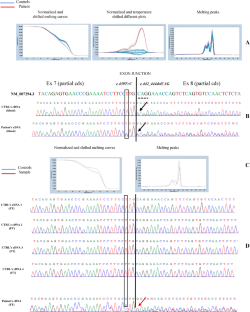 Abbreviations
HBOC:

Hereditary breast and/or ovarian cancer

PVs:

Pathogenic variants

BRCA:

BRCA1/2

PARP-1:

Poly (ADP-ribose) polymerase

VUS:

Variants of unknown significance

ENIGMA:

Evidence-based network for the interpretation of germline mutant alleles

MAF:

Minor allele frequency

HGSOC:

High grade serous ovarian cancer

HRMA:

High-resolution melting analysis

FIGO:

International federation of gynecologists and obstetricians

FT:

Fresh tissue

NGS:

Next generation sequencing

VAF:

Variant allele frequency
References
1.

Miller RE, Ledermann JA (2016) The status of poly (adenosine diphosphate-ribose) polymerase (PARP) inhibitors in ovarian cancer, part 1: olaparib. Clin Adv Hematol Oncol 14:619–627

2.

Houdayer C, Caux-Moncoutier V, Krieger S et al (2012) Guidelines for splicing analysis in molecular diagnosis derived from a set of 327 combined in silico/in vitro studies on BRCA1 and BRCA2 variants. Hum Mutat 33:1228–1238. https://doi.org/10.1002/humu.22101

3.

Minucci A, Concolino P, De Bonis M et al (2018) Preliminary molecular evidence associating a novel BRCA1 synonymous variant with hereditary ovarian cancer syndrome. Hum Genome Var 20(5):2. https://doi.org/10.6084/m9.figshare.hgv.1933

4.

Minucci A, Lalle M, De Leo R et al (2019) Additional molecular and clinical evidence open the way to definitive IARC classification of the BRCA1 c.5332G>A (p.Asp1778Asn) variant. Clin Biochem 63:54–58. https://doi.org/10.1016/j.clinbiochem.2018.10.004

5.

Gaildrat P, Krieger S, Théry JC et al (2010) The BRCA1 c.5434C->G (p.Pro1812Ala) variant induces a deleterious exon 23 skipping by affecting exonic splicing regulatory elements. J Med Genet 47:398–403. https://doi.org/10.1136/jmg.2009.074047

6.

Lindor NM, Guidugli L, Wang X et al (2012) A review of a multifactorial probability-based model for classification of BRCA1 and BRCA2 variants of uncertain significance (VUS). Hum Mutat 33:8–21. https://doi.org/10.1002/humu.21627

7.

Colombo M, Blok MJ, Whiley P, Santamariña M et al (2014) Comprehensive annotation of splice junctions supports pervasive alternative splicing at the BRCA1 locus: a report from the ENIGMA consortium. Hum Mol Genet 23:3666–3680. https://doi.org/10.1093/hmg/ddu075

8.

Lindor NM, Goldgar DE, Tavtigian SV et al (2013) BRCA1/2 sequence variants of uncertain significance: a primer for providers to assist in discussions and in medical management. Oncologist 18:518–524. https://doi.org/10.1634/theoncologist.2012-0452

9.

Concolino P, Rizza R, Mignone F et al (2018) A comprehensive BRCA1/2 NGS pipeline for an immediate Copy Number Variation (CNV) detection in breast and ovarian cancer molecular diagnosis. Clin Chim Acta 480:173–179. https://doi.org/10.1016/j.cca.2018.02.012

10.

Minucci A, Scambia G, Santonocito C et al (2015) Clinical impact on ovarian cancer patients of massive parallel sequencing for BRCA mutation detection: the experience at Gemelli hospital and a literature review. Expert Rev Mol Diagn 15:1383–1403. https://doi.org/10.1586/14737159.2015.1081059

11.

Minucci A, De Bonis M, De Paolis E et al (2017) Erratum to: high resolution melting analysis is very useful to identify BRCA1 c.4964_4982del19 (rs80359876) founder calabrian pathogenic variant on peripheral blood and buccal swab DNA. Mol Diagn Ther 21(2):233
Acknowledgement
We would like to thank Franziska M. Lohmeyer for her critical review and English revision.
Ethics declarations
Conflict of interest
The authors declared no potential conflicts of interest.
Ethical approval
This study complied with the Ethical Principles for Medical Research Involving Human Subjects according to the World Medical Association Declaration of Helsinki and was certified by the Committee of the Applicable Institution of the Fondazione Policlinico Universitario Agostino Gemelli IRCCS, Rome.
Informed consent
Informed consent was taken from all participants.
Additional information
Publisher's Note
Springer Nature remains neutral with regard to jurisdictional claims in published maps and institutional affiliations.
Electronic supplementary material
Below is the link to the electronic supplementary material.
About this article
Cite this article
Minucci, A., Mazzuccato, G., D'Indinosante, M. et al. Spliceogenic analysis of BRCA1 c.439T>C (rs794727800) variant by High Resolution Melting Analysis. Mol Biol Rep 47, 1513–1520 (2020). https://doi.org/10.1007/s11033-019-05199-3
Received:

Accepted:

Published:

Issue Date:
Keywords
Spliceogenic analysis

BRCA1/2 genes

High Resolution Melting Analysis

BRCA1 c.439T>C variant
BRCA1 r.442_444del isoform