Markers of pancreatic cancer stem cells and their clinical and therapeutic implications
Abstract
Pancreatic cancer (PC) is the fourth most common cause of death among all cancers. Poor prognosis of PC may be caused by a prevalence of cancer stem cells (CSCs). CSCs are a population of cancer cells showing stem cell-like characteristics. CSCs have the ability to self-renew and may initiate tumorigenesis. PC CSCs express markers such as CD133, CD24, CD44, DCLK1, CXCR4, ESA, Oct4 and ABCB1. There is a wide complexity of interaction and relationships between CSC markers in PC. These markers are negative prognostic factors and are connected with tumor recurrence and clinical progression. Additionally, PC CSCs are resistant to treatment with gemcitabine. Thus, most current therapies for PC are ineffective. Numerous studies have shown, that targeting of these proteins may increase both disease-free and overall survival in PC.
Keywords
Pancreatic cancer 
Cancer stem cells 
Prognostic factors 
Introduction
The diagnosis and treatment of pancreatic cancer (PC), which is the fourth most common cause of death among all cancers, is a current and important medical problem. The low survival rate for PC has been confirmed by data from 185 countries analyzed in the GLOBOCAN study of 2018, which clearly showed that the number of new cases of PC was similar to the number of deaths (458,918 vs. 432,242) [1]. According to the WHO, the most common type of PC is adenocarcinoma [2]. The main factor contributing to such a low survival rate is the diagnosis of PC in its advanced stages (52% for advanced stages vs. 9% for the initial stages) for whom the 5-year-survival rate is only 2–5%. The cancer mortality is caused predominantly by dysfunction of organs due to metastasis. This process is related to epithelial–mesenchymal transition (EMT), which is the transformation of cells from the epithelial to the mesenchymal-like phenotype. Cells which undergo EMT have increased motility, are more invasive, and are resistant to apoptosis [3]. The most important contributory factors in PC are smoking (strong correlation) and the presence of Helicobacter pylori infection (moderate correlation), although diet and type 2 diabetes also play an important role [4, 5]. In addition, a recent study emphasized the role of chronic ethanol consumption on the transformation of normal human pancreatic ductal epithelial cells into altered cells with cancer stem cell phenotypes (CSCs) [6].
CSCs are a specific population of cancer cells showing stem-cell like characteristics and, according to increasing evidence, they may initiate the development of PC as is the case with other neoplasms [7] [8] [9]. CSCs seem to generate daughter cells through the process of cell division, which may occur next to ordinary tumor cells representing the major component of the tumor, or self-renew, maintaining the full ability to differentiate and divide just as the parent stem cell does [10] [11]. The possibility of detecting specific markers identifying PC CSCs was investigated. There are several specific proteins that belong to this group, including CD133, CD24, CD44, CXCR4, EpCAM, Oct4, ABCB1, ABCG2, c-Met, ALDH-1, and nestin [12] [13] [14]. A unique feature of CSCs is their resistance to drugs. Without the elimination of this subpopulation during chemo- or radiotherapy of PC, it may induce tumor recurrence and subsequent clinical progression [15]. This may be one of the reasons for the unsatisfactory outcomes in the cases of PC treatment [16].
Five-year-survival accounts for no more than 32%, even among patients who are diagnosed during the early stages of this disease. The classical approach to treatment is gemcitabine-based chemotherapy as the first line option, however this approach shows only limited benefit on the overall survival rate of patients with locally advanced or metastatic PC [16] [17]. Currently, monotherapy with gemcitabine is recommended as an adjuvant treatment, in locally advanced cancer for 6 months, and as a palliative procedure among patients with ECOG (Eastern Cooperative Oncology Group) [18] performance scores of 2 and/or bilirubin levels higher than 1.5 × ULN [19]. Fluorouracil (5-FU) with folinic acid, is another method used in addition to surgery [19]. To improve the outcome in cases of advanced PC, new cycles of chemotherapy were investigated in individuals with this disease, which led to new regimens in clinical practice, such as FOLFIRINOX (Leucovorin + Fluorouracil + Irinotecan + Oxaliplatin) or nab-paclitaxel plus gemcitabine [20] [21] [22]. However, these regimens are recommended for palliative care, in cases of metastatic disease, only for patients with ECOG performance status scores of 0 or 1 and a bilirubin level below 1.5 × ULN, because of the increased toxic side effects [19]. Nonetheless, the effectiveness of the new treatments remain limited.
The aim of this review was to summarize the most current and available information about the diverse subpopulation of CSCs in cases of PC, strictly in connection with their influence on the clinical features of the disease, prognostic features of specific CSC markers, and with the challenges related to the treatment process and behavior of these cells. Another aim was to collect data about the future possibility of targeting CSC markers in order to increase the efficacy of chemotherapy in PC.
Markers of cancer stem cells in pancreatic cancer as independent prognostic factors
Co-expression of CSC markers in pancreatic cancer
The co-expression of several of the above-mentioned CSC markers was also investigated in the clinical context. There is more and more evidence that emphasizes the role of the triplet CD24, CD44, ESA in PC. The expression patterns of these proteins could be associated with the microenvironment of PC [
139
]. Furthermore, a study by Li et al. revealed a correlation between a subset of CD24+CD44+ESA+ CSCs, with the capability of self-renewal and with up-regulated developmental signaling pathways. Moreover, they had increased rapidity of tumor growth potential and invasiveness, in comparison to CD24, CD44, ESA-negative cancer cells [
140
]. Li et al. showed that CD44+CD24+ESA+ CSC clearly exhibits different morphology to that seen in common PC cells. In addition to cellular alternations related to the individual aforementioned CSC markers, the expression of these markers are strictly related to the hedgehog (hh) signaling pathway due to upregulation of Sonic hedgehog protein expression and its exudation outside the cell [
139
]. High concentrations of this protein in the PC microenvironment is associated with increases in CD44+CD24+ESA+ cells in the cancer mass. The deregulation of the hh pathway probably leads to transformation of adult stem cells of the pancreatic glands into CSC [
141
]. Recent studies have suggested that the expression of other CSC markers such as DCLK1 and CD133 may correlate with triple-positive expression of CD44/CD24/EpCAM in this cancer type [
82
] [
142
]. This observation could indicate that the majority of CSC markers in PC are strongly associated with each other. In addition Skoda et al. found that the highest proportions of CD24+CD44+EpCAM+CD133+ cells could be detected in cell lines derived from the tumors of patients with the shortest survival [
142
]. Deregulation of the Wnt pathway in the form of upregulation WNT2B has been detected in these cells. Upregulated expression of LYN, and downregulation of FYN expression have been also observed in this cell population [
142
]. As earlier discussed, both alternatives on this pathway seem to be associated with CD133 expression and cases with cells with more than one CSC marker could be also related to this protein. Co-expression of CD44/CD133 was significantly related to poor 5-year of overall survival of patients, as was CA 19–9 levels [
46
]. This short summary suggests that there exists a wide complexity of interactions and relationships between CSC markers in PC. Understanding these dependences would seem to be of importance in cases where the influence of the aforementioned proteins may affect treatment strategy. All the molecular pathways related to CSC markers in PC are graphically summarized in Fig. 
1
.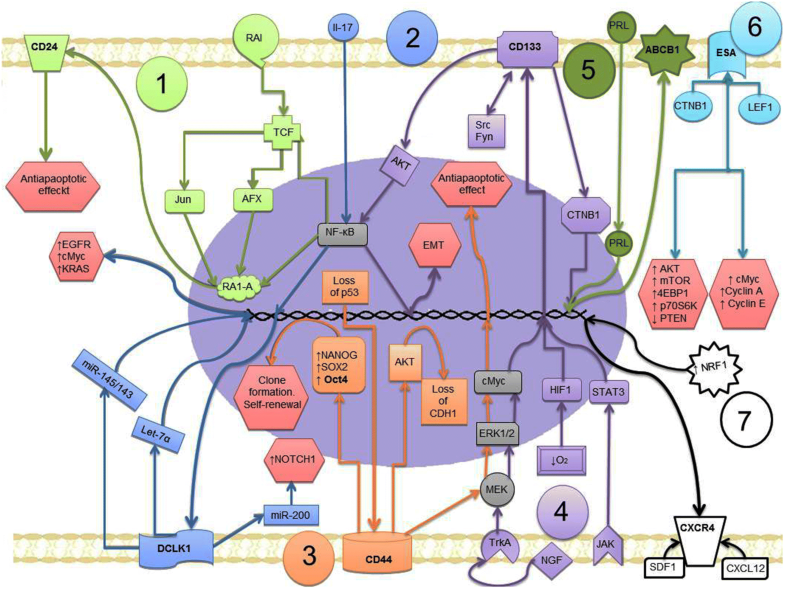 CSC as a cause of resistance to standard chemotherapy in pancreatic cancer
Most current therapies for the treatment of PC do not affect CSCs, which can result in the reestablishment of tumors after traditional treatment. Growing evidence seems to confirm the resistance of pancreatic CSCs to treatment with gemcitabine [
143
]. Researchers have shown that high CD44+ PC developed resistance to gemcitabine after 12 weeks of treatment, whereas cases of low CD44 positive PC were sensitive through 22 weeks of therapy. This fact suggests, that CD44+ PC cells may be gemcitabine resistant. Moreover, it could be possible that the level of CD44 overexpression may predict the time of resistance to chemotherapy. Also, the ability of PC to recur can be explained by the observation that CD44+ PC cells are characterized more by their tumorigenic potential than as cells with higher gemcitabine sensitivity. The study showed that anti-CD44 therapy was effective in the recurrence PCs. Studies have also revealed, that the knocking down of CD44 in CD44 high PC caused decreased invasiveness and increased sensitivity to gemcitabine [
102
,
144
]. CSCs are naturally resistant to chemotherapy through their quiescence, capacity for DNA repair and ATP-binding cassette (ABC) transporter expression [
145
]. The mechanism of drug resistance in CSCs is mostly reported in relation to ABC transporters. The overexpression of these proteins increases drug efflux, thereby reducing intracellular drug levels and, therefore its biological effect [
146
]. Among ABC transporters, ABCB1 (MDR1) was significantly augmented during the acquisition of drug resistance, and in many studies co-expression of these proteins with CD44 has been shown after exposure to gemcitabine [
102
,
147
,
148
,
149
]. Thus, a therapy based on verapamil, an inhibitor of ABC transporters such as ABCB1, to sensitize gemcitabine resistant cells to gemcitabine, together with anti-CD44 siRNA, caused a significant decrease in CD44+ PC cells [
150
]. After binding of HA to CD44 the expression of the homeobox protein Nanog is activated, whereupon this protein forms a complex with another CD44-overexpressed protein STAT3 and induces activation of ABCB1 transporter transcription [
148
]. Understanding of another molecular mechanism for PC resistance to gemcitabine stays remains unexplained. In this process, many genes are involved, related both to nucleoside transport or metabolism (M1 or M2 subunits of ribonucleoside reductase) and to cell cycle regulation, proliferation or apoptosis. These include mutated, Bcl-xl, Proto-oncogene tyrosine-protein kinase Src (Src), focal adhesion kinase and p53 [
151
,
152
,
153
,
154
,
155
]. Earlier we noted that the loss of functional p53 is one of the triggers of CD44 overexpression. Moreover, cancer cells lacking p53 activity become insensitive to gemcitabine, owing to the loss of cell cycle control and alterations in the apoptotic cascade [
154
]. Other molecular events during the acquisition of resistance to gemcitabine in PC include the upregulation of c-MET and STAT3, which are accompanied by CD44 upregulation and downregulation of the Src family protein as well as increased autocrine production of EGFR ligand amphiregulin and, as a consequence, hyperactivity of EGFR [
156
]. Autocrine epidermal growth factor receptor (EGFR) signaling is also upregulated by NRF2, a transcription factor that is overexpressed during oxygen stress in cancer cells [
157
]. One of the gemcitabine-induced effects in affected cancer cells is the production of reactive oxygen species (ROS) [
158
,
159
]. In response to this, the expression of antioxidant agents, such as glutathione (GSH) and heme oxygenase 1 (HO-1) increases in PC cells due to activation of the transcription factor NRF2 and results in a reduction in intracellular ROS [
157
,
160
,
161
]. Inhibition of HO-1 reduced expression of the CSC markers CD133, and CD44, which may suggest that the avoidance of ROS-related injuries of PC cells during gemcitabine treatment is related to the stemness abilities of the cells and specifically to CD44 +positive CSC in PC [
41
]. The influence of EGFR signaling could explain the process of intensive repopulation of CSCs after gemcitabine treatment. The mechanisms for gemcitabine resistance in CD44+ cells are summarized in Fig. 
2
. The latest studies have additionally shown that not only CD44+ PC CSC but also CD24+CD44+ESA+ and CD24+ cells are resistant to gemcitabine [
162
] [
140
,
163
,
164
]. In these cells there additional mechanisms have been detected for both gemcitabine and 5 fluorouracil resistance related to pancreatic adenocarcinoma up-regulated factor (PAUF), which increased the mRNA expression of multidrug resistant protein 5 (MRP5) and ribonucleotide reductase M2 (RRM2) [
165
]. These alternations result not only in chemotherapeutic efflux from cells, but also accelerate the formation of deoxyribonucleotides from ribonucleotides, which supports proliferation of cancer cells. Moreover, PAUF seems to take part in the activation of transcription of another CSC marker, namely CD133 [
165
]. In a previous study of this CSC marker, that is CD133, gemcitabine decreased only the viability of CD133- cells at higher concentrations, no therapeutic effects were observed among CD133+ PC cells regardless of the drug concentration used [
42
,
47
,
53
,
166
]. The influence of CD133 on cancer cell biology may be mainly due to metabolic pathways. The characteristic localization for CD133+ cells is in the hypoxic regions of the tumor, which are associated with increasing hypoxia-inducible factor 1 (HIF1) activity. HIF1 increases glucose uptake in these cells, and upregulates glycolysis enzymes, which allows for ATP synthesis in low-oxygen conditions [
42
]. It might also have effects on the neovascularization of PC. Moreover, in CD133+ cells low mitochondrial activity has been detected, in spite of having physiologically healthy mitochondria [
42
]. This altered metabolic profile of CD133+ cells make them resistant to ROS injury caused by gemcitabine and consequently to this form of chemotherapy. The glycolysis also induces expression of the CSC marker DCLK1, which is therefore also related to gemcitabine resistance [
167
].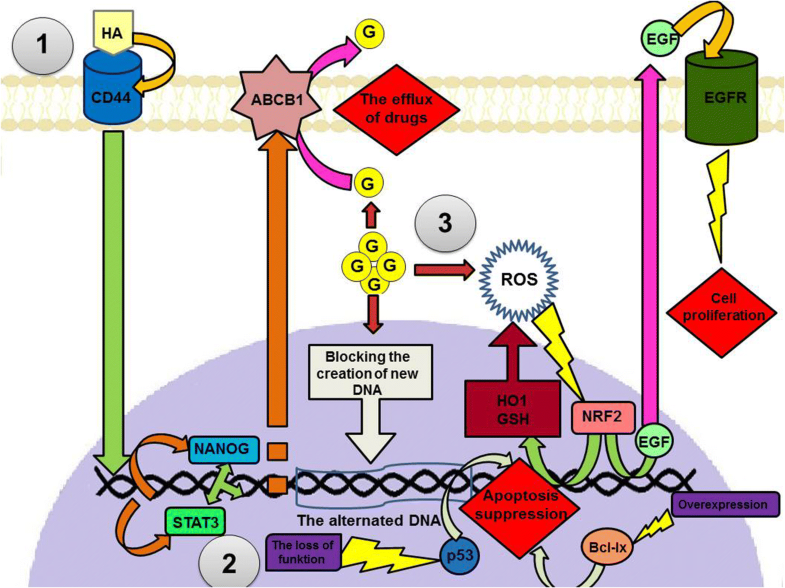 CD133+ cells show increased expression of anti-apoptotic genes such as Bcl-2 [47]. Another study suggested that the reoccurrence of PC after treatment with gemcitabine was composed of mainly CD44+ cells, compared to the number of CD133+ and ESA+ cells [150]. This observation add weight to the previously described supposition that CD44 not only upregulates cancer cell survival pathways, but also accelerates the proliferation of CSC. In summary, clinical studies in genetics suggest that CD44+ cells are able to proliferate at a faster rate, which enables their dominancy in tumor recurrence. Not only gemcitabine, but also other standard anticancer drugs are ineffective in PC with CSCs. Studies revealed that CD133+ cells also seem to be resistant to 5FU and nab-paclitaxel, which only reduce the population of CD133− cells but without having any effect on CD133+ cells [42, 47]. These effects seems to be caused by ABC transporters, which have the ability, in the case of CD133+ cells, to dispose not only of Gemcitabine, as is the case with CD44+ cells, but also Paclitaxel and 5FU [47]. To explain why this phenomenon has been observed only in DC133+ cells requires additional studies, however.
The molecular observations described above may be suitable for use in clinical practice. A retrospective multi-center study including 1056 patients with metastatic PC showed that the median overall survival is dependent on the palliative chemotherapeutic cycle used, and on the use of FOLFIRINOX for up to 9.9 months, nab-paclitaxel with gemcitabine for 7.9 months, and 4.9 months of gemcitabine monotherapy [168]. Similarly, an adjuvant treatment study among a population of 493 patients, by Conroy et al. showed that this kind of therapy with a FOLFIRINOX regimen led to significantly longer survival (54.4 months) than gemcitabine (35.0 months) [169]. Furthermore, the overall survival rate at 3 years was 63.4% in the modified-FOLFIRINOX group and 48.6% in the gemcitabine group. These results could be explained by the tendency of CSCs, and above all CD44+ CSCs, to be insensitive to gemcitabine treatment. The visibly shorter survival period of patients who were treated with this drug, in comparison to remaining options, may be associated with the drug related selection of CD44+ cells and their unlimited proliferation. In the case of combined nab-paclitaxel and gemcitabine treatment, the longer survival rate in comparison to gemcitabine alone might arise from the sensitivity of CD44+ cells to nab-paclitaxel, whose proliferation is stopped with this drug. However, given that the PC resistance to gemcitabine might be explained by well described CSCs features, in a mostly CD44+ subpopulation, the sensitivity of these cells population to FOLFIRINOX needs further studies. The progression of disease during chemotherapeutic treatment may be the result of CD133+ proliferation, which could indicate resistance to both nab-paclitaxel and gemcitabine, and could become dominant in the CSC population, while CD44+ cells are eliminated.
New possibility of pancreatic cancer treatment based on CSC-targeting factors
The relationship between PC chemotherapy resistance and CSC markers described above leads us to conclude that the targeting of these proteins may increase both disease-free and overall survival periods for patients with this neoplasm. A study revealed that CD24 monoclonal antibodies inhibited the growth of human high CD24+ PCs in relation to both time and dose of exposure [140]. Furthermore, the group's next study showed that anti-CD24 antibodies might enhance the effects of oxaloplatin, 5-fluorouracil, doxorubicin, irinotecan, and paclitaxel on the reduction of CD24+ cells [139]. Moreover, Shah et al. observed that CD24+ , CD44+ , and ESA+ cells were more invasive and exhibited increased activation of c-Met, which is one of the potential CSC targets [163]. The c-Met inhibitor with gemcitabine reduced the population of CD24+ , CD44+ , and ESA+ cells, decreased tumor sphere formation in these cells and prevented the growth of the tumor for 6 weeks after the therapy. The authors suggested that the combined use of c-Met inhibitor and gemcitabine might be an effective treatment of PC, due to effects on CSC and bulk PC cell populations [19]. Furthermore, the research of Mueller et al. showed that a combination of cyclopamine/CUR, rapamycin, and gemcitabine may cause tumor regression and abolishes CD24+ CD44+ ESA+ and CD133+ CSC subpopulations with a better survival rate after a 100 days of observation in comparison to gemcitabine only [170]. Moreover, their studies suggested that metformin could inhibit the proliferative activity of CD133+ PC cells leading to decreased pancreatic tumor weights by as much as 34–49% according to drug concentration [54, 171, 172]. On the other hand, the influence of metformin did not affect PC stem cells with other CSC markers, such as CD24+ , CD44+ , ESA+ and co-expression of them [54]. Gupta et al. also showed significantly lower tumor volume among PCs with an initially high population of CD133+ cells (10–25% of cells) in mice treated with lovastatin in combination with paclitaxel when compared to a control group, which suggests that lovastatin may sensitize these cells to paclitaxel [173]. In the Rangarajan et al. study it was found that crocetinic acid suppressed the growth of the tumor and the expression of CD133 and DCLK1 [174]. Another interesting result observed during a study with the kinase inhibitor XMD8-92, showed that injecting this drug caused a reduction in xenograft volume and weight, as well as significant downregulation of DCLK1 expression [175]. In a recent study, significantly reduced cell survival in cases of combined treatment of PC with gemcitabine and DCLK1 inhibitor was demonstrated, compared to individual treatment with gemcitabine in a cell line model [176]. Interestingly, a study by Cioffi et al. described finding that EpCAM/CD3-Bispecific T cell Engaging Antibody MT110 may eliminate primary human pancreatic CSCs in vivo and in vitro, due to the redirection of cytotoxic T lymphocytes against human pancreatic CSCs. As a result, it induced apoptosis, inhibited sphere formation and reduced tumorigenicity of PC in mice. Additionally, the authors observed that the addition of gemcitabine caused no further reduction of tumor size [143]. Another substance, namely acetyl-11-keto-b-boswellic, could be useful in the suppression of progression in CXCR4+ cancer due to downregulation of the CXCR4 receptor and by reduction of the invasiveness of PC [177]. On the other hand, Wang and al. have shown that a blocking ligand binding to CXCR4 had positive effects, not only by reducing PC growth, but also by increasing the sub-G1 apoptotic compartment, thus affecting the G0–G1 phase and, by extension, slowing the G2 and S phases [178]. Moreover, because knockdown of CXCR4 and OCT4 decreases the invasiveness of PC, these factors may also be a promising point in the future of PC therapy [178] [179] Equally interesting are the results of Gao et al. in which it was shown that there is less microRNA-335 to be found in OTC4 (+) PC cells than in OCT4 (−) cells and that miR-335 may cause OCT4 suppression, which in turn results in slower development and decreased tumor expansion [179].
Summary
The expression of PC stem cell markers such as CD133, CD24, CD44, DCLK1, CXCR4, ESA, Oct4 and ABCB1 could be negative prognostic factors in PC and are responsible for its faster progression and its resistance to standard treatment. The expression of these factors may be responsible for the reduction of overall-survival and 5-year survival. Moreover, it seems to be proven that the expression of CD24, CD133, DCLK1, CD44, CXCR4, and Oct4 are associated with a higher incidence of lymph node metastasis, whereas CD24 is also responsible for microscopic, lymphatic, venous and neuronal invasion. The expression of CD44, CD24, ESA and CD133 could also be largely involved in the resistance of PC to gemcitabine therapy, and thus the targeting of these proteins may increase both disease-free and overall survival in PC. All conclusions of our review are summarized in Table 
1
.
Table 1
Cancer stem cells in pancreatic cancer
Marker

Resistance to gemcitarabine

Role in PC

Features of PC with high expression

Survival (months)

Possible treatment

High expression

Low Expression

CD24

Resistant [1]

– Integrin-associated cell to matrix adhesion

– Regulation of cellular morphology

– Protection from apoptosis [2]

– High-grade tumors

– Advanced pT stages

– Nodal metastasis

12 [4]

23 [4]

Cyclopamina/CUR, rapamycin, gemcitabine—reduction of CD24+ PC cell in vivo and in vitro [5]

CD133

Resistant [6]

– Upregulation of EMT

– Gaining the properties of stemness

– Autocrine signaling

– Lymph node metastasis

– Tumor differentiation

ND

ND

Cyclopamina/CUR, rapamycin, gemcitabine—reduction of CD133+ PC cell in vivo and in vitro [5];

Lovastatin, paclitaxel—lower tumor volume in PCs with high population of CD133+ cells in mice [12]; metformin—inhibition of the proliferation of CD133+ CSCs in clinical trials [13]; crocetinic acid—inhibition of PC in vivo [14]

DCLK1

Resistant [15]

– Upregulation c-myc and KRAS

– Suppression of miR-145 and miR-143, overexpression of EGRF

– Increased proliferative signaling

– Repression of s miR-143 and miR-145 and let-7a, overexpression of pluripotency agents OCT4, SOX2, KLF4, NANOG and LIN28B

– Antiapoptotic activity

– Downregulation of VEGF-inhibitors, neovascularization

– Metastases

– Histological grade

– Preoperative CA19-9

10.2 [23]

25.5 [23]

Crocetinic acid—inhibition of PC in vivo [14]; XMD8-92 inhibition of PC proliferation in vivo [25]

CD44

Resistant [26]

– Activation of Akt pathway, inhibition of E-cadherin expression and introduction of EMT [27] [28] [29]

– Lymph node metastasis, advanced clinical stage [30]

20.3 [26]

25.3 [26]

Cyclopamina/CUR, rapamycin, gemcitabine—reduction of CD44+ PC cell in vivo and in vitro [5]

CXCR4

ND

– Interaction with CXCL12

– Increased angiogenesis and formation of new blood and lymphatic vessels [31]

– Lymph node and liver metastases [32]

ND

ND

Acetyl-11-keto-b-boswellic—suppression of PC cells in vivo [33]

ESA

Resistant [34]

– Forming a complex with β-catenin and LEF-1

– Activation transcriptions of genes such as c-Myc, cyclins A and E

– Increased phosphorylation of AKT, mTOR, p70S6K and 4EBP,

– Decreased PTEN expression

– Regulation of EMT and metastasis

48 [37]

70 [37]

Cyclopamina/CUR, rapamycin, gemcitabine—reduction of ESA + PC cell in vivo and in vitro [5];

MT110 elimination of pancreatic CSCs in vivo and in vitro [38];

ABCB1

Resistant [39]

– Drug efflux [39]

ND

7.5 [40]

ND

ND
Notes
Compliance with the ethical standards
Conflict of interest
The authors declare that they have no conflict of interest.
Ethical approval
For this type of study formal consent is not required.
Copyright information
© The Author(s) 2019
Open AccessThis article is distributed under the terms of the Creative Commons Attribution 4.0 International License (http://creativecommons.org/licenses/by/4.0/), which permits unrestricted use, distribution, and reproduction in any medium, provided you give appropriate credit to the original author(s) and the source, provide a link to the Creative Commons license, and indicate if changes were made.