Total and ionized calcium and magnesium are significantly lowered in drug-naïve depressed patients: effects of antidepressants and associations with immune activation
Abstract
Major depressive disorder (MDD) is associated with alterations in calcium (Ca) and magnesium (Mg), as well as circulating pro- and anti-inflammatory cytokines. Anti-inflammatory drugs are commonly used as adjuvant treatments for MDD. However, no studies examined the effects of a combinatorial treatment with sertraline and ketoprofen, an anti-inflammatory drug, on Ca and Mg levels in MDD. The present study examined a) differences in both cations between drug-naïve MDD patients and controls, and b) the effects of sertraline and ketoprofen on Ca and Mg (both total and ionized). In the same patients, we also examined the associations between both cations and IL-1β, IL-4, IL-6, IL-18, IFN-γ, TGF-β1, zinc, and indoleamine 2,3-dioxygenase (IDO). Clinical improvement was assessed using the Beck Depression Inventory-II (BDI-II) at baseline and after follow up for 2 months. Serum Ca and Mg (total and ionized) were significantly lower in MDD patients as compared with controls, while treatment significantly increased calcium but decreased magnesium levels. There were significant and inverse correlations between the BDI-II scores from baseline to endpoint and Ca (both total and ionized), but not Mg, levels. The effects of calcium on the BDI-II score remained significant after considering the effects of zinc, IDO and an immune activation z unit-weighted composite score based on the sum of all cytokines. There was a significant and inverse association between this immune activation index and calcium levels from baseline to endpoint. In conclusion, lowered levels of both cations play a role in the pathophysiology of major depression. Antidepressant-induced increases in Ca are associated with clinical efficacy and attenuation of the immune response. The suppressant effect of antidepressants on Mg levels is probably a side effect of those drugs. New antidepressant treatments should be developed that increase the levels both Ca and Mg.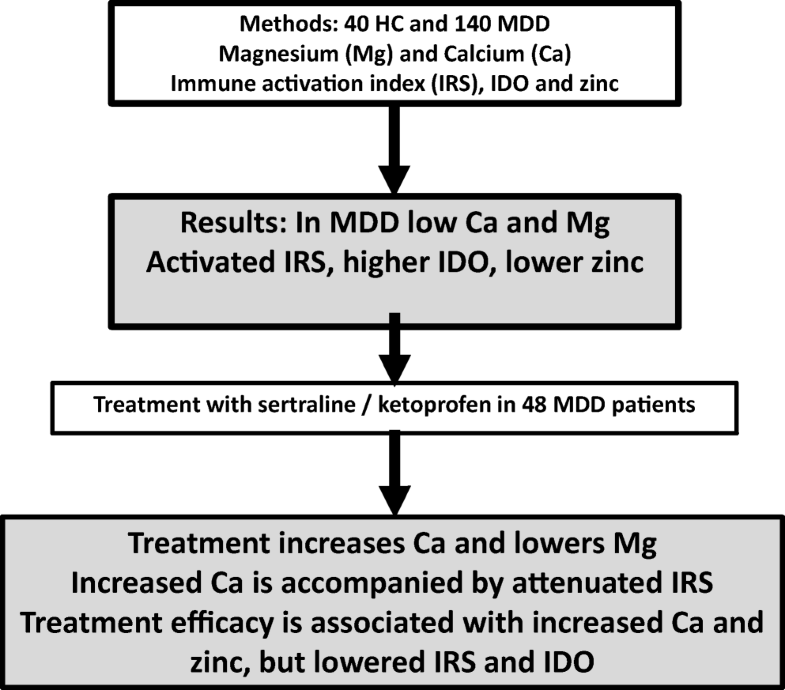 Keywords
Depression 
Cytokines 
Inflammation 
Indoleamine 2,3-dioxygenase 
Neuro-immune 
Abbreviations
ANOVA

Analysis of variance

BDI-II

Beck Depression Inventory-II

BMI

Body mass index

Ca

Calcium

CIRS

Compensatory immune regulatory system

COX

Cyclooxygenase

CRP

C-reactive protein

CV

Coefficient of variation

ELISA

Enzyme-linked immunosorbent assay

GEE

Generalized estimating equation

GLM

General linear model

HRP

Horseradish peroxidase

I

Ionized

ICD-10

10th revision of the International Statistical Classification of Diseases and Related Health Problems

IDO

Indoleamine 2,3-dioxygenase

IFN-γ

Interferon-gamma

IL

Interleukin

IRS

Immune response system

M1

Macrophage type 1

MDD

Major depressive disorder

Mg

Magnesium

NSAIDs

Non-steroidal anti-inflammatory drugs

T

Total

TGF-β1

Transforming growth factor-beta1

Th-

T helper-

TMB

Tetramethylbenzidine

Treg

Tregulatory cells
Notes
Acknowledgments
We would like to thank the staff of the Asia Clinical Laboratory in Najaf city for their help in the ELISA measurements. We greatly appreciate the continuous cooperation of the staff of the Psychiatry Unit at Al-Hakeem General Hospital.
Author's contributions
All the contributing authors have participated in the preparation of the manuscript.
Compliance with ethical standards
Conflict of interest
The authors have no conflict of interest with any commercial or other association in connection with the submitted article.
Copyright information
© Springer Science+Business Media, LLC, part of Springer Nature 2019