Abstract
Rap2B, belonging to the Ras superfamily of small guanosine triphosphate-binding proteins, is upregulated and contributes to the progression of several tumors by acting as an oncogene, including hepatocellular carcinoma (HCC). However, the mechanism underlying the functional roles of Rap2B in HCC remains unclear. In this study, the evaluation of Rap2B expression in HCC cells and tissues was achieved by qRT-PCR and western blot assays. The effects of Rap2B on the malignant biological behaviors in HCC were explored by means of MTT assay, flow cytometry analysis, and Transwell invasion assay, respectively. Protein levels of Ki67, matrix metalloproteinase (MMP)-2, MMP-9, and cleaved caspase-3, together with the alternations of the ERK1/2 and PTEN/PI3K/Akt pathways were qualified by western blot assay. Further verification of the Rap2B function on HCC tumorigenesis was attained by performing in vivo assays. We found that Rap2B levels were upregulated in HCC tissues and cells. Rap2B silencing led to a reduction of cell-proliferative and invasive abilities, and an increase of apoptosis in HCC cells. In addition, xenograft tumor assay demonstrated that Rap2B silencing repressed HCC xenograft tumor growth in vivo. In addition, we found that Rap2B knockdown significantly inhibited the ERK1/2 and PTEN/PI3K/Akt cascades in HCC cells and xenograft tumor tissues. Together, Rap2B knockdown inhibited HCC-malignant progression, which was involved in inhibiting the ERK1/2 and PTEN/PI3K/Akt pathways. Our findings contribute to understanding of the molecular mechanism of Rap2B in HCC progression.
This is a preview of subscription content, log in to check access.
Access options
Buy single article
Instant access to the full article PDF.
US$ 39.95
Price includes VAT for USA
Subscribe to journal
Immediate online access to all issues from 2019. Subscription will auto renew annually.
US$ 199
This is the net price. Taxes to be calculated in checkout.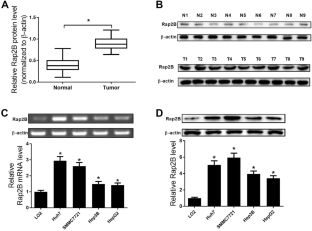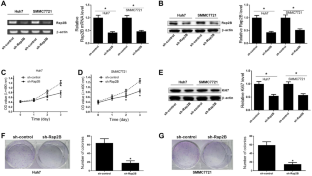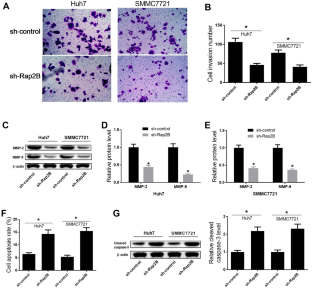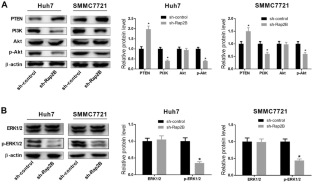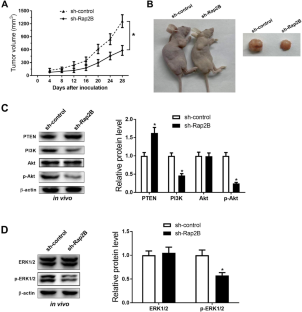 Abbreviations
GTP:

Guanosine triphosphate

HCC:

Hepatocellular carcinoma

MMP:

Matrix metalloproteinase

shRNA:

Short hairpin RNA

PVDF:

Polyvinylidene difluoride

Akt:

Anti-protein kinase B

PI3K:

Phosphoinositide 3-kinase

PTEN:

Anti-phosphatase and tensin homolog

MTT:

3-(4,5-Dimethylthiazol-2-yl)-2,5-diphenyltetrazolium bromide

DMSO:

Dimethyl sulfoxide
References
1.

Ryerson AB, Eheman CR, Altekruse SF, Ward JW, Jemal A, Sherman RL, Henley SJ, Holtzman D, Lake A, Noone AM, Anderson RN, Ma J, Ly KN, Cronin KA, Penberthy L, Kohler BA (2016) Annual report to the nation on the status of cancer, 1975–2012, featuring the increasing incidence of liver cancer. Cancer 122:1312–1337

2.

Bray F, Ferlay J, Soerjomataram I, Siegel RL, Torre LA, Jemal A (2018) Global cancer statistics 2018: GLOBOCAN estimates of incidence and mortality worldwide for 36 cancers in 185 countries. CA Cancer J Clin 68:394–424

3.

Forner A, Reig M, Bruix J (2018) Hepatocellular carcinoma. Lancet 391:1301–1314

4.

Yang JD, Roberts LR (2010) Hepatocellular carcinoma: a global view. Nat Rev Gastroenterol Hepatol 7:448–458

5.

Torti M, Lapetina EG (1994) Structure and function of rap proteins in human platelets. Thromb Haemost 71:533–543

6.

Ohmstede CA, Farrell FX, Reep BR, Clemetson KJ, Lapetina EG (1990) RAP2B: a RAS-related GTP-binding protein from platelets. Proc Natl Acad Sci USA 87:6527–6531

7.

Qu D, Huang H, Di J, Gao K, Lu Z, Zheng J (2016) Structure, functional regulation and signaling properties of Rap2B. Oncol Lett 11:2339–2346

8.

Di J, Tang J, Qian H, Franklin DA, Deisenroth C, Itahana Y, Zheng J, Zhang Y (2017) p53 upregulates PLCepsilon-IP3-Ca(2+) pathway and inhibits autophagy through its target gene Rap2B. Oncotarget 8:64657–64669

9.

Zhang L, Duan HB, Yang YS (2017) Knockdown of Rap2B inhibits the proliferation and invasion in hepatocellular carcinoma cells. Oncol Res 25:19–27

10.

Pogribny IP, Rusyn I (2014) Role of epigenetic aberrations in the development and progression of human hepatocellular carcinoma. Cancer Lett 342:223–230

11.

Li Y, Li S, Huang L (2018) Knockdown of Rap2B, a Ras superfamily protein, inhibits proliferation, migration, and invasion in cervical cancer cells via regulating the ERK1/2 signaling pathway. Oncol Res 26:123–130

12.

Peng YG, Zhang ZQ, Chen YB, Huang JA (2016) Rap2b promotes proliferation, migration, and invasion of lung cancer cells. J Recept Signal Transduct Res 36:459–464

13.

Rogers C, Fernandes-Alnemri T, Mayes L, Alnemri D, Cingolani G, Alnemri ES (2017) Cleavage of DFNA5 by caspase-3 during apoptosis mediates progression to secondary necrotic/pyroptotic cell death. Nat Commun 8:14128

14.

Maehama T, Dixon JE (1998) The tumor suppressor, PTEN/MMAC1, dephosphorylates the lipid second messenger, phosphatidylinositol 3,4,5-trisphosphate. J Biol Chem 273:13375–13378

15.

Garcia-Echeverria C, Sellers WR (2008) Drug discovery approaches targeting the PI3K/Akt pathway in cancer. Oncogene 27:5511–5526

16.

Liu F, He Y, Liang Y, Wen L, Zhu Y, Wu Y, Zhao L, Li Y, Mao X, Liu H (2013) PI3-kinase inhibition synergistically promoted the anti-tumor effect of lupeol in hepatocellular carcinoma. Cancer Cell Int 13:108

17.

Perez-Ramirez C, Canadas-Garre M, Molina MA, Faus-Dader MJ, Calleja-Hernandez MA (2015) PTEN and PI3K/AKT in non-small-cell lung cancer. Pharmacogenomics 16:1843–1862

18.

Fresno Vara JA, Casado E, de Castro J, Cejas P, Belda-Iniesta C, Gonzalez-Baron M (2004) PI3K/Akt signalling pathway and cancer. Cancer Treat Rev 30:193–204

19.

Gan Y, Shi C, Inge L, Hibner M, Balducci J, Huang Y (2010) Differential roles of ERK and Akt pathways in regulation of EGFR-mediated signaling and motility in prostate cancer cells. Oncogene 29:4947–4958

20.

Komatsu N, Fujita Y, Matsuda M, Aoki K (2015) mTORC1 upregulation via ERK-dependent gene expression change confers intrinsic resistance to MEK inhibitors in oncogenic KRas-mutant cancer cells. Oncogene 34:5607–5616

21.

Li J, Zhu J, Cao B, Mao X (2014) The mTOR signaling pathway is an emerging therapeutic target in multiple myeloma. Curr Pharm Des 20:125–135

22.

Ren J, Cook AA, Bergmeier W, Sondek J (2016) A negative-feedback loop regulating ERK1/2 activation and mediated by RasGPR2 phosphorylation. Biochem Biophys Res Commun 474:193–198

23.

Di J, Huang H, Qu D, Tang J, Cao W, Lu Z, Cheng Q, Yang J, Bai J, Zhang Y, Zheng J (2015) Rap2B promotes proliferation, migration, and invasion of human breast cancer through calcium-related ERK1/2 signaling pathway. Sci Rep 5:12363

24.

Lu KH, Chen PN, Hsieh YH, Lin CY, Cheng FY, Chiu PC, Chu SC, Hsieh YS (2016) 3-Hydroxyflavone inhibits human osteosarcoma U2OS and 143B cells metastasis by affecting EMT and repressing u-PA/MMP-2 via FAK-Src to MEK/ERK and RhoA/MLC2 pathways and reduces 143B tumor growth in vivo. Food Chem Toxicol 97:177–186

25.

Chang AY, Wang M (2013) Molecular mechanisms of action and potential biomarkers of growth inhibition of dasatinib (BMS-354825) on hepatocellular carcinoma cells. BMC Cancer 13:267

26.

Zhang YY, Song N, Liu F, Lin J, Liu MK, Huang CL, Liao DQ, Zhou C, Wang H, Shen JF (2019) Activation of the RAS/B-RAF-MEK-ERK pathway in satellite glial cells contributes to substance p-mediated orofacial pain. Eur J Neurosci. https://doi.org/10.1111/ejn.14619

27.

Lian X, Jiao Y, Yang Y, Wang Z, Xuan Q, Liu H, Lu S, Wang Z, Liu Y, Li S, Yang Y, Guo L, Zhao L, Zhang Q (2015) CrkL regulates SDF-1-induced breast cancer biology through balancing Erk1/2 and PI3K/Akt pathways. Med Oncol 32:411
Ethics declarations
Conflict of interest
The authors declare no conflict of interest.
Additional information
Publisher's Note
Springer Nature remains neutral with regard to jurisdictional claims in published maps and institutional affiliations.
About this article
Cite this article
Zhu, L., Sun, Y., Zhang, S. et al. Rap2B knockdown suppresses malignant progression of hepatocellular carcinoma by inactivating the PTEN/PI3K/Akt and ERK1/2 pathways. Mol Cell Biochem 466, 55–63 (2020). https://doi.org/10.1007/s11010-020-03687-w
Received:

Accepted:

Published:

Issue Date:
Keywords
Rap2B

Proliferation

Invasion

PTEN/PI3K/Akt pathway

ERK1/2 pathway

Hepatocellular carcinoma (HCC)