Abstract
Objectives
Unintended pregnancy is an individual and public health problem with significant social and economic consequences. The literature has established that parents, especially mothers, play an important role in shaping the contraceptive attitudes and behaviors of young women and could therefore affect the likelihood of their daughter experiencing an unintended pregnancy. However, research has yet to fully explore the nuances of how mothers influence their daughters with respect to contraception.
Methods
We conducted a mixed methods study to explore the impact of mothers on women's contraceptive attitudes and behaviors. In-depth interviews were conducted with 86 women of reproductive age to identify potential patterns and explore the nature of mothers' influences. We then analyzed medical and prescription claims for a cohort of 9813 pairs of women (mother–daughter proxies) enrolled in Medicaid, to determine if such patterns of contraceptive use held in a larger sample.
Results
In-depth interviews reveal how and why mothers shape women's contraceptive attitudes and behaviors, particularly highlighting the nuances of communication, knowledge, and relationships. The statistical claims data supported such findings on a broader scale. For instance, across several types of contraceptives, including oral, injectable, and long-acting reversible contraceptives (LARCs), young women were significantly more likely to use a particular method if an older woman in the household (mother proxy) also used that method (AOR (95% CI) 1.99 (1.67–2.37), 2.06 (1.58–2.68) and 2.83 (1.64–4.88) respectively).
Conclusions for Practice
This study fills a gap in the literature regarding the nuanced ways in which mothers influence women's contraceptive behavior. In turn, it supports the importance of familial context—especially the influence of mothers—in contraception decision-making and suggests that interventions aimed at improving access to and uptake of effective methods of contraception consider this context in their design and implementation.
This is a preview of subscription content, log in to check access.
Access options
Buy single article
Instant access to the full article PDF.
US$ 39.95
Price includes VAT for USA
Subscribe to journal
Immediate online access to all issues from 2019. Subscription will auto renew annually.
US$ 99
This is the net price. Taxes to be calculated in checkout.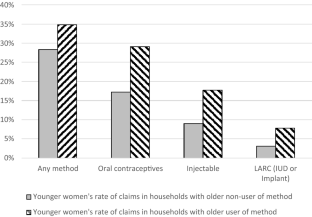 References
Aspy, C. B., et al. (2007). Parental communication and youth sexual behavior. Journal of Adolescence,30(3), 449–466. https://doi.org/10.1016/j.adolescence.2006.04.007.

Baker, E. H. (2014). Socioeconomic status, definition. In W. C. Cockerham, R. Dingwall, & S. R. Quah (Eds.), The Wiley Blackwell Encyclopedia of health, illness, behavior, and society (pp. 2210–2214). Chichester: Wiley.

Boonstra, H., et al. (2000). The "boom and bust phenomenon": the hopes, dreams, and broken promises of the contraceptive revolution. Contraception,61(1), 9–25. https://doi.org/10.1016/S0010-7824(99)00121-3.

Bryant, A. G., et al. (2019). Hormonal contraception, breastfeeding and bedside advocacy: the case for patient-centered care. Contraception,99(2), 73–76. https://doi.org/10.1016/j.contraception.2018.10.011.

Charmaz, K. (2014). Constructing grounded theory. London: Sage.

Commendador, K. A. (2010). Parental influences on adolescent decision making and contraceptive use. Pediatric Nursing,36(3), 147–170.

Crouss, T. M., Yao, R., & Brannon, R. (2018). Differences in adolescent effective contraception use between population densities. Open Journal of Obstetrics and Gynecology,8, 531–539.

Eisenberg, M. E., et al. (2004). Parents' beliefs about condoms and oral contraceptives: Are they medically accurate? Perspectives on Sexual and Reproductive Health,36(2), 50–57. https://doi.org/10.1363/3605004.

Finer, L. B., & Zolna, M. R. (2011). Unintended pregnancy in the United States: Incidence and disparities, 2006. Contraception, 84(5), 478–485.

Finer, L. B., & Zolna, M. R. (2016). Declines in unintended pregnancy in the United States, 2008–2011. New England Journal of Medicine,374(9), 843–852. https://doi.org/10.1056/NEJMsa1506575.

Fingerson, L. (2005). Do mothers' opinions matter in teens' sexual activity? Journal of Family Issues,26(7), 947–974. https://doi.org/10.1177/0192513X04272758.

Gage, A. J. (1998). Sexual activity and contraceptive use: the components of the decision making process. Studies in Family Planning,29(2), 154–166. https://doi.org/10.2307/172156.

Gilliam, M. (2007). The role of parents and partners in the pregnancy behaviors of young Latinas. Hispanic Journal of Behavioral Sciences,29(1), 50–67. https://doi.org/10.1177/0739986306295036.

Hatcher RA et al. (2011). Contraceptive technology, 20th revised ed., New York: Ardent Media.

Inazu, J. K., & Fox, G. L. (1980). Maternal influence on the sexual behavior of teenage daughters. Journal of Family Issues,1(1), 81–102. https://doi.org/10.1177/0192513X8000100105.

Jaccard, J., Dittus, P. J., & Gordon, V. V. (1998). Parent-adolescent congruency in reports of adolescent sexual behavior and in communications about sexual behavior. Child Development,69(1), 247–261. https://doi.org/10.2307/1132083.

Kroelinger, C. D., et al. (2019). State-identified implementation strategies to increase uptake of immediate postpartum long-acting-reversible-contraception policies. Journal of Women's Health,28(3), 346–355. https://doi.org/10.1089/jwh.2018.7083.

Miller, B. C. (2002). Family influences on adolescent sexual and contraceptive behavior. The Journal of Sex Research,39(1), 22–26. https://doi.org/10.1080/00224490209552115.

Miller, B. C., Benson, B., & Galbraith, K. A. (2001). Family relationships and adolescent pregnancy risk: A research synthesis. Developmental Review,21, 1–38. https://doi.org/10.1006/drev.2000.0513.

Nathanson, C. A., & Becker, M. H. (1986). Family and peer influence on obtaining a method of contraception. Journal of Marriage and the Family,48, 513–525. https://doi.org/10.2307/352037.

Office of Population Affairs. (2019). Contraceptive provision measures technical documentation: Claims code sets. Retrieved December 1, 2019 from https://www.hhs.gov/opa/performance-measures/claims-data-sas-program-instructions/index.html.

Okwori, G., Hale, N., Smith, M., & Beatty, K. (2019). Geographic differences in contraception access and utilization within family planning organizations in South Carolina. Appalachian Student Research Forum, Johnson City, TN.

Parera, N., & Suris, J. (2004). Having a good relationship with their mother: a protective factor against sexual risk behavior among adolescent females? Journal of Pediatric Adolescent Gynecology,17, 267–271. https://doi.org/10.1016/j.jpag.2004.05.002.

Peipert, J. F., et al. (2012). Preventing unintended pregnancies by providing no-cost contraception. Obstetrics and Gynecology,120(6), 1291. https://doi.org/10.1097/AOG.0b013e318273eb56.

Sonfield, A., Hasstedt. K, & Gold, R. B. (2014). Moving forward: Family planning in the era of health reform, New York: Guttmacher Institute. Retrieved December 1, 2019 from https://www.guttmacher.org/report/moving-forward-family-planning-era-health-reform.

Tong, A., Sainsbury, P., & Craig, J. (2007). Consolidated criteria for reporting qualitative research (COREQ): A 32-item checklist for interviews and focus groups. International Journal for Quality in Health Care,19(6), 349–357. https://doi.org/10.1093/intqhc/mzm042.

Travers, C. D., Spencer, J. B., Cwiak, C. A., Mertens, A. C., & Howards, P. P. (2017). Urban-rural differences in tubal ligation incidences in the state of Georgia, USA. The Journal of Rural Health,34(2), 122–131. https://doi.org/10.1111/jrh.12259.

Walker, A. W., Stern, L., Cipres, D., Rodriguez, A., Alvarez, J., & Seidman, D. (2019). Do adolescent women's contraceptive preferences predict method use and satisfaction? A survey of northern California family planning clients. Journal of Adolescent Health,64(5), 640–647. https://doi.org/10.1016/j.jadohealth.2018.10.291.

Widman, L., et al. (2016). Parent-adolescent sexual communication and adolescent safer sex behavior: A meta-analysis. JAMA Pediatrics,170(1), 52–61. https://doi.org/10.1001/jamapediatrics.2015.2731.
Acknowledgements
The research reported in this paper was funded through a private philanthropic organization. Medicaid claims data was provided by the Delaware Division of Medicaid & Medical Assistance through a partnership between the University of Delaware's Colleges of Arts & Sciences and Health Sciences and the Delaware Department of Health and Social Services. Birth certificate and PRAMS data was provided by the Delaware Division of Public Health, Vital Statistics. Opinions and conclusions are that of the authors.
Funding
Funding was provided by Anonymous Foundation.
Ethics declarations
Conflict of interest
The authors have no financial conflict of interest.
Additional information
Publisher's Note
Springer Nature remains neutral with regard to jurisdictional claims in published maps and institutional affiliations.
About this article
Cite this article
Bell, A.V., Gifford, K., Rashid, H. et al. "Power of Mom": A Mixed Methods Investigation of Mothers' Influence on Women's Contraceptive Attitudes and Behaviors. Matern Child Health J 24, 291–298 (2020). https://doi.org/10.1007/s10995-019-02859-5
Keywords
Contraception

Reproduction

Mixed methods

Medicaid

Maternal influence