Abstract
Crystal-to-crystal transitions of a high-temperature nylon, poly(2-methtyl pentamethylene terephthalamide, nylon M5T), were studied by conventional and modulated temperature DSC (DSC and MT-DSC, respectively), as well as modulated thermomechanical analysis (MT-TMA), wide-angle X-ray scattering (WAXS), dynamic mechanical analysis (DMA) and hot stage microscopy. This polymer can easily be quenched to the completely amorphous phase at a cooling rate as low as 80 °C min−1. This polymer has three different crystal forms plus a smectic phase, and these crystal forms change into each other during a continuous heating of the amorphous polymer as evidenced by MT-DSC, MT-TMA, DMA and WAXS. The crystal-to-crystal transitions of two vastly different molecular masses were investigated: One was prepared by polycondensation followed by chain extension (see Menczel et al. J Thermal Anal 46:753, 1996), and the other sample was made by simple polycondensation. Tg of the amorphous polymer (including the as-spun fiber) is 143 °C, which is about 25 °C higher for the drawn fiber. The crystal-to-crystal transitions take place between 170 and 290 °C. MT-DSC and DMA measurements (the reversing heat flow signal and the tensile storage modulus of the as-spun fiber) proved that these crystal-to-crystal transitions take place through melting. Efficient nucleating agents (carbon nanofibers) do affect the temperature of these transitions as well as the melt-to-crystal transition during cooling of the melt and also during heating of the amorphous polymer. Polarization optical microscopy observations suggest that the highest temperature crystal form obtainable in high-temperature melt isothermal crystallization is probably a smectic, and this phase changes to some spherulitic structure during further cooling. Non-isothermal and isothermal crystallization measurements let us conclude that the two high-temperature crystal forms (smectic and crystal form C) are thermodynamically stable (enantiotropic), while the two low-temperature crystal forms are metastable (monotropic). The Hoffman–Weeks method gave 339 °C for the equilibrium melting point of this polymer. DMA experiments gave three secondary transitions. A transition at ~ − 120 °C was assigned to a local mode relaxation of the methylene groups. The transition at  − 65 °C corresponds to the onset of rotation of the amide groups, while another secondary transition at 63 °C is the onset of rotation of the phenylene groups.
This is a preview of subscription content, log in to check access.
Access options
Buy single article
Instant access to the full article PDF.
US$ 39.95
Price includes VAT for USA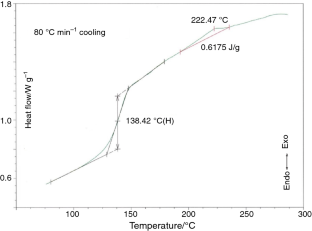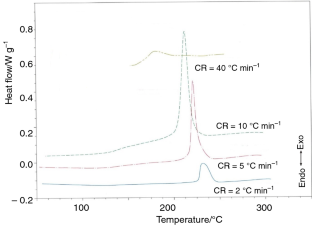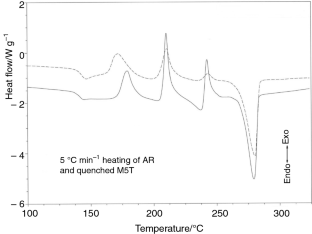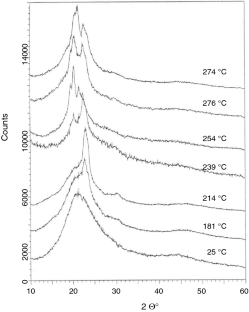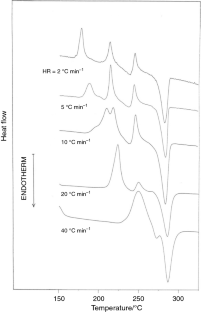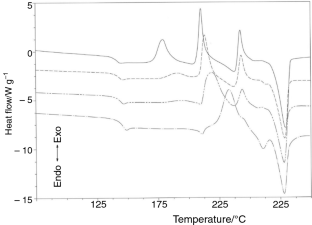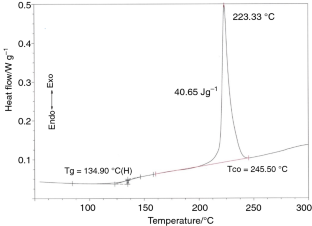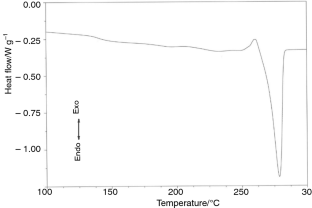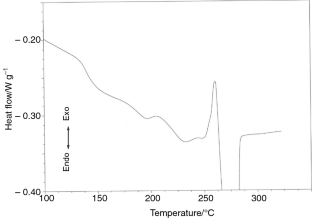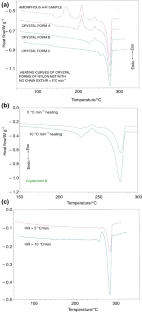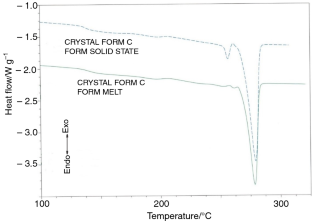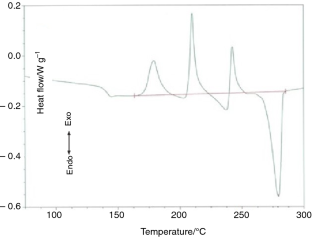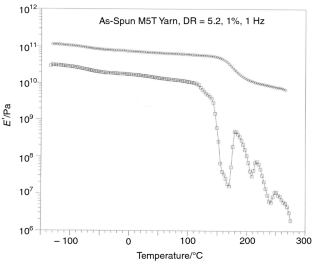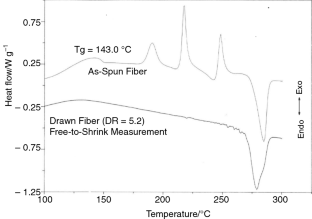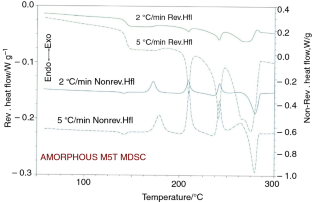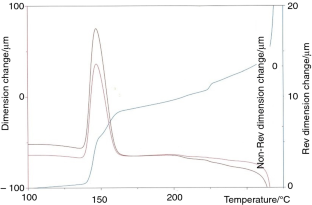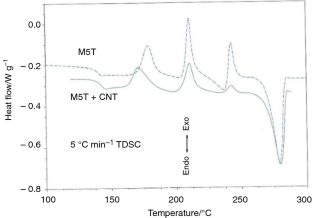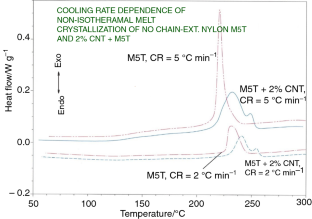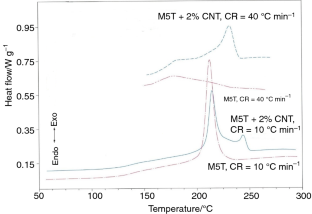 References
1.

Menczel JD, Jaffe M, Saw CK, Bruno TP. Thermal analysis of poly (2-methylpentamethylene terephthalamide). J Therm Anal Calorim. 1996;46:753.

2.

Menczel J, Wunderlich B. Heat capacity hysteresis of semicrystalline macromolecular glasses. J Polym Sci Polym Lett Ed. 1981;19:261.

3.

Wunderlich B. Study of the change in specific heat of monomeric and polymeric glasses during the glass transition. J Phys Chem. 1960;64:1052.

4.

Frosini V, Butta J. Some remarks on the mechanical relaxations in aliphatic, partially aromatic and wholly aromatic polyamides. J Polym Sci Polym Lett Ed. 1971;9:253.
Additional information
Publisher's Note
Springer Nature remains neutral with regard to jurisdictional claims in published maps and institutional affiliations.
About this article
Cite this article
Menczel, J.D. Crystal-to-crystal transitions in nylon M5T. J Therm Anal Calorim (2020). https://doi.org/10.1007/s10973-020-09394-4
Received:

Accepted:

Published:
Keywords
High temperature nylons

Crystal-to-crystal transitions

DSC

MTDSC

DMA

WAXD

Crystal nucleation

Cold crystallization