Abstract
This research work is proposed to test and evaluate the performance, combustion and emission characteristics of variable compression ratio engine fueled with methyl esters of rubber seed oil as biodiesel. Experiments are carried out on variable compression ratio engine by considering the compression ratio, load, fuel blends, injection pressure and supercharging pressure as variables. The response surface method prediction models for indicated mean effective pressure, brake thermal efficiency, specific fuel consumption, exhaust gas temperature, maximum combustion pressure, heat release rate, ignition delay, carbon monoxide, hydrocarbon and nitrogen oxides emission are developed using the experimental results. D-optimality test is carried out to get optimum engine-operating conditions with improved performance and emission. Test is conducted via the fuel blends of 20, 40, 60 and 80% biodiesel with neat diesel, with an injection pressure of 160 bar at a fixed compression ratio of 20 and at different supercharging conditions at 80% load. The results of the experiment are compared with that of diesel, which confirms that significant improvements in performance and emission characteristics are obtained with the help of supercharging. The combustion characteristics of biodiesel blends comprehend with that of standard diesel.
This is a preview of subscription content, log in to check access.
Access options
Buy single article
Instant unlimited access to the full article PDF.
US$ 39.95
Price includes VAT for USA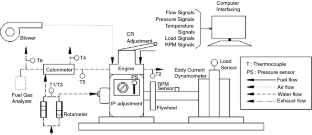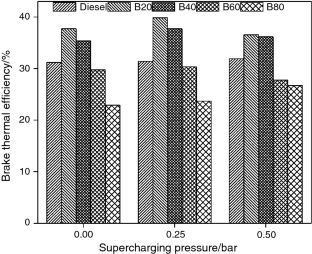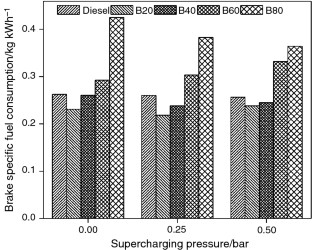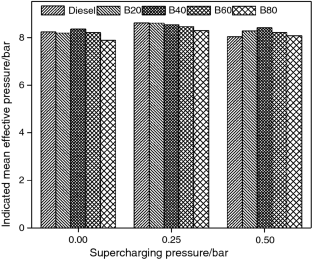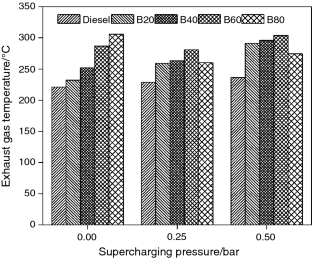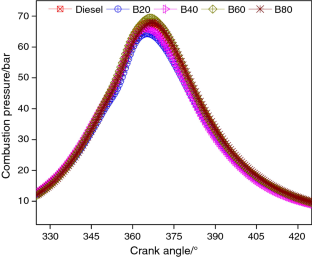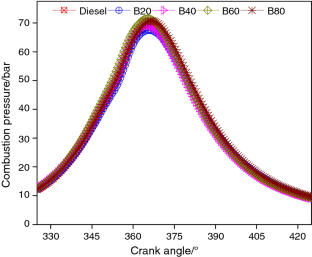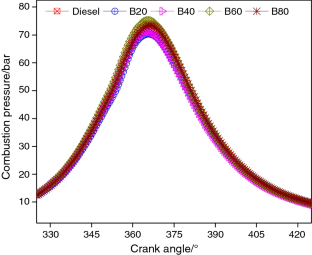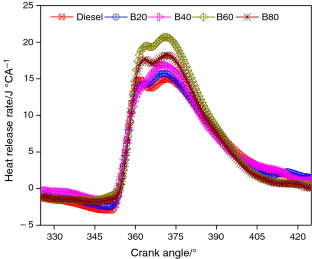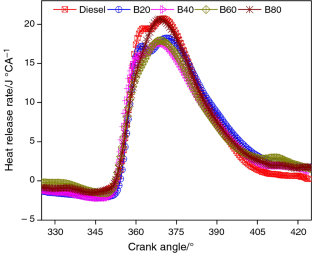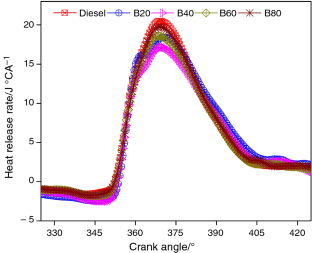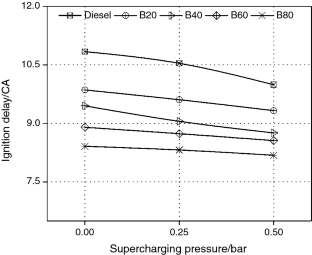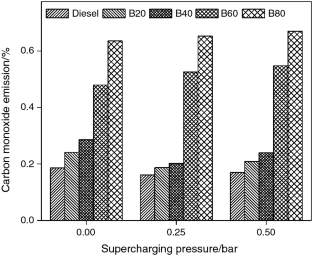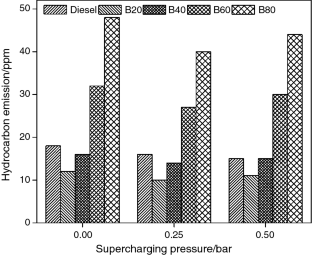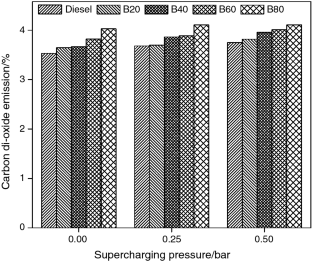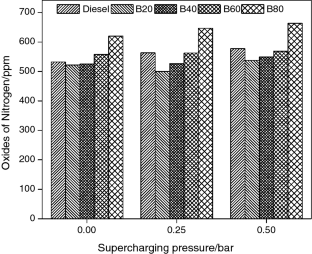 Abbreviations
VCR:

Variable compression ratio

MRSO:

Methyl esters of rubber seed oil

IP:

Injection pressure (bar)

CR:

Compression ratio

BTE:

Brake thermal efficiency (%)

BSFC:

Brake specific fuel consumption (kg kW−1 h−1)

RSO:

Rubber seed oil

ID:

Ignition delay (ºCA)

SC:

Supercharging

NA:

Naturally aspirated

HRR:

Heat release rate (J °CA−1)

IMEP:

Indicated mean effective pressure (bar)

EGT:

Exhaust gas temperature (°C)

CA:

Crank angle

CO:

Carbon monoxide (%)

CO2 :

Carbon dioxide (%)

HC:

Hydrocarbon (ppm)

NOx :

Oxides of nitrogen (ppm)

IS:

Indian standards

RSM:

Response surface methodology

ANOVA:

Analysis of variance

ASTM:

American society of testing and materials

bTDC:

Before top dead center

FFA:

Free fatty acid

p test:

Probability test

F test:

Fisher's test

B20:

20% biodiesel + 80% diesel

B40:

40% biodiesel + 60% diesel

B60:

60% biodiesel + 40% diesel

B80:

80% biodiesel + 20% diesel

B100:

100% biodiesel

P max :

Combustion pressure (bar)

R 2 :

Coefficient of determination

adj:

Adjusted

X :

Test statistics

σ :

Standard deviation

μ :

Mean

θ :

Crank angle

g :

Gauge pressure
References
1.

Tompkins BT, Song H, Bittle JA, Jacobs TJ. Efficiency considerations for the use of blended biofuel in diesel engines. Appl Energy. 2012;98:209–18.

2.

Godiganur S, Murthy CS, Reddy RP. 6BTA 5.9 G2-1 cummins engine performance and emission tests using methyl ester mahua (Madhuca indica) oil/diesel blends. Renew Energy. 2009;34(10):2172–7.

3.

Grau B, Bernat E, Rita P, Jordi-Roger R, Antoni R. Environmental life cycle assessment of rapeseed straight vegetable oil as self-supply agricultural biofuel. Renew Energy. 2013;50:142–9.

4.

Kapilan N, Babu TA, Reddy RP. Characterization and effect of using Mahua oil biodiesel as fuel in compression ignition engine. J Therm Sci. 2009;18(4):382–4.

5.

Wu X, Daniel R, Tian G, Xu H, Huang Z, Richardson D. Dual-injection: the flexible, bi-fuel concept for spark-ignition engines fuelled with various gasoline and biofuel blends. Appl Energy. 2011;88(7):2305–14.

6.

Atabani AE, Silitonga AS, Ong HC, Mahlia TMI, Masjuki HH, Badruddin IA, Fayaz H. Non-edible vegetable oils: a critical evaluation of oil extraction, fatty acid compositions, biodiesel production, characteristics, engine performance and emissions production. Renew Sustain Energy Rev. 2013;18:211–45.

7.

Lujaji F, Bereczky A, Janosi L, Novak C, Mbarawa M. Cetane number and thermal properties of vegetable oil, biodiesel, 1-butanol and diesel blends. J Therm Anal Calorim. 2010;102(3):1175–81.

8.

Ramadhas AS, Jayaraj S, Muraleedharan C. Biodiesel production from high FFA rubber seed oil. Fuel. 2005;84(4):335–40.

9.

Gimbun J, Ali S, Kanwal CCSC, Shah LA, Muhamad NH, Cheng CK, Nurdin S. Biodiesel production from rubber seed oil using activated cement clinker as catalyst. Proc Eng. 2013;53:13–9.

10.

Kumar SS, Purushothaman K. High FFA rubber seed oil as an alternative fuel for diesel engine—an overview. Int J Eng Sci. 2012;1(10):16–24.

11.

Devi VM, Prasad PN, Syndia LAM, Rajakohila M, Ariharan VN. Physico-chemical characterization of rubber seed oil (Hevea Brasiliensis)—a promising feedstock for biodiesel production. Int J Chem Anal Sci. 2012;3(5):1402–4.

12.

Gopinath A, Sairam K, Velraj R. A review on combustion, performance, and emission characteristics of fuels derived from oil seed crops (biodiesels). Aus J Crop Sci. 2013;7(9):1350–4.

13.

Ramadhas AS, Jayaraj S, Muraleedharan C. Characterization and effect of using rubber seed oil as fuel in the compression ignition engines. Renew Energy. 2005;30(5):795–803.

14.

Pradeep V, and RP Sharma. Evaluation of performance, emission and combustion parameters of a CI engine fuelled with bio-diesel from rubber seed oil and its blends. SAE paper no. 200526353 (2005).

15.

Geo VE, Nagarajan G, Nagalingam B. Studies on improving the performance of rubber seed oil fuel for diesel engine with DEE port injection. Fuel. 2010;89(11):3559–67.

16.

Rao GAP, Mohan PR. Effect of supercharging on the performance of a DI diesel engine with cotton seed oil. Energy Convers Manag. 2003;44(6):937–44.

17.

Jagadish D, Kumar PR, Murthy KM. The effect of supercharging on performance and emission characteristics of compresion ignition engine with diesel-ethanol-ester blends. Therm Sci. 2011;15(4):1165–74.

18.

Singh N, Kumar H, Jha MK, Sarma AK. Complete heat balance, performance, and emission evaluation of a CI engine fueled with Mesua ferrea methyl and ethyl ester's blends with petrodiesel. J Therm Anal Calorim. 2015;122(2):907–16.

19.

Ebrahimi R, Sherafati M. Thermodynamic simulation of performance of a dual cycle with stroke length and volumetric efficiency. J Therm Anal Calorim. 2013;111(1):951–7.

20.

Ebrahimi R, Dehkordi NS. Effects of design and operating parameters on entropy generation of a dual cycle. J Therm Anal Calorim. 2018;133(3):1609–16.

21.

Sivaramakrishnan K, Ravikumar P. Optimization of operational parameters on performance and emissions of a diesel engine using biodiesel. Int J Environ Sci Technol. 2014;11(4):949–58.

22.

Bharadwaz YD, Rao BG, Rao VD, Anusha C. Improvement of biodiesel methanol blend performance in a variable compression ratio engine using response surface methodology. Alexa Eng J. 2016;55(2):1201–9.

23.

Murugapoopathi S, and D Vasudevan. Energy and exergy analysis on variable compression ratio multi-fuel engine. J Therm Anal Calorim, 2018: 1-12.

24.

Ramadhas AS, Muraleedharan C, Jayaraj S. Performance and emission evaluation of a diesel engine fueled with methyl esters of rubber seed oil. Renew energy. 2005;30(12):1789–800.

25.

Maurya RK, Agarwal AK. Experimental investigation on the effect of intake air temperature and air–fuel ratio on cycle-to-cycle variations of HCCI combustion and performance parameters. Appl Energ. 2011;88(4):1153–63.

26.

Cox DD, Snell EJ. The analysis of binary data. 2nd ed. London: Chapman and Hall; 1989.

27.

Montgomery DC, Myers RH. Response surface methodology. In: Design and analysis of experiments. 1995. pp. 445–74.

28.

Wilson VH. Optimization of diesel engine parameters using Taguchi method and design of evolution. J Bras Soc Mech Sci Eng. 2012;34(4):423–8.

29.

Muralidharan K, Vasudevan D. Performance, emission and combustion characteristics of a variable compression ratio engine using methyl esters of waste cooking oil and diesel blends. Appl Energy. 2011;88(11):3959–68.

30.

Kannan GR, Anand R. Experimental investigation on diesel engine with diestrol–water micro emulsions. Energy. 2011;36(3):1680–7.

31.

Muralidharan K, Vasudevan D, Sheeba KN. Performance, emission and combustion characteristics of biodiesel fuelled variable compression ratio engine. Energy. 2011;36(8):5385–93.

32.

VenkateswaraRao B, Rao GAP. Prediction of heat-release patterns for modeling diesel engine performance and emissions. Int J Adv Eng Tech. 2012;3(1):262–9.

33.

Planells RC, Amengual AC, Larruy AC. Motores de combustión interna—Fundamentos. Barcelona: Edicions UPC; 1995.

34.

Vinukumar K, Azhagurajan A, Vettivel SC, Vedaraman N. Rice husk as nanoadditive in diesel–biodiesel fuel blends used in diesel engine. J Therm Anal Calorim. 2018;131(2):1333–43.

35.

Bora BJ, Saha UK. Experimental evaluation of a rice bran biodiesel–biogas run dual fuel diesel engine at varying compression ratios. Renew Energy. 2016;87:782–90.

36.

Andrade RD, Faria EA, Silva AM, Araujo WC, Jaime GC, Costa KP, Prado AG. Heat of combustion of biofuels mixed with fossil diesel oil. J Therm Anal Calorim. 2011;106(2):469–74.

37.

Hardenberg HO, & Hase FW. An empirical formula for computing the pressure rise delay of a fuel from its cetane number and from the relevant parameters of direct-injection diesel engines. SAE paper no. 790493 (1979).

38.

Heywood JB. Internal combustion engine fundamentals. New York: McGraw-Hill Intern. Editions; 1988.

39.

Saravanan S, Nagarajan G, Rao GLN, Sampath S. Combustion characteristics of a stationary diesel engine fuelled with a blend of crude rice bran oil methyl ester and diesel. Energy. 2010;35(1):94–100.

40.

Paul G, Datta A, Mandal BK. An experimental and numerical investigation of the performance, combustion and emission characteristics of a diesel engine fueled with Jatropha biodiesel. Energy Proc. 2014;54:455–67.

41.

Raheman H, Jena PC, Jadav SS. Performance of a diesel engine with blends of biodiesel (from a mixture of oils) and high-speed diesel. Int J Energy Environ Eng. 2013;4(1):6.

42.

Tamilvanan A, Balamurugan K, Vijayakumar M. Effects of nano-copper additive on performance, combustion and emission characteristics of Calophyllum inophyllum biodiesel in CI engine. J Therm Anal Calorim. 2018;136:1–14.

43.

Reshad AS, Barman P, Chaudhari AJ, Tiwari P, Kulkarni V, Goud VV, Sahoo N. Rubber seed oil methyl ester synthesis, engine performance, and emission characteristics of blends. Energy Fuels. 2015;29(8):5136–44.

44.

Ramadhas AS, Jayaraj S, Muraleedharan C. Dual fuel mode operation in diesel engines using renewable fuels: rubber seed oil and coir-pith producer gas. Renew Energy. 2008;33(9):2077–83.

45.

Reksowardojo IK, Bui HN, Sok R, Kilgour AJ, Brodjonegoro TP, Soerawidjaja TH, Arismunandar W. The effect of biodiesel fuel from rubber (Hevea brasiliensis) seed oil on a direct injection (DI) diesel engine. Bandung Inst Teknologi Bandung. 2011;1(1):65–81.

46.

Vallinayagam R, Vedharaj S, Yang WM, Lee PS. Operation of neat pine oil biofuel in a diesel engine by providing ignition assistance. Energy Convers Manag. 2014;88:1032–40.

47.

Clean Air Technology Center. (1999). Nitrogen oxides (NOx): why and how they are controlled.
Acknowledgements
The authors are thankful to the All India Council for Technical Education (AICTE), Government of India, for providing grant (No. 8024/RID/BOR/MOD/70/08/09) under Modernization and Removal of Obsolescence (MODROB) Scheme and the Management of PSNA college of Engineering and Technology for providing matching grant for the purchase of variable compression ratio multi-fuel engine test rig. The research work has been carried out in this test rig.
Additional information
Publisher's Note
Springer Nature remains neutral with regard to jurisdictional claims in published maps and institutional affiliations.
About this article
Cite this article
Murugapoopathi, S., Vasudevan, D. Performance, combustion and emission characteristics on VCR multi-fuel engine running on methyl esters of rubber seed oil. J Therm Anal Calorim 138, 1329–1343 (2019) doi:10.1007/s10973-019-08281-x
Received:

Accepted:

Published:

Issue Date:
Keywords
Methyl esters of rubber seed oil

Response surface methodology

Nitrogen oxide emission

Variable compression ratio engine