Abstract
Ultrathin films consisting of titanium oxide and gold nanoparticles were prepared using a combination of the surface sol–gel process and liquid/liquid interfacial precipitation. The composite films had a titanium oxide/gold nanoparticle layer/titanium oxide film structure, comprising a gold nanoparticle thin-film layer sandwiched within titanium oxide films of nanometer-order thickness. Upon heating the titanium oxide–gold nanoparticle composite films to 450 °C, they underwent a phase change from the amorphous to the anatase phase, which was confirmed via Raman scattering analysis. It was observed that, even after heating, the plasmonic absorption band due to the presence of gold nanoparticles was maintained in the composite films. The photocatalytic degradation efficiencies of methylene blue dye were evaluated in films under 520 nm light irradiation. The results suggested that the sandwich-like structure of this titanium oxide/gold nanoparticle layer/titanium oxide is promising for the visible-light-induced degradation of methylene blue dye.

Highlights
A series of titanium oxide–gold nanoparticle composite thin films with nanometer thickness were prepared.

Formation of anatase titanium oxide ultrathin film was confirmed by Raman scattering analysis.

Sandwich-like structured titanium oxide/gold nanoparticle layer/titanium oxide composite ultrathin films is promising for the visible-light-driven photocatalyst.
This is a preview of subscription content, log in to check access.
Access options
Buy single article
Instant unlimited access to the full article PDF.
US$ 39.95
Price includes VAT for USA
Subscribe to journal
Immediate online access to all issues from 2019. Subscription will auto renew annually.
US$ 199
This is the net price. Taxes to be calculated in checkout.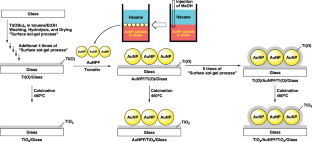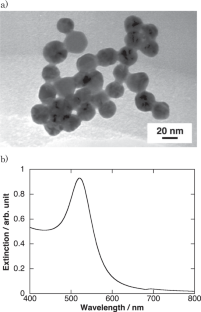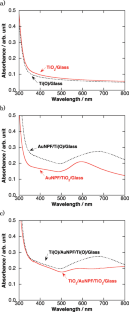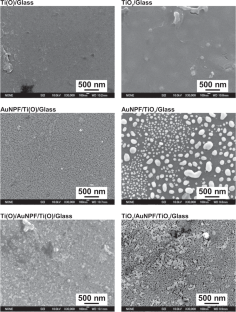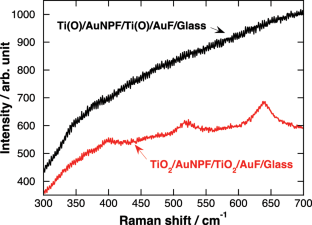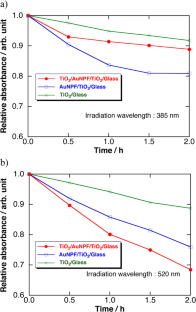 References
1.

Fujishima A, Zhang X, Tryk DA (2008) Surf Sci Rep. 63:515–582

2.

Oketani R, Miyake T, Jinnai S, Fukui T, Tsujimoto H, Matsumura M, Higashida S (2016) Chem Lett 45:801–803

3.

Goto T, Ogawa M (2016) RSC Adv 6:23794–23797

4.

Goto T, Ogawa M (2015) ACS Appl Mater Interfaces 7:12631–12634

5.

Lang X, Chen X, Zhao J (2014) Chem Soc Rev 43:473–486

6.

Mayer KM, Hafner JH (2011) Chem Rev 111:3828–3857

7.

Atwater HA, Polman A (2010) Nat Mater 9:205

8.

Kumaravel V, Mathew S, Bartlett J, Pillai SC (2019) Appl Catal B-Environ 244:1021–1064

9.

Tatsuma T (2013) Bull Chem Soc Jpn 86:1–9

10.

Tanaka A, Fuku K, Nishi T, Hashimoto K, Kominami H (2013) J Phys Chem C 117:16983–16989

11.

Teranishi M, Hoshino R, Naya S, Tada H (2016) Angew Chem Int Ed Engl 55:12773–12777

12.

Naya SI, Yamauchi J, Okubo T, Tada H (2017) Langmuir 33:10468–10472

13.

Tian Y, Tatsuma T (2005) J Am Chem Soc 127:7632–7637

14.

Du L, Furube A, Hara K, Katoh R, Tachiya M (2013) J Photochem Photobio C 15:21–30

15.

Ichinose I, Senzu H, Kunitake T (1996) Chem Lett 25:831–832

16.

Ichinose I, Kawakami T, Kunitake T (1998) Adv Mater 10:535–539

17.

Arakawa T, Kawahara T, Akiyama T, Yamada S (2007) Jpn J Appl Phys 46:2490–2492

18.

Akiyama T, Kawahara T, Arakawa T, Yamada S (2008) Jpn J Appl Phys 47:3063–3066

19.

Matsumoto T, Akiyama T, Banya S, Izumoto D, Sakaguchi H, Oku T (2016) J Sol-Gel Sci Technol 78:692–697

20.

Akiyama T, Hinoue M, Takishita T, Higashida S (2015) In The 13th meeting of the Japanese Sol-Gel Society. Hokkaido University, Japan, 84

21.

Mitsukawa S, Akiyama T, Oku T (2017) In Annual meeting on photochemistry 2017. Tohoku University, Japan, 1P54

22.

Akiyama T, Sakaguchi H (2017) In The 8th international symposium of advanced energy science. Kyoto University, Japan, ZE29A-22

23.

Turkevich J, Stevenson PC, Hillier J (1951) Discuss Faraday Soc 11:55–75

24.

Akiyama T (2012) e-J Surf Sci Nanotech 10:157–160

25.

Suzuki M, Niidome Y, Kuwahara Y, Terasaki N, Inoue K, Yamada S (2004) J Phys Chem B 108:11660–11665

26.

Akiyama T, Nakada M, Terasaki N, Yamada S (2006) Chem Commun 395–397

27.

Ulman A (1991) An introduction to ultrathin organic films: from Langmuir-Blodgett to self-assembly. Academic Press, New York

28.

Sugawa K, Tamura T, Tahara H, Yamaguchi D, Akiyama T, Otsuki J, Kusaka Y, Fukuda N, Ushijima H (2013) ACS Nano 7:9997–10010

29.

Lubas M, Jasinski JJ, Sitarz M, Kurpaska L, Podsiad P, Jasinski J (2014) Spectrochim Acta A 133:867–871

30.

Stagi L, Carbonaro CM, Corpino R, Chiriu D, Ricci PC (2015) Phys Status Solidi B 252:124–129
Acknowledgements
This work is partially supported by the "Joint Usage/Research Program on Zero-Emission Energy Research," Institute of Advanced Energy, Kyoto University (ZE29A-22, ZE30A-21, and ZE31A-26).
Ethics declarations
Conflict of interest
The authors declare that they have no conflict of interest.
Additional information
Publisher's note Springer Nature remains neutral with regard to jurisdictional claims in published maps and institutional affiliations.
Supplementary information
About this article
Cite this article
Mitsukawa, S., Akiyama, T., Hinoue, M. et al. Fabrication and photocatalytic behavior of titanium oxide–gold nanoparticles composite ultrathin films prepared using surface sol–gel process. J Sol-Gel Sci Technol (2020) doi:10.1007/s10971-019-05214-w
Received:

Accepted:

Published:
Keywords
Gold nanoparticle

Plasmon

Titanium oxide

Surface sol–gel process

Photocatalyst