Effect of the residual water content in gels on solution combustion synthesis temperature
Original Paper: Fundamentals of sol–gel and hybrid materials processing
Abstract
The composition of gels and xerogels, as well as their transformation during heating and dehydration, determine the thermochemistry of solution combustion synthesis reactions. An improved descriptive thermodynamic model of combustion processes was formulated on the basis of the investigated formation of complex compounds of metal ions with organic fuel (glycine, citric acid, urea, and PVA) in nitrate solutions. The intensity of SCS reactions was found to depend on the strength of Ni2+–ligand complexes. The effect of heat loss during combustion on the ΔTmax value was analyzed for the model system Ni(NO3)2·nH2O–Fuel–H2O. It was found the heat loss occurs due to the presence of various amounts of structurally-bound water in gels and xerogels before the combustion.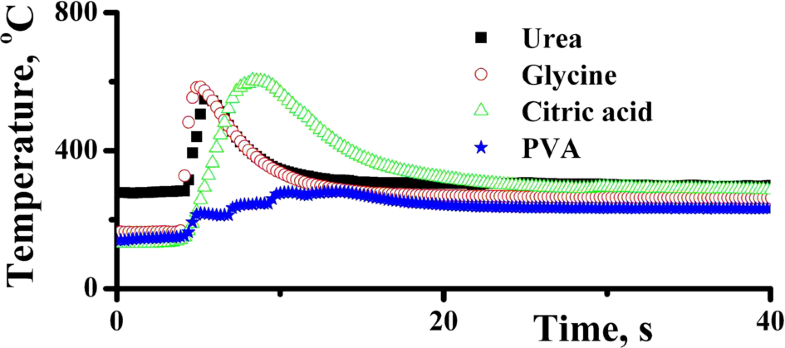 Highlights
Nitrate/fuel ratios affect the formation of a hypergolic mixture of gases.

The intensity of SCS reactions depends on the strength of Ni2+–ligand complexes.

Water in the xerogel has a great impact on the maximal thermal effect.
Keywords
Solution combustion synthesis 
Complex formation 
Metal nitrates 
NiO 
Thermochemical characteristics 
Notes
Acknowledgements
The work was carried out in accordance with the state assignment for the Institute of Solid State Chemistry of the Ural Branch of Russian Academy of Sciences (theme No АААА-А19-119031890026-6) and the Ministry of Science and Higher Education of the Russian Federation in the framework of Increase Competitiveness Program of NUST «MISiS» (№ К2-2019-007), implemented by a governmental decree dated 16th of March 2013, N 211.
Compliance with ethical standards
Conflict of interest
The authors declare that they have no conflict of interest.
Copyright information
© Springer Science+Business Media, LLC, part of Springer Nature 2019