Fabrication of hybrid CoMoO4–NiMoO4 nanosheets by chitosan hydrogel assisted calcinations method with high electrochemical performance
Original Paper: Nano-structured materials (particles, fibers, colloids, composites, etc.)
Abstract
Herein, hybrid CoMoO4–NiMoO4 nanosheets (NSs) with mesoporous morphology were assembled using a chitosan hydrogel assisted calcination method. This unique architecture provides numerous channels for rapid diffusion of electrolyte ions, fast electron transfer and high electrochemical activity due to the synergistic effect between the CoMoO4 and NiMoO4. The assembled CoMoO4–NiMoO4 hybrid material can be a very good supercapacitor electrode, due to its high specific capacitance of 1940 F g−1 at the current density of 1 A g−1. Even at a current density as high as 20 A g−1, the CoMoO4–NiMoO4 electrode still delivers a high specific capacitance of 1280 F g−1, indicating its superior rate of specific capacitance 65.98% and excellent cycling stability with capacitance retention 99% after 5000 cycles. Furthermore, the as-prepared CoMoO4–NiMoO4 was employed as anode and activated carbon was used as cathode for solid-state asymmetric supercapacitor. Asymmetric supercapacitors with high power density and energy density (53.33 W h kg−1 at a power density of 800 W kg−1) were realized by improving the potential window with the voltage range from 0 to 1.6 V. These results indicate that the CoMoO4–NiMoO4 electrode shows potential application for high performance, environmentally friendly, and low-cost energy storage device.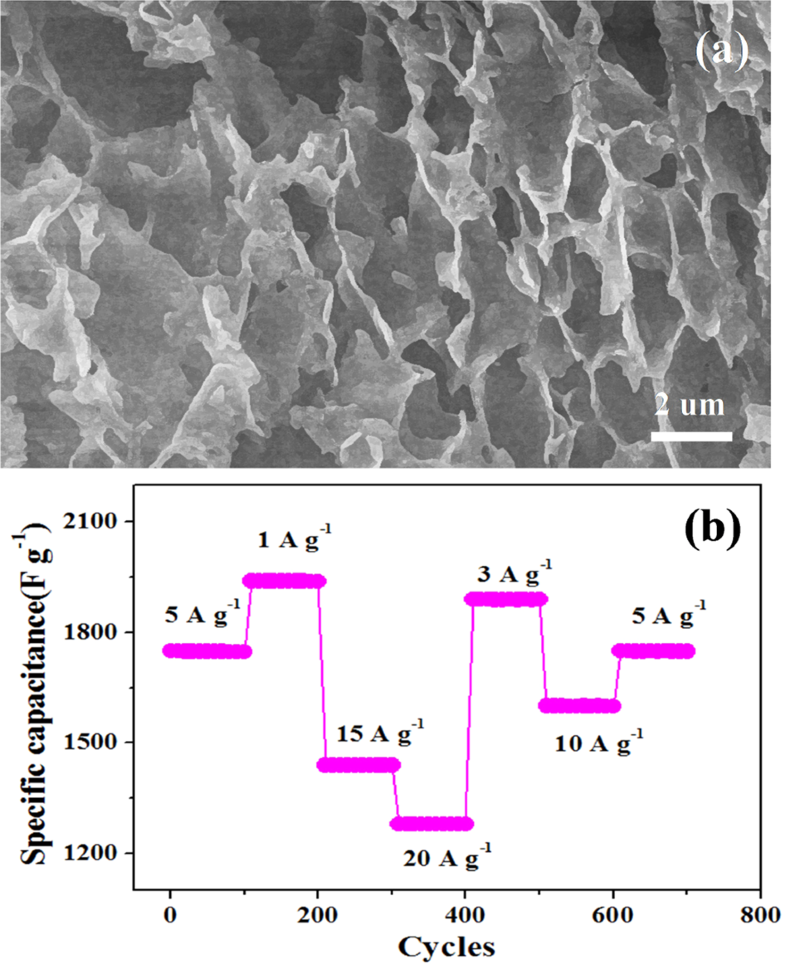 Keywords
Chitosan sol-gel-based fabrication 
Hybrid CoMoO4–NiMoO4 nanosheets 
Asymmetric supercapacitors 
Notes
Acknowledgements
This work was supported by National Natural Science Foundation of China (no. 51010005, 52502057), Specialized Research Fund for the Doctoral Program of Higher Education (2016M601427), Young Scientists of Harbin University of Commerce, No. 17XN018 and Scientific research project No. 2019DS084.
Authors' contributions
JW and HX designed this experiment and JW wrote the manuscript. JW and YC carried out the electrochemical experiments and other analysis. ZL, WC and SW analyzed the experimental results and supervised the manuscript.
Compliance with ethical standards
Conflict of interest
The authors declare that they have no conflict of interest.
Copyright information
© Springer Science+Business Media, LLC, part of Springer Nature 2019