Differentiation of Ni3C crystalline phase from hexagonal-close-packed Ni phase in ethylene glycol-mediated sol–gel process and excellent catalytic behavior of Ni/N-doped C nanomaterials toward hydrogenation reduction reaction of 4-nitrophenol
Original Paper: Sol-gel and hybrid materials for catalytic, photoelectrochemical and sensor applications
Abstract
The ethylene glycol (EG)-mediated sol–gel method was applied to prepare Ni nanoparticles (NPs) where heating treatments of the dried precursors were performed in N2 protecting atmosphere. X-ray diffraction (XRD) analysis was conducted to determine the crystalline phases of the calcinated products. The diffraction peaks of the products being calcinated at 350 °C shifted to lower angles when the initial molar ratio of Ni2+:EG was decreased in the absence of urea, indicating that the crystalline phase of the product calcinated at 350 °C was Ni3C rather than hexagonal-close-packed (hcp) Ni. The Ni3C particles displayed a weak ferromagnetic character at room temperature and the Ni3C phase transformed to face-centered-cubic (fcc) nickel when the heating treatments were performed at 450 °C and higher temperatures. By using urea as an N source, the fcc Ni/N-doped carbon materials could be obtained in the range of 350–600 °C, and the as-prepared fcc Ni/N-doped carbon materials could be used as a catalyst toward the hydrogenation reduction reaction of 4-nitrophenol and an activity parameter of 74.56 s−1 g−1 was obtained. Our results provide a new insight into the differentiation of Ni3C and hcp Ni, and the catalytic behavior of Ni NPs.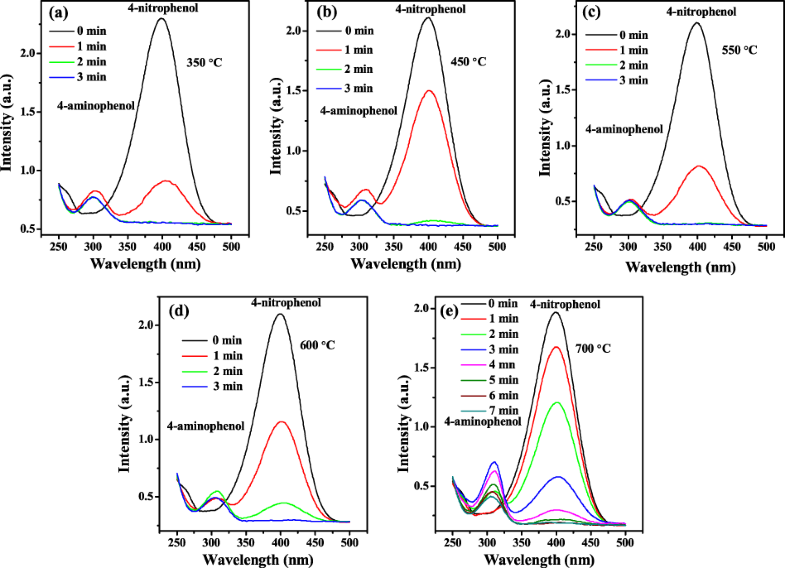 Highlights
Nickel nanoparticles could be prepared by the ethylene glycol (EG)-mediated sol–gel method.

Ni3C rather than the hexagonal-close-packed Ni phase was confirmed in products being calcined at 350 °C.

As-prepared nanomaterial could be used as a catalyst for hydrogenation reaction of 4-nitrophenol.

Excellent catalytic behavior of Ni/N-doped carbon material occurs by using urea as N source.
Keywords
Sol–gel 
Ethylene glycol 
Ni3C 
Nickel nanoparticles 
4-nitrophenol 
Notes
Acknowledgements
This work was jointly supported by the National Natural Science Foundation of China Youth Fund (51201090), Project Funded by the Priority Academic Program Development of Jiangsu Higher Education Institutions (PAPD).
Compliance with ethical standards
Conflict of interest
The authors declare that they have no conflict of interest.
Copyright information
© Springer Science+Business Media, LLC, part of Springer Nature 2019