Effective band gap engineering by the incorporation of Ce, N and S dopant ions into the SrTiO3 lattice: exploration of photocatalytic activity under UV/solar light
Original Paper: Sol–gel and hybrid materials for energy, environment and building applications
Abstract
Cerium, nitrogen, and sulfur ions were doped into SrTiO3 (STO) lattice by sol–gel method. PXRD results confirm the cubic perovskite structure for all the doped samples. Higher Ce dopant concentration leads to the formation of CeO2 as a separate phase. X-ray density calculations show the solid to be of omission solid solution type material. A red shift in the absorption towards the visible region for all the doped samples was due to the formation of various mid-band gap states. FTIR technique confirms the presence of bidentately coordinated SO42− ions on the surface of doped samples. The XPS technique confirms the presence of Ce3+, Ce4+, S6+ and two different types of nitrogen. The surface acidity of the doped catalyst increases by the presence of SO42− and OH− ions favoring efficient trapping of photogenerated electrons. The upward shift in the position of VB of doped samples by almost 0.26 eV reduces the band gap of CeNS-STO samples as confirmed by the VB XPS technique. The lower PL intensity and higher magnitude of photocurrent for Ce0.48N0.19S0.44–SrTiO3 (CeNS-STO (2)) sample corresponds to higher separation efficiency of photogenerated electron-hole pairs. The enhanced photocatalytic activity of CeNS-STO (2) sample under both UV/solar light may be attributed to the synergistic effect between the three dopants Ce4+, N3−, and S6+ narrow band gap, decreased crystallite size, mesoporous structure, and high surface area. Intermediate products were identified by HPLC analysis and a possible degradation reaction mechanism was proposed.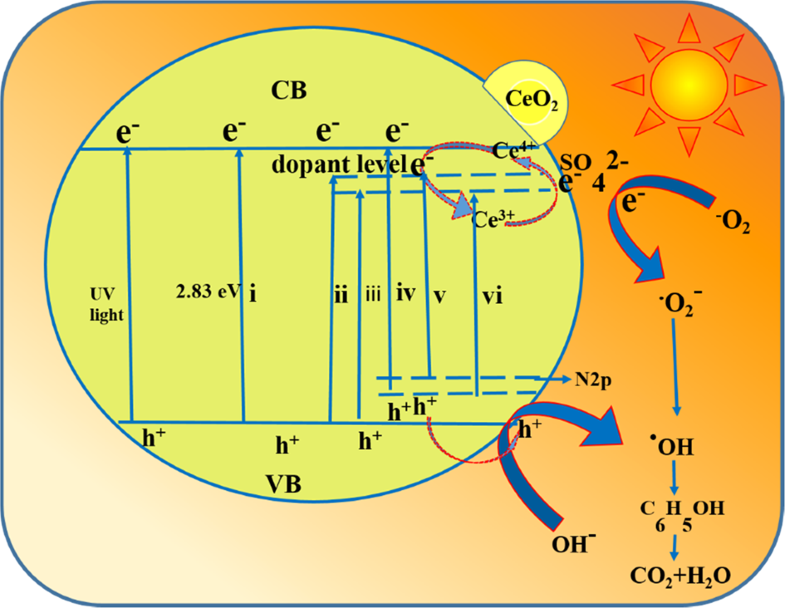 Highlights
Ce4+, N3−, and S6+ ions were incorporated into SrTiO3 lattice.

X-ray density values of doped samples were found to decrease with the increase in the dopant concentration.

The observed lift in the VB edge by 0.26 eV is due to the N dopant at different lattice sites.

S6+ ion on the surface of catalysts gets oxidized to highly electron withdrawing SO42− species.

The ease of conversion of Ce3+ ↔ Ce4+ facilitates electron trapping and detrapping process.
Keywords
SrTiO3 
Synergistic effect 
Ce4+, N3− and S6+ doped SrTiO3 
Face centered cube 
Band gap engineering 
Notes
Acknowledgements
Authors acknowledge the financial assistance from University Grants Commission for DSA-SAP project.
Compliance with ethical standards
Conflict of interest
The authors declare that they have no conflict of interest.
Copyright information
© Springer Science+Business Media, LLC, part of Springer Nature 2019