Construction of a double-layered polyelectrolyte-coated mesoporous silica containing residues of biogenic aspartic acid and its utilization for cadmium (II) removal
Original Paper: Sol–gel and hybrid materials with surface modification for applications
Abstract
Highly efficient porous adsorbent has been developed by simple and inexpensive surface modification of mesoporous SBA-15 via an alternate adsorption of cationic poly(diallyldimethylammonium ion) and anionic poly(diallylaspartate). The nature of the charge on the surface after modification was confirmed by Zeta potential measurement. The surface morphology, topography, and its textural properties were examined by atomic force microscopy (AFM) and Nitrogen adsorption/desorption, respectively. TGA has been performed to ascertain the amount of polymer layer on the silica material. Multi-parameter isotherm models were used for the analyses of experimental data. The new protocol is found to be very impressive in the removal of toxic Cd(II) pollutant with an experimental maximum uptake capacity of 160 mg g–1.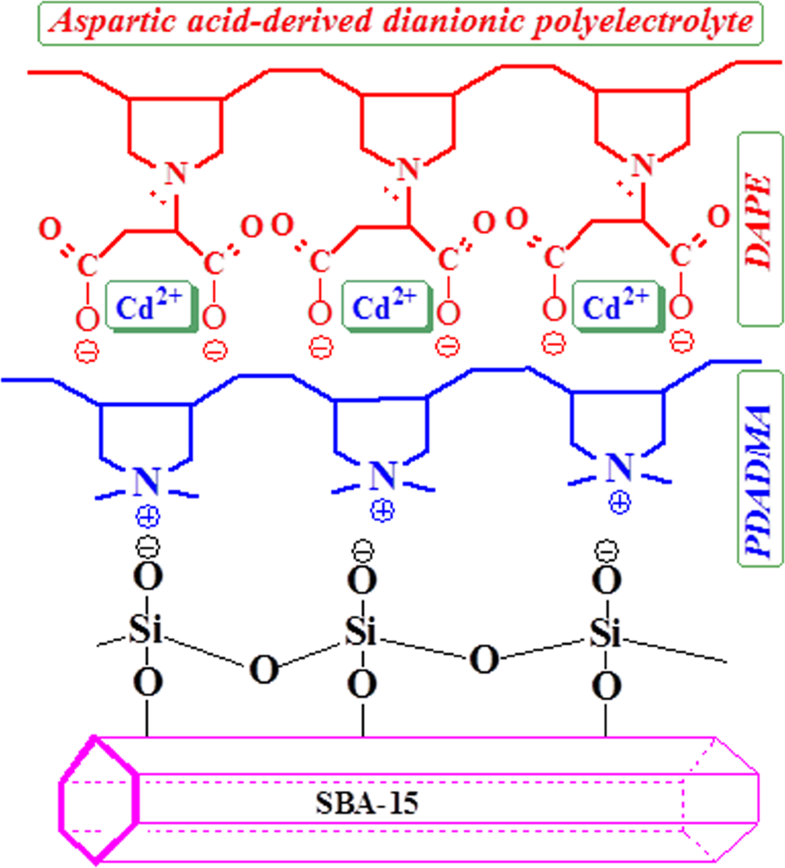 Highlights
An aspartic acid-based polymer was immobilized on mesoporous silica SBA-15.

Modification of the silica surface was achieved via simple layer-by-layer deposition.

The biogenic amino acid residues imparted remarkable efficacy to remove Cd(II).
Keywords
Wastewater treatment 
Cadmium(II) 
Adsorption 
SBA-15, aspartic acid 
Layer-by-Layer 
Mesoporous adsorption 
Notes
Acknowledgements
This work was supported by King Abdulaziz City for Science and Technology (KACST) [project No. AR-32-99].
Compliance with ethical standards
Conflict of interest
The authors declare that they have no conflict of interest.
Copyright information
© Springer Science+Business Media, LLC, part of Springer Nature 2019