One-step novel synthesis of CoFe2O4/graphene composites for organic dye removal
Original Paper: Sol-gel and hybrid materials for energy, environment and building applications
Abstract
The present study was adopted for synthesis of CoFe2O4/graphene nanocomposites via facile, environment friendly and novel in-situ reduction-auto-combustion sucrose route. The graphene-based materials as well as the obtained nanocomposites were characterized using X-ray diffraction (XRD), transmission electron microscopy (TEM), differential thermal analysis-thermogravimetry (DTA-TG) and vibrating sample magnetometry (VSM) measurements. These measurements confirmed the formation of densely distributed CoFe2O4 nanoparticles on graphene nanosheets when the reduction of graphene oxide (GO) component was carried out through reflux. On the other hand, when the process was carried out without reflux, the in-situ reduction of GO during ferrite auto-combustion resulted in the formation of uniformly distributed CoFe2O4 nanoparticles on reduced graphene oxide (rGO) nanosheets. The changes in the thermal stability of the prepared graphene and their ferrite nanoncomposites was discussed in the view of exposed surface area and ferrite's agglomeration phenomena. The obtained nanocomposites were examined for the adsorption/removal of toxic malachite green (MG) dye from aqueous media depending on their magnetic sensitivity besides their porous surface morphology.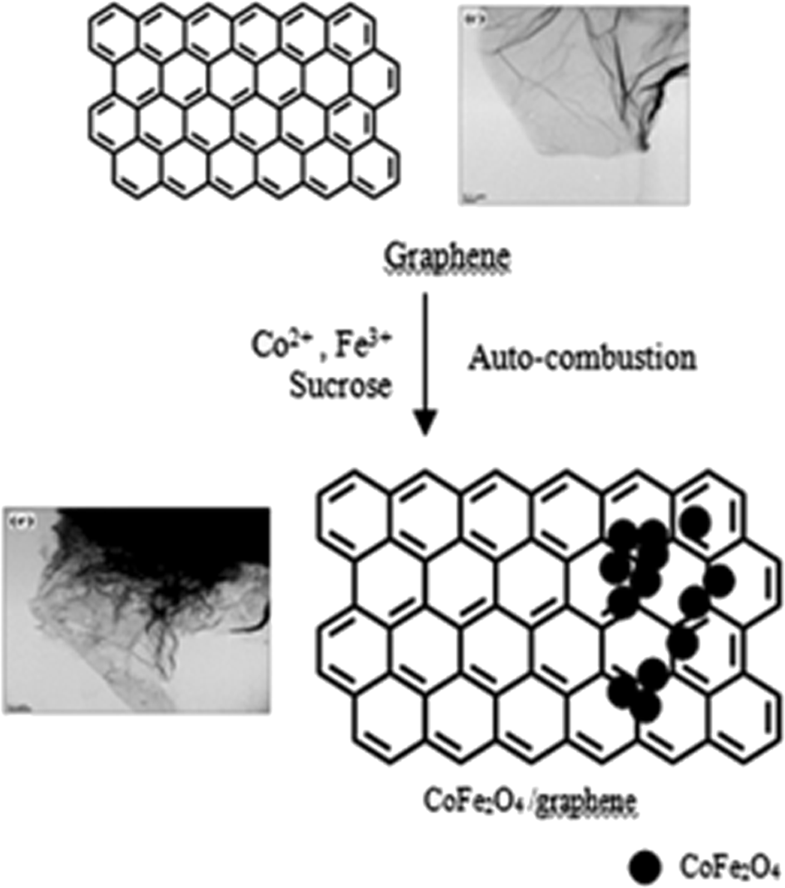 Highlights
CoFe2O4/Graphene was synthesized via novel reduction-auto-combustion sucrose route.

On reflux, CoFe2O4 nanoparticles densely anchored on graphene nanosheets were obtained.

Without reflux, uniformly distributed CoFe2O4 nanoparticles on rGO nanosheets were obtained.

The nanocomposites were examined for adsorption/removal of MG dye from aqueous media.
Keywords
CoFe2O4 
graphene 
reflux 
sucrose auto-combustion 
adsorption/removal 
Notes
Compliance with ethical standards
Conflict of interest
The authors declare that they have no conflict of interest.
Copyright information
© Springer Science+Business Media, LLC, part of Springer Nature 2019