A novel ex-situ charge interaction strategy for the fabrication of graphene oxide/organic functionalized silica nanoparticles composites and application in Cd (II) adsorption
Original Paper: Nano-structured materials (particles, fibers, colloids, composites, etc.)
Abstract
In this study, a new-style "ex-situ charge interaction" strategy has been developed to prepare graphene oxide/organic functionalized silica nanoparticles (GO/OSNs) composites. The crucial point of the strategy is that the OSNs have positive charge by adding Hydrochloric acid (HCl). Four types of OSNs were prepared via one-pot sol–gel reaction of four different kinds of organosilane. Then the positively charge OSNs and negatively charge GO could effectively composite via charge interaction. The GO/OSNs were characterized by Scanning electron microscope (SEM), Transmission electronic microscope (TEM), Fourier transform infrared (FT-IR), X-ray diffraction (XRD) and X-ray photoelectron spectroscopy (XPS). The results showed that "ex-situ charge interaction" strategy might be a general method for the fabrication of GO/OSNs. This research provides a new approach for the fabrication of GO/OSNs composites with other OSNs structures. In addition, the application of GO/OSNs in the adsorption of Cd(II) has also been investigated, which included adsorption properties of four GO/OSNs, parameters of adsorption isotherm and adsorption kinetics.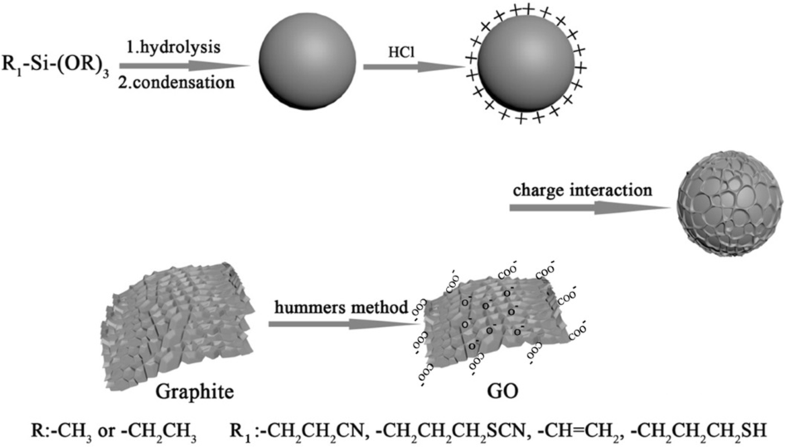 Highlights
OSNs treated with acid is first used to fabricate GO/OSNs composites.

Various organic functional groups are introduced into the composites.

The strategy can be used for fabrication of composites with other morphology of OSNs.

Toxic reagents, high-temperature and time-consuming process are not utilized.
Keywords
Ex-situ charge interaction 
Graphene oxide 
Organic silica 
Composites 
Adsorption 
Notes
Acknowledgements
This work is financially supported by the Fundamental Research Funds for the Central Universities (WUT:2017IB002), the Fundamental Research Funds for the Central Universities (WUT:2018IB022) and the Nature Science Foundation of Hubei Province (No.2017CFB296). We would also like to thank Shanbin Mu for their SEM analysis and Tingting Luo for their TEM analysis in the Materials Research and Test Center of WUT.
Compliance with ethical standards
Conflict of interest
The authors declare that they have no conflict of interest.
Copyright information
© Springer Science+Business Media, LLC, part of Springer Nature 2019