Structural characterization and antibacterial activity of hydroxyapatite synthesized via sol-gel method using glutinous rice as a template
Original Paper: Sol-gel and hybrid materials for energy, environment and building applications
Abstract
The present work aims to synthesize hydroxyapatite (HAp) via green template addition using glutinous rice (GR) in combination with sol-gel route under various calcination temperatures (500–900 °C). The physicochemical properties of GR-HAp were analyzed using X-ray diffraction, Fourier-transform infrared spectroscopy, scanning electron microscopy, transmission electron microscopy, and energy dispersive X-ray analysis. The utilization of GR as template in HAp synthesis resulted in the formation of GR-HAp particles that are less crystalline. Surface morphology revealed discrete, rod-shaped GR-HAp particles were formed at low calcination temperature (500–600 °C), while larger particles were formed as temperature was increased. Results confirmed that higher calcination temperature led to the transformation of HAp into various phases including β-Ca
3
(PO
4
)
2
, CaO, and β-NaCa(PO
4
). In addition, the formation of smaller, elongated GR-HAp particles with diameter of 75–180 nm and homogenous particle size distribution was attained at 900 °C. The antibacterial activity was evaluated via disc diffusion method against four Gram-positive bacteria including
B. cereus
,
B. subtilis
,
S. aureus
, and
S. epidermidis
, and two Gram-negative bacteria including
E. coli
and
P. aeruginosa
. The GR-HAp powder calcined at 900 °C showed strong antibacterial performance against all bacterial strains with inhibition zones ranging from 11.66–16.66 mm, which indicates its suitability to be utilized as a material in biomedical applications.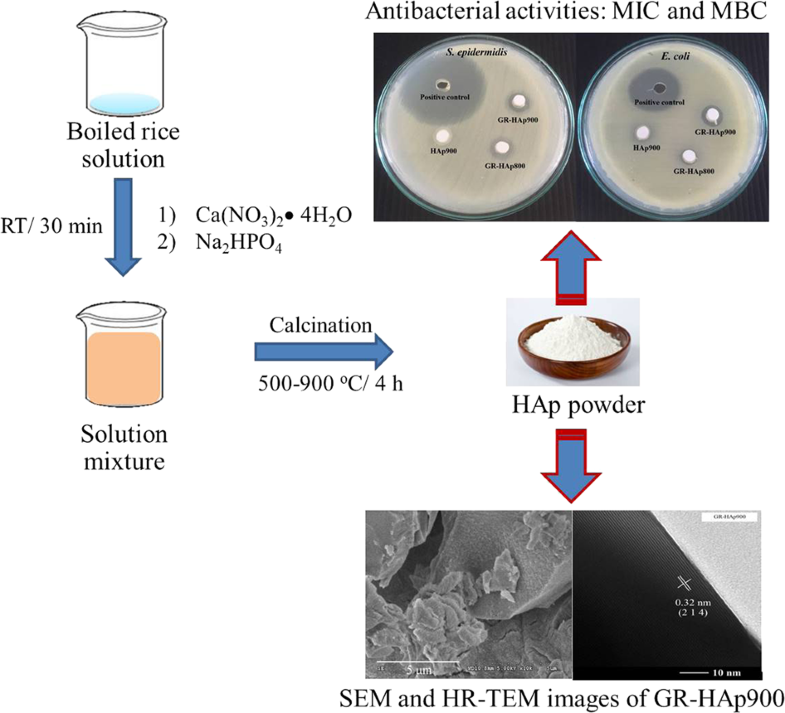 Highlights
Use of GR as template resulted in formation of less crystalline particles with reduced aggregation.

Higher calcination temperature led to formation of β-Ca3 (PO4)2 and β-NaCa(PO4) phases.

GR-HAp calcined at 900 °C showed strongest antibacterial performance against all bacterial strains.
Keywords
Hydroxyapatite 
Sol-gel technique 
Glutinous rice template 
Calcination temperature 
Antibacterial activity 
Notes
Acknowledgements
The authors would like to acknowledge the Department of Chemistry (Faculty of Science) and Research and Development Institute of the Udon Thani Rajabhat University (Thailand) and National Research Foundation (NRF) of Korea through Ministry of Education (no. 2016R1A6A1A03012812) for the financial support of this research undertaking.
Compliance with ethical standards
Conflict of interest
The authors declare that they have no conflict of interest.
Copyright information
© Springer Science+Business Media, LLC, part of Springer Nature 2019