Template-free synthesis of NiO skeleton crystal octahedron and effect of surface depression on electrochemical performance
Original Paper: Nano-structured materials (particles, fibers, colloids, composites, etc.)
Abstract
In this work, we were committed to building a nickel oxide (NiO) octahedron with skeleton crystal structure as a capacitor electrode for supercapacitance through a template-free and efficient one-step process. Initially, nickel nitrate hexahydrate (Ni(NO3)2·6H2O) and anhydrous ethanol mixtures were used as a material. The final samples were prepared by calcining the precursor at different temperatures. The mechanism of crystal recrystallization at different temperatures during calcination was discussed. Generally speaking, in the process of rapid growth with only diffusion mechanism, crystal imperfections such as crystal plane depression and skeleton crystal will be formed. At the lower temperature calcination, small depressions are produced due to the effect of crystal face Ostwald ripening. At higher temperatures, the crystal edge growth rate is faster than the surface growth rate during Ostwald ripening and recrystallization, resulting in the formation of NiO octahedron with a large surface depression skeleton crystal structure. The electrochemical test results of the samples showed that the surface depression NiO octahedron has fine supercapacitive behaviors and specific capacitance values (640 F g−1) at the discharging current of 0.5 A g−1 in the 3 mol L−1 KOH electrolyte and maintain excellent cycling stability, remaining constant after 2000 cycles. Electrochemical impedance measurements confirmed the capacitance performance of NiO electrodes.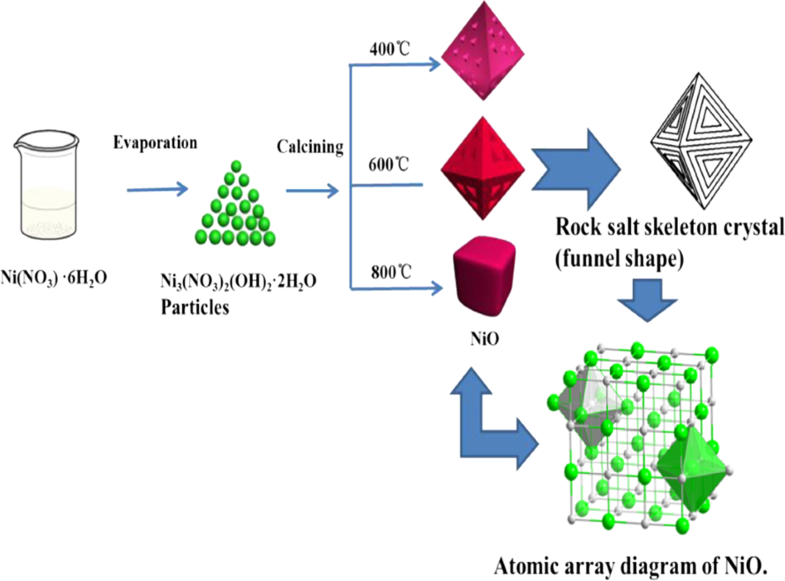 Highlights
A special morphology of NiO skeleton crystal octahedron was synthesized by a one-step template-free method.

The formation mechanism of surface depression NiO octahedron was explained based on the definition of skeleton crystal.

The effect of surface depression on electrochemical performance is explained.
Keywords
Electrochemical supercapacitors 
NiO octahedron 
Skeleton crystal 
Depression 
Notes
Acknowledgements
This study was supported by the financial support of the Key Research Project of Shandong Province (No. 2017GGX40121), the National Natural Science Foundation of China (Nos. 51402157 and 51602164), and the Scientific Research Innovation Team in Colleges and Universities of Shandong Province.
Compliance with ethical standards
Conflict of interest
The authors declare that they have no conflict of interest.
Copyright information
© Springer Science+Business Media, LLC, part of Springer Nature 2019