Novel and inexpensive Nb2O5/tannin-formaldehyde xerogel composites as substitutes for titanium dioxide in photocatalytic processes
Original Paper: Sol-gel and hybrid materials for catalytic, photoelectrochemical and sensor applications
Abstract
This project studied the preparation of new Nb2O5/tannin-formaldehyde xerogel composites (XTF-wNb) for photocatalytical applications. The choice of tannin biomass and niobium recycled scraps as precursors is aimed at reducing costs and environmental impacts. The composites were characterized by diffuse reflectance spectroscopy (DR), scanning electron microscopy (SEM), energy dispersive spectroscopy (EDS), infrared spectroscopy (IR), and X-ray diffraction (XRD). The photocatalytic properties of the composites were evaluated by methylene blue decomposition. The influence of the catalyst dosage and the initial concentration of dye in the adsorption and photocatalysis processes were studied. The X-ray profiles of the XTF-wNb show the presence of niobic acid in the structure of the materials, proving the presence of the inorganic oxide in the matrix of these composites. The tannin/Nb ratio had a significant influence on the morphology of the formed composites, causing changes in the shape and size of the particles composing each material. All materials have pHPZC < 5. The XTF-24Nb was the most effective photocatalyst, its photocatalytic efficiency superior to the one of titanium dioxide, evidencing the beneficial effect of the xerogel coupling on the photocatalytic properties of the material.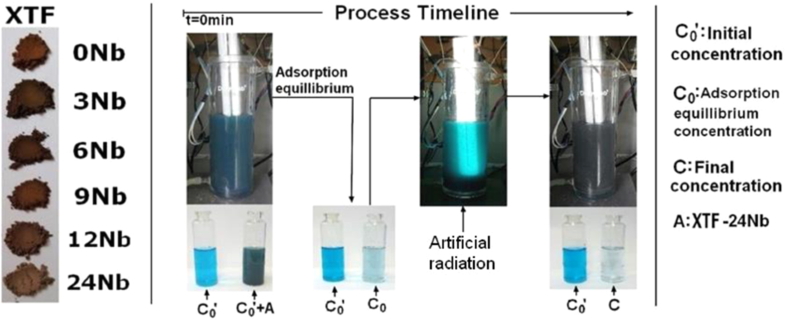 Highlights
Composites were made using low-cost materials, such as tannin and recycled niobium.

Composites showed photocatalytic activity at all wavelengths tested.

The XTF-24Nb composite presented virtually the same efficiency than that of titanium dioxide.
Keywords
Photocatalysis 
Niobium oxide 
Tannin 
Xerogel 
Notes
Acknowledgements
This study was financed in part by the Coordenação de Aperfeiçoamento de Pessoal de Nível Superior - Brasil (CAPES) - Finance Code 001 and by the São Paulo Research Foundation (FAPESP) (Grants No. 2015/08995-7, No. 2016/04244-0 and No. 2016/20920-5). The authors are grateful to TANAC SA Company, which supplied the black wattle tannin.
Compliance with ethical standards
Conflict of interest
The authors declare that they have no conflict of interest.
Copyright information
© Springer Science+Business Media, LLC, part of Springer Nature 2018