Facile synthesis of ZnO nanosheets as ultraviolet photocatalyst
Original Paper: Sol–gel and hybrid materials for catalytic, photoelectrochemical and sensor applications
Abstract
ZnO powders were prepared by solution combustion synthesis method by means of sodium dodecyl sulfate (SDS) as fuel and SDS-citric acid mixed fuel at various fuel contents. Phase evolution studied by X-ray powder diffractometry showed single phase ZnO powders were directly formed by using mixed fuels, while the layered Zn4SO4(OH)6.nH2O impurity phase together with ZnO was formed by SDS fuel alone. The as-combusted ZnO powders using SDS fuel are composed of hexagonal nanosheets with the thickness of 70 nm, as observed by electron microscopy. However, the spongy powders with spherical particles achieved by mixture of fuels exhibited higher specific surface area on account of larger amounts of released gaseous products during combustion. The ZnO catalyst prepared by mixed fuel at ϕ = 0.75 showed the highest photodegradation (~96%) of methylene blue (MB), while about only 6% of MB was photodegraded by ZnO nanosheets under ultraviolet light irradiation.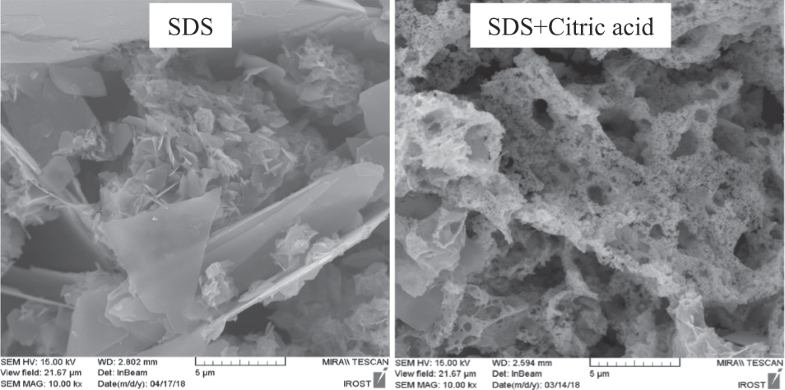 Study Highlights
Sodium dodecyl sulfate (SDS) was used as fuel for solution combustion synthesis of ZnO.

ZnO nanosheets were formed by dehydration of layered Zn4SO4(OH)6.nH2O phase.

Addition of citric acid changed the nanosheets to particulate microstructure.
Keywords
Zinc oxide 
Nanosheets 
Solution combustion synthesis 
SDS 
Photocatalytic performance 
Notes
Compliance with ethical standards
Conflict of interest
The authors declare that they have no conflict of interest.
Copyright information
© Springer Science+Business Media, LLC, part of Springer Nature 2018