Multiferroism and magnetoelectric coupling in single-phase Yb and X (X = Nb, Mn, Mo) co-doped BiFeO3 ceramics
Original Paper: Sol-gel and hybrid materials for dielectric, electronic, magnetic and ferroelectric applications
Abstract
A series of Yb and X co-doped BiFeO3 (X = Nb, Mn, Mo) and undoped BiFeO3 polycrystalline ceramics were prepared by sol-gel method. The X-ray diffraction pattern confirmed the rhombohedral perovskite structure for all the ceramics. Reitveld refinement results bring out the impact of doping on the structural distortion. The Transmission Electron Micrograph observation reveals the nanostructure of the doped samples. Well saturated ferromagnetic hysteresis curves were obtained for the doped samples in contrary to undoped BiFeO3 and this is attributed to the distortion of spin spiral structure. The doped ceramics exhibited improved ferroelectric parameters and very low leakage current density of the order of 10−9 to 10−7 A/cm2, which is remarkably lower than that of undoped BFO. Remarkable dielectric properties were exhibited for the doped samples. An abrupt noticeable enhancement of magetoelectric coupling for the doped samples in comparison with the undoped BiFeO3 has been demonstrated in our work.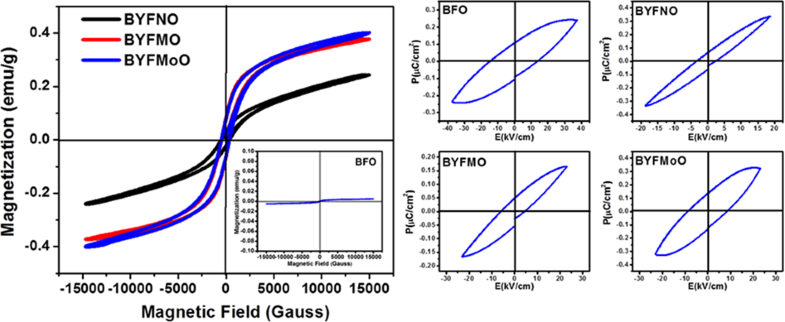 Highlights
Novel (Yb, X) doped BFO (X = Nb, Mn, Mo) multiferroic materials were synthesized.

All the doped samples exhibit significantly enhanced magnetic, ferroelectric and dielectric properties.

Leakage current of the doped BFO is very low compared to that of undoped BFO.

Remarkably improved magnetoelectric coupling is shown by the doped samples.
Keywords
Multiferroic ceramics 
Co-doped BiFeO3 
Magnetic-ferroelectric 
Magnetoelectric coupling 
Current leakage density 
Notes
Acknowledgements
The authors acknowledge the sophisticated analytical instrumentation facilities at the Indian Institute of Technology Madras for providing the facility of vibrating sample magnetometer. They also thank the sophisticated test and instrumentation centre, Cochin, for extending the TEM and HRTEM characterization. The authors thank Dr. M. S. Ramachander Rao, Department of Physics, Indian Institute of Technology Madras, for helping to characterize the electrical studies using Radiant Technology Pvt Ltd. The authors are extremely thankful to the Department of Science and Technology, India, for providing the financial support.
Compliance with ethical standards
Conflict of interest
The authors declare that they have no conflict of interest.
Copyright information
© Springer Science+Business Media, LLC, part of Springer Nature 2018