Influence of the zirconium precursor on the acidic and catalytic properties of sulfated zirconia catalysts prepared by sol–gel process
Original Paper: Sol-gel and hybrid materials for catalytic, photoelectrochemical and sensor applications
Abstract
Sulfated zirconia catalysts were prepared using the sol–gel process. Hydrolysis water was produced in situ. The effects of the zirconium precursor on the physicochemical properties and the acidity of the solids have been investigated. The prepared catalysts were characterized by XRD, Raman spectroscopy, XPS, FTIR of adsorbed pyridine, physisorption of N2 at 77 K, and TPR–H2–MS. Pt-promoted catalysts were tested for n-hexane isomerization reaction and the influence of Pt amount on the stability was studied. Obtained solids exhibit low specific surface areas and narrow pore size distributions. In addition, the metastable tetragonal phase of ZrO2 was stabilized at a relatively high temperature. The acidity of catalysts prepared from different zirconium alkoxides and the magnitude of interaction between zirconia and sulfate species are compared and discussed.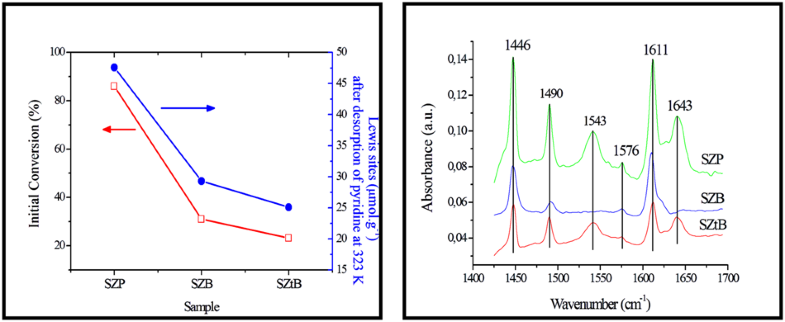 Highlights
The metastable tetragonal phase of ZrO2 is stabilized at 833 K.

The initial catalytic activity of sulfated zirconia is closely related to the density of Lewis acid sites.

The use of zirconium propoxide leads to better retention of sulfate groups.

The increase in the amount of Pt leads to a greater loss of sulfur.
Keywords
Sulfated zirconia 
Sol–gel 
Zirconium alkoxide 
Isomerization 
n-hexane 
Notes
Acknowledgements
The authors thank Prof. M. Houalla and Dr. G. Clet (ENSICAEN, France) for help and assistance in Raman measurements.
Compliance with ethical standards
Conflict of interest
The authors declare that they have no conflict of interest.
Copyright information
© Springer Science+Business Media, LLC, part of Springer Nature 2018