Synthesis and characterization of CuZnO@GO nanocomposites and their enhanced antibacterial activity with visible light
Original Paper: Nano-structured materials (particles, fibers, colloids, composites, etc.)
Abstract
Copper and zinc composite oxide (CuZnO) was synthesized successfully via a sol–gel method and modified by silane coupling agent to prepare CuZnO@graphene oxide (CuZnO@GO) nanocomposites, with CuZnO nanoparticles (NPs) distributed on the GO nanosheets. The structural properties of prepared CuZnO@GO nanocomposites were studied by FT-IR and XRD techniques. SEM and TEM analysis showed the spherical morphology of CuZnO NPs with a diameter of 20–40 nm. The optical properties of synthesized products were estimated through UV–Vis DRS and PL spectroscopy, which suggested that CuZnO@GO nanocomposites had a widened absorption range from UV to visible region and a lower photogenerated carrier recombination rate than that of pure CuZnO NPs. The antibacterial mechanism of CuZnO@GO nanocomposites was investigated using gram-negative bacteria Escherichia coli and gram-positive bacteria Staphylococcus aureus as two model microorganisms. The antibacterial properties of CuZnO@GO nanocomposites on mixed bacteria were researched in the cooling water system. The results showed that when adding CuZnO@GO nanocomposites to E. coli or S. aureus suspension, the protein leakage after 20 h was 10.5 times or 8.3 times higher than that in the blank experiment. Furthermore, the antibacterial activity of CuZnO@GO nanocomposites in presence of visible light was found to be significantly enhanced as compared with control. Under visible light irradiation, the antibacterial rate of CuZnO@GO nanocomposites in circulating cooling water reached 99.09% when the mass fraction of GO was 17.5%, and more than 90% of bacteria were inactivated by 100 mg·L−1 CuZnO@GO nanocomposites in 60 min after four recycled runs.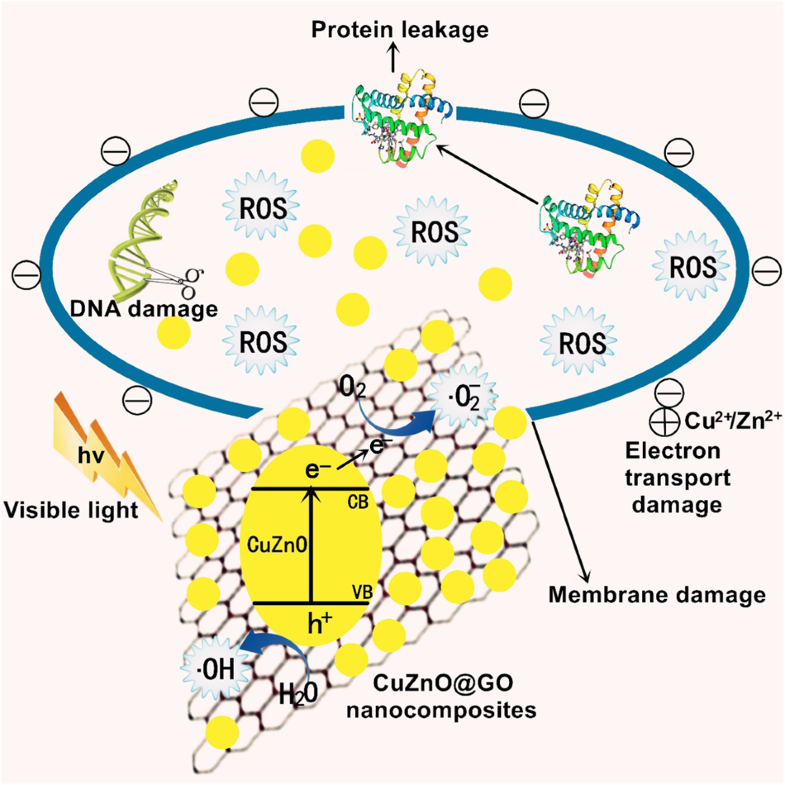 Highlights
CuZnO@GO nanocomposites with excellent photocatalytic antibacterial activity were synthesized.

The antibacterial mechanism of CuZnO@GO nanocomposites was investigated using pure bacteria.

The antibacterial application of CuZnO@GO nanocomposites for complex bacteria was researched.

After four recycled runs, the antibacterial rate of CuZnO@GO nanocomposites was still up to 90%.
Keywords
CuZnO@GO nanocomposites 
Visible light 
Photocatalytic antibacterial activity 
Antibacterial mechanism 
Water treatment 
Notes
Acknowledgments
This research was financially supported by Natural Science Foundation of Shandong Province, China (ZR201702140013).
Compliance with ethical standards
Conflict of interest
The authors declare that they have no conflict of interest.
Copyright information
© Springer Science+Business Media, LLC, part of Springer Nature 2018
corrected publication 2018