NiCo2O4 nanolayer cover on carbon cloth as anode materials for supercapacitors
Original Paper: Nano-structured materials (particles, fibers, colloids, composites, etc.)
Abstract
NiCo2O4 nano-layer covered on surface of carbon cloth for high-performance supercapacitors is successfully fabricated by a one-step route which only involved a modified sol–gel method. The binder-free electrode only with simple layer covering on carbon cloth displays outstanding pseudocapacitive behaviors in 2 M KOH, which exhibits high specific capacitances of 944.5 F g−1 at 1 A g−1 and 702.4 F g−1 at 20 A g−1after activation, as well as excellent cycling stability. The specific capacitance can still retain 859.5 F g−1 (91% retention) at a current density of 1 A g−1 after 3500 cycles.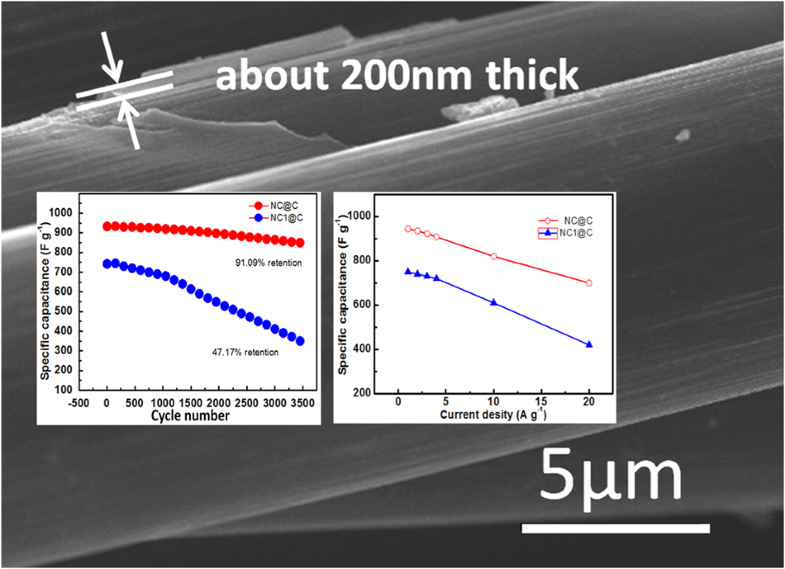 Highlights
In this paper, we report the synthesis of nanostructured NiCo2O4@carbon cloth (NC@C) electrodes by sol–gel method.

The synthesis strategy involves a novel method:sol–gel method to fabricate binder-less electrode.

The synthesized NiCo2O4 nano layer uniformly covered on the surface of carbon nanofibers.

The synthesized NiCo2O4@carbon cloth electrode exhibits excellent electrochemical performance.
Keywords
Supercapacitor 
Sol–gel 
NiCo2O4 
Binder-free 
Notes
Acknowledgements
This work is supported by the National Natural Science Foundation of China (grant Nos. 51472271, 51772331).
Compliance with ethical standards
Conflict of interest
The authors declare that they have no conflict of interest.
Copyright information
© Springer Science+Business Media, LLC, part of Springer Nature 2018