Magnetite-silica nanoparticles with core-shell structure: single-step synthesis, characterization and magnetic behavior
Original Paper: Sol-gel and hybrid materials for dielectric, electronic, magnetic and ferroelectric applications
Abstract
In this study, a specific technique was used to quickly, easily, and single step, synthesize core-shell magnetite-silica nanoparticles by controlling the reaction conditions using the proper surfactant. In the first step, the magnetite nanoparticles were prepared by co-precipitation method and silica shell was immediately formed by the sol-gel process. Synthesis was performed at 80 °C with stirring at 12,000 rpm in an alkaline medium. The structural and morphological characteristics of core-shell nanoparticles were examined by XRD, TEM, SEM, and BET analyses. In addition, vibrating sample magnetometer (VSM) was used to evaluate the magnetic characteristics. XRD analysis confirmed the existence of both magnetite and silica phases in the final structure. TEM images showed the presence of nanocomposite particles with core-shell structure of 25 nm diameter. The mean core and shell size were estimated to be about 20 and 2.5 nm, respectively. A study of the magnetic characteristics showed super-paramagnetic behavior with 60 emu/g saturation magnetization (M
s
). Due to the high ratio of core size to shell thickness, the magnetic saturation for the synthetized core-shell nanoparticles in this research was significant. In comparison to other multi-step synthesis techniques, the results obtained from this research confirmed the formation of magnetite-silica core-shell structures with the desired magnetic behavior in a quick and single-step process.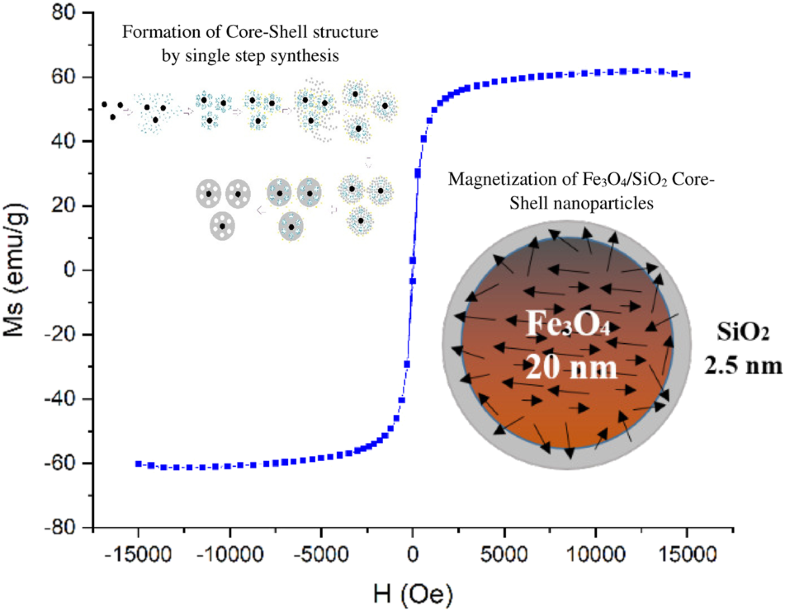 Highlights
Simple, quick, and single step synthesis of magnetite-silica core-shell structure.

Single step preparation of magnetite nanoparticles by co-precipitation and silica shell by the sol-gel process.

High ratio of core size to shell thickness.

S-type hysteresis loop and Super-paramagnetic behavior of synthesized core-shell nanoparticles with high saturation magnetization (Ms).

Porous silica shell with significant surface area, pore size and internal volume of pores.
Keywords
Single-step synthesis 
core-shell structure 
magnetite-silica 
magnetic characteristics 
co-precipitation 
sol-gel. 
Notes
Compliance with ethical standards
Conflict of interest
The authors declare that they have no conflict of interest.
Copyright information
© Springer Science+Business Media, LLC, part of Springer Nature 2018