Impact of the synthesis parameters on the microstructure of nano-structured LTO prepared by glycothermal routes and 7Li NMR structural investigations
Abstract
The efficient materials for Li-ion battery electrodes require suitable composition, high-crystallinity and appropriate structuration. The last one is important to assure an efficient exchange of Li ions between the anode and electrolyte, thus enhancing the kinetics of electrochemical reactions. Therefore, the synthesis of well-crystallized nano-sized electrode materials exhibiting high surface area is of great interest. Herein, we explore the influence of the glycothermal synthesis variations on the structure and porosity of Li4Ti5O12. The utilized precursors and their concentration have a minor influence on crystallites size, but they could be used to control the porosity of assembled particles. The prepared Li-ion battery anode could be charged at low and high rate reaching the theoretical capacity of Li4Ti5O12. The material retains its peculiar porous structuration even after 1000 cycles at charging/discharging rate of 50C which contributes to the lack of capacity fading. Additionally, 7Li NMR is performed on one of synthesized nano-structured Li4Ti5O12 and compared with commercially available nanosized Li4Ti5O12 to understand the excellent electrochemical performance.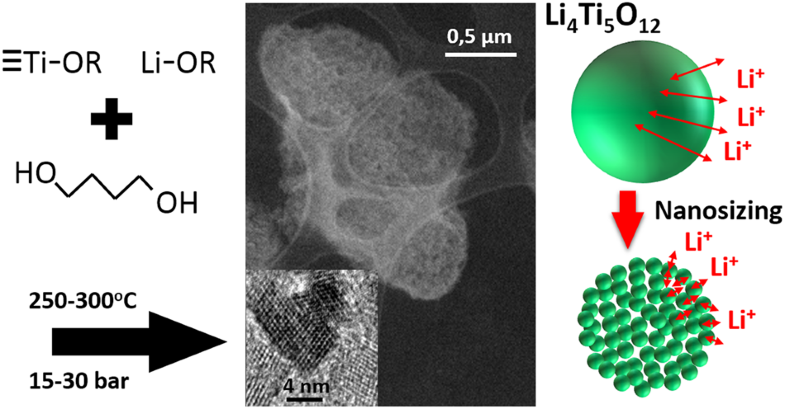 Highlights
Pure nanostructure Li4Ti5O12 was synthesized in varying glycothermal conditions using 1,4-butanediol as the solvent.

Simple adjustment of precursors and their concentration tuned the microstructure of the material without affecting the size of crystallites which oscillated around 4 nm.

Nano-scaling and proper microstructuration is an effective way to improve kinetics of electrochemical reactions due to the efficient exchange of Li ions between electrodes and electrolytes.

7Li NMR was performed on synthesized material and commercial one in order to understand the peculiar electrochemical properties of the material.
Keywords
Li-ion batteries 
Lithium titanate 
Nanoparticles 
Glycothermal synthesis 
Polyols 
Notes
Acknowledgements
MO was supported primarily by the French Minister of Research through Ecole Normale Superieure and by the LABEX IMUST funding for PhD project.
Compliance with ethical standards
Conflict of interest
The authors declare that they have no conflict of interest.
Copyright information
© Springer Science+Business Media, LLC, part of Springer Nature 2018