Intragranular carbon nanotubes in alumina-based composites for reinforced ceramics
Abstract
The traditional methods for the synthesis of reinforced alumina-based matrix composites with carbon nanotubes (CNTs) have presented serious difficulties for obtaining well-dispersed and homogeneously distributed CNTs within the matrix. Besides this, the CNTs are typically found in the grain boundaries of the matrix. These features involve a non-optimal reinforcement role of the CNTs. With the aim of maximizing the efficiency of the reinforcement of the CNT, this work reconsiders a sol-gel-based procedure for ceramic composite fabrication with a two fold objective: to achieve a good dispersion of the CNTs and to promote the intragranular location of the CNTs. The mixing of precursors and CNTs has been developed under the presence of high-power ultrasounds, followed by a rapid in-situ gelation that "froze" the nanotubes inside the gel. The chemical and physical relationships between the ceramic matrix and the embedded reinforcing phase have been researched. First results confirm the success of the synthesis procedure for the preparation of alumina-based composite powders starting from a commercial boehmite sol and multiwalled carbon nanotubes. X-ray diffraction and Raman analyses confirmed the formation of the α-Al2O3 and the persistence of the non-damaged nanotube structure. N2 physisorption and electron microscopy were used to check the evolution of the nanostructure and to confirm the presence of intragranular carbon nanotube within the polycrystalline powder. Therefore, the alumina-based composite powder prepared by this new procedure is a good candidate for the preparation of reinforced ceramic matrix composites.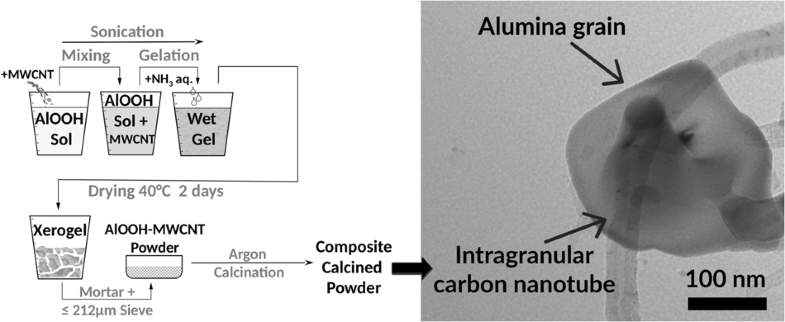 Highlights
Boehmite sol was considered for α-Al2O3-based MWCNT composite powders.

The average radii of the synthesized alumina grains are ~200 nm.

The structure of the MWCNT is preserved throughout the synthesis process.

A good and homogeneous dispersion of the MWCNT is achieved.

The intragranular MWCNT can be found inside the alumina grains.
Keywords
Boehmite 
MWCNT 
α-Al2O3 
Ceramic matrix composite 
Intragranular reinforcement 
Notes
Acknowledgements
Project P12-FQM-1079 and funding support to FQM163 from Junta de Andalucia are acknowledged. V- M.-F. thanks the grant from V Plan Propio de Investigación de la Universidad de Sevilla. Fco. Luis Cumbrera and R. Cano-Crespo are also acknowledged for their help on XRD diffraction patterns and sample preparation. The help from the technical staff from the CITIUS is acknowledged. The authors would like to thank the work by the National Institutes of Health, USA for the development of the ImageJ (https://imagej.nih.gov/ij/) software. Comercial Química Massó is also acknowledged for supplying the boehmite precursor Nyacol®.
Compliance with ethical standards
Conflict of interest
The authors declare that they have no conflict of interest.
Copyright information
© Springer Science+Business Media, LLC, part of Springer Nature 2018