Improvement of structural and optical properties of ZnAl2O4:Cr3+ ceramics with surface modification by using various concentrations of zinc acetate
Original Paper: Nano-structured materials (particles, fibers, colloids, composites, etc.)
Abstract
The influence of surface modification with various concentrations of zinc acetate solution on the structural and optical properties of ZnAl2O4:Cr3+ particles was studied. The X-ray diffraction peaks assigned to the spinel structure of ZnAl2O4:Cr3+ powders revealed a tiny shift towards the lower angle, and ZnO phase was detected when ZnAl2O4:Cr3+ crystals surface was modified. The results of X-ray photoelectron spectra confirmed that the antisite defects related to tetrahedral Al existed in the surface lattices of zinc aluminate crystals. The signal intensity of XPS assigned to tetrahedral Al decreased after surface modification, while that of XPS assigned to octahedral Zn increased. The results of transmission electron microscope showed that the surface lattices of ZnAl2O4:Cr3+ particles became more ordered after surface modification, and zinc oxide nanocrystals were observed as a coating layer or dispersed particles surrounding ZnAl2O4:Cr3+ particles when the concentration of Zn(AC)2 solution increased up to 1.5 mol/L. The red emission assigned to Cr3+ ions in spinel lattices was detected at room temperature, and the emission intensity was enhanced when ZnAl2O4:Cr3+ crystals was modified. While the emission intensity was reduced when the concentration of Zn(AC)2 solution increased up to 1.5 mol/L.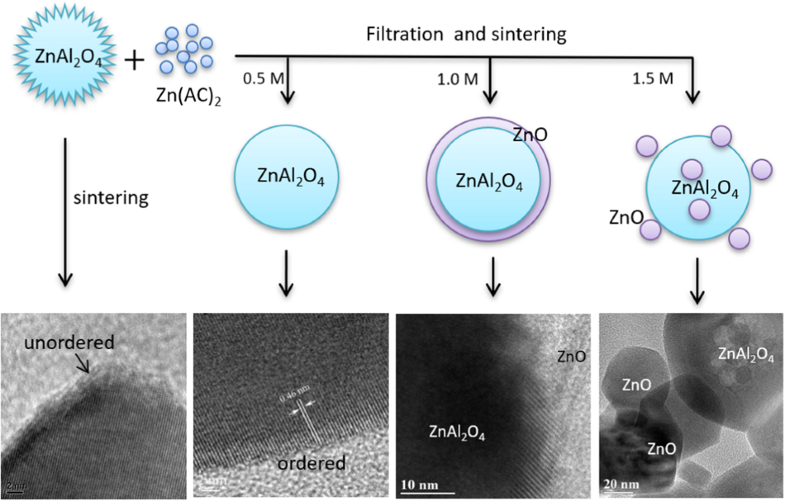 Highlights
The crystallinity of ZnAl2O4:Cr3+ crystals is improved by using surface modification.

The defects transform from AlZn to ZnAl after surface modification.

The PL intensity is 2.5 times than that of crystals without surface modification
Keywords
Ceramics 
Zinc aluminate 
Surface defects 
Photoluminescence 
Notes
Acknowledgements
This work was supported by Initial Foundation for Doctor Project of Liaocheng University (No. 318051410), the Project of Science and Technology Plan for University of Shandong Province (No. J16LJ05), the National Natural Science Foundation of China (No. 61574071, No.61775089, No. 11604132, No. 11604133), Industrial Alliance Fund of Shandong Provincial Key Laboratory (Grant No.SDKL2016038) and 'Taishan scholars' construction special fund of Shandong Province.
Compliance with ethical standards
Conflict of interest
The authors declare that they have no conflict of interest.
Copyright information
© Springer Science+Business Media, LLC, part of Springer Nature 2018