Metal-organic framework thin films from copper hydroxide nano-assemblies
Original Paper: Functional coatings, thin films and membranes (including deposition techniques)
Abstract
Potential applications of thin films of metal-organic frameworks (MOFs) cover widespread areas, including advanced optics, electronics, and magnetics. Controlling location and orientation of MOF crystals on a device-scale (over the centimeter scale) substrate is crucial to achieve these applications. Metal hydroxides are advantageous precursors for the MOF synthesis because of their high reactivity with organic linkers, allowing the crystallization of MOFs under mild conditions in a harmless solvent at a room temperature. In addition, the reaction scheme using metal hydroxides as precursors allows to fabricate MOF crystals on polymer, metal and ceramics substrates, where in some cases, substrates with deformability or 3D microstructures can be employed. In this perspective, our recent advances on the fabrication of MOF thin films grown on assemblies of metal hydroxide nanocrystals are reviewed. The present approach enables us to control both position and orientation of MOF crystals on a substrate. The aligned MOF films exhibit anisotropic properties by accommodating functional molecules in their micropores. The materials demonstrated here are considered as good candidates for solid catalysts, bio-sensors, anisotropic electrical/optical devices, and others.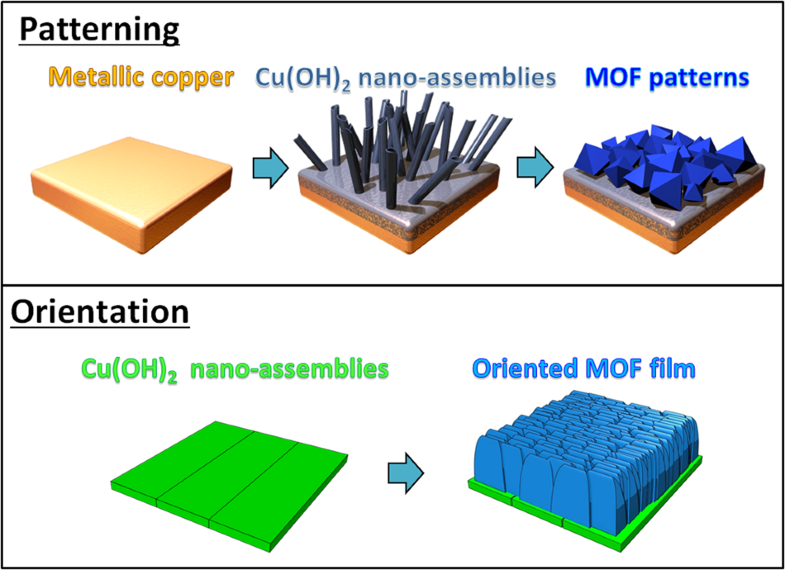 Highlights
Our advances on the MOF thin films with a controlled location and an orientation are reviewed.

Cu(OH)2 nano-assemblies are effective precursor for the MOF patterns and oriented MOF thin films.

Precise MOF patterns can be achieved by the conversion of patterned Cu(OH)2 nanotube assemblies.

A perfectly oriented MOF thin film can be synthesized from oriented Cu(OH)2 nanobelt assemblies.
Keywords
Porous thin films 
Metal-organic frameworks 
Copper hydroxides 
Patterning 
Pore alignment 
Notes
Compliance with ethical standards
Conflict of interest
The authors declare that they have no conflict of interest.
Copyright information
© Springer Science+Business Media, LLC, part of Springer Nature 2018