Structural characterization of bioactive glasses by solid state NMR
Abstract
Nuclear magnetic resonance (NMR) spectroscopy offers an element-selective, inherently quantitative and experimentally very flexible approach for the structural elucidation of non-crystalline materials. The present review introduces the basic concepts of this technique, highlighting the use of advanced NMR methodology for characterizing short- and intermediate range order in bioactive glass systems. The current state of the literature in this field is summarized in a comprehensive manner. NMR can give clear-cut and quantitative answers about the extent of network polymerization, the spatial distribution of the network former and network modifier species, and the structural roles of Group III elements introduced into these networks. These results facilitate our understanding of the influence of bioglass compositions upon the dissolution kinetics and bioactivities of these glasses. A particular mission of this review is to highlight the utility of non-routine, more advanced experimentation, in the hope of their increased usage and circulation in future applications.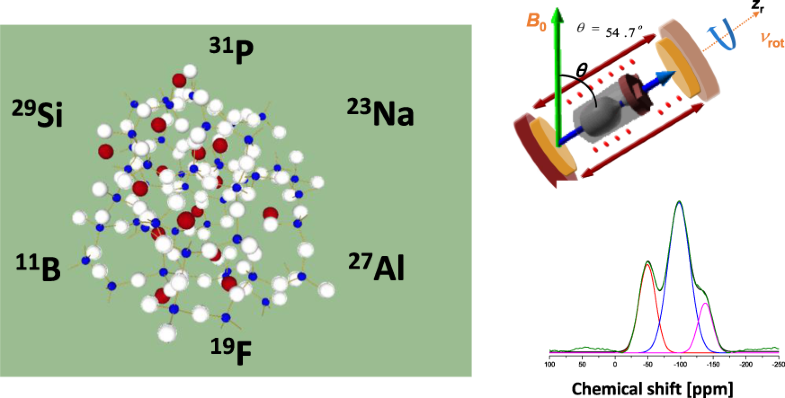 Highlights
This is the first comprehensive review on NMR of bioglasses.

The focus lies on advanced solid state NMR experimentation with the goal of establishing structure-property correlations.
Keywords
Bioactive glass 
Nuclear magnetic resonance 
Structure-property correlation 
Advanced NMR methods 
Notes
Acknowledgements
I wish to thank the past and present members of my research group at the WWU Münster and at IFSC, University of São Paulo for their contributions to work reviewed in this article. Special thanks go to Professor Dr. Jinjun Ren (now at the Shanghai Institute of Optics and Fine Mechanics), Mr. Henrik Bradtmüller, Dr. Bianca Cerrutti, Dr. Carsten Doerenkamp, Dr. Cornelia Schröder, Dr. Tobias Uesbeck, for their experimental work being reviewed here, made during the course of PhD and postdoctoral work during the time period 2010–2016. I further wish to thank Professors Dr. Dominik Eder (formerly WWU Münster, now TU Wien) and Dr. Edgar Zanotto (Federal University of Brasil in Sao Carlos) and their coworkers for fruitful collaborations. Further support by the Brazilian funding agencies São Paulo Research Foundation FAPESP (CEPID Project 2013/07793-6, grant 2013/23490-3) and CNPq (Universal Project 477053/2012-2) is most gratefully acknowledged.
Compliance with ethical standards
Conflict of interest
The author declares that he had no conflict of interest.
Copyright information
© Springer Science+Business Media, LLC, part of Springer Nature 2018