Multiwave rheology and dynamic light scattering characterizations for a two-step sol-gel transition of tetraethoxysilane hydrolysis and condensation
Original Paper: Sol-gel, hybrids and solution chemistries
Abstract
In this article, we studied the multiwave rheology properties of a two-step tetraethoxysilane (TEOS) hydrolysis, as well as condensation processes and optimized particle synthesis conditions by focusing on the colloidal particle aggregation and growth behavior. Combining with the dynamic light scattering (DLS) technique, we systematically investigated the gelation process, network structure, overall apparent activation energy, DLS size growth trend and complex viscosity. Our results revealed that the overall apparent activation energy of the two-step-catalyzed process was lower than that of the single step and the gelation time was decreased with an increase in water-TEOS molar ratio. During our studies, we successfully simplified the rheological measurement for the two-step process by setting the base addition moment as the zero time. This method can also be applied for structure and density tuning, providing a new path to successfully synthesize customized materials in a sol-gel process.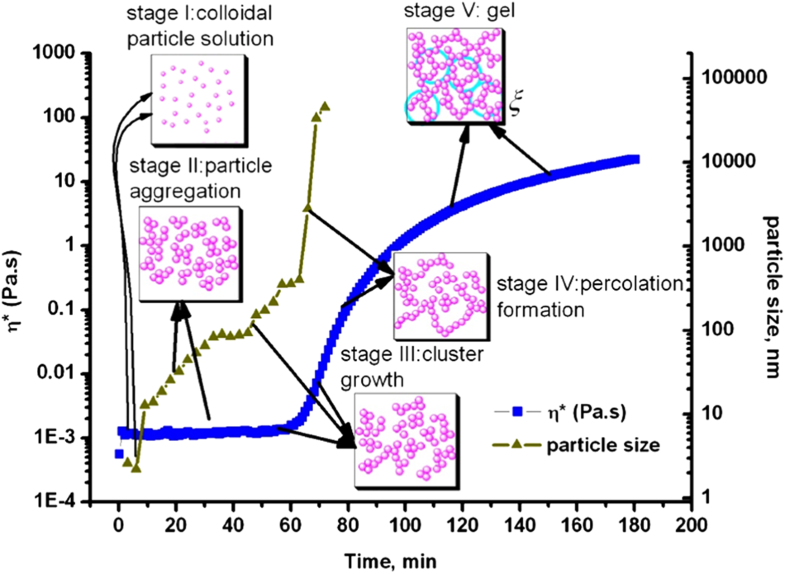 Highlights
Investigate the gelation time and the gel structure of a two-step sol-gel process by combining MWDT with DLS method.

The rheological measurement for the two-step process was simplified by setting the base addition moment as the zero time.

The synthetic strategy can be applied to other sol-gel systems for structure and density tuning.
Keywords
Rheology 
Sol-gel transition 
Dynamic light scattering 
Gel point 
Viscosity 
Notes
Acknowledgements
This work was supported by the joint fund of the National Natural Science Foundation Committee of China Academy of Engineering Physics (NSAF) (U1630108) and the National Key Research and Development Program of China (2017YFA0402902). This work was partially carried out at the USTC Center for Micro and Nanoscale Research and Fabrication. We also thank Hongbo Ren for the contribution to the work.
Compliance with ethical standards
Conflict of interest
The authors declare that they have no conflict of interest.
Copyright information
© Springer Science+Business Media, LLC, part of Springer Nature 2018