Facile synthesis of core-shell ZnO/Cu2O heterojunction with enhanced visible light-driven photocatalytic performance
Original Paper: Nano-structured materials (particles, fibers, colloids, composites, etc.)
Abstract
As p–n heterojunction photocatalysts usually possess dramatically improved photocatalytic activity than single photocatalysts, a novel ZnO/Cu2O heterojunction was designed by a facile self-templating method in this study. The crystal structure, chemical composition, surface morphology, and optical property of ZnO/Cu2O heterojunction were investigated to clarify the structure-property correlation. Scanning electron microscope and transmission electron microscope images proved the uniform core-shell submicrospheres of ZnO/Cu2O, in which a three-dimensional flower-like ZnO core was coated by a shell comprised of Cu2O nanoparticles. The photoresponse result showed that the band gap of the ZnO/Cu2O core-shell submicrospheres became narrow, and the absorption edge shifted from the ultraviolet region (380 nm) to the visible region (500 nm) compared with the pure ZnO microflowers. For the degradation of Rhodamine B under visible light, the photocatalytic efficiency of ZnO/Cu2O submicrospheres reached 96% within 40 min of reaction time, which was 3.8 times higher than that of pure ZnO microflowers and up to 4.5 times than that for pure Cu2O nanoparticles. The remarkable visible light-driven photocatalytic performance is mainly attributed to the extended photoresponse range and effective separation of the photo-generated electron-hole pairs in the unique heterojunction.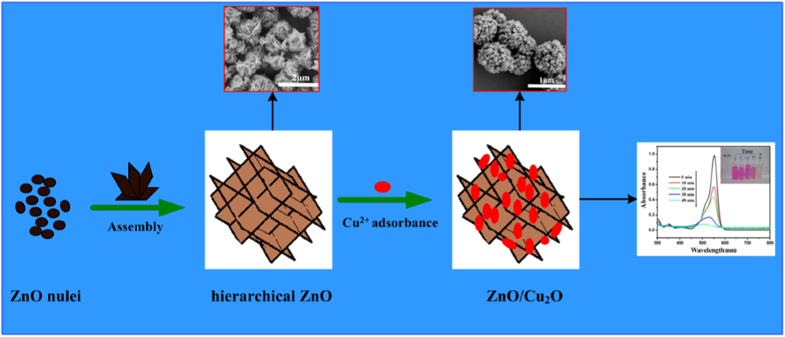 Highlights
A novel core-shell ZnO/Cu2O heterojunction was synthesized by a facile self-templating method.

Core-shell ZnO/Cu2O submicrospheres were comprised of three-dimensional flowerlike ZnO core coated by a shell of Cu2O nanoparticles.

The band gap of ZnO/Cu2O submicrospheres became narrow and the absorption edge shifted to the visible region.

ZnO/Cu2O submicrospheres exhibited better visible light-driven photocatalytic performance than pure ZnO or Cu2O.
Keywords
Heterojunction 
ZnO/Cu2O 
Visible light 
Submicrospheres 
Photocatalytic activity 
Core-shell 
Notes
Acknowledgements
This work was financially supported by the National Natural Science Foundation of China (No. 51772003, 51472003, 51702003, 51701001), Provincial Natural Science Foundation of Anhui Higher Education Institution of China (No. KJ2017A002).
Compliance with ethical standards
Conflict of interest
The authors declare that they have no conflict of interest.
Copyright information
© Springer Science+Business Media, LLC, part of Springer Nature 2018