Electrochemical characterization of sol–gel coatings for corrosion protection of metal substrates
Invited review: Characterization methods of sol-gel and hybrid materials
Abstract
Inorganic and hybrid organic–inorganic sol–gel coatings are one of the most interesting alternatives for the corrosion protection of metallic substrates based on the design possibilities offered by this processing method. These include the ability to combine the barrier function between the metal and the surrounding environment, and the self-healing effect by the incorporation of corrosion inhibitors into the coating itself. Electrochemical characterization is essential for the study of the corrosion process, and the techniques used are based on the movement of electric charges that takes place during the corrosion process. Some of these techniques perform measurements on a relatively large area of the coated metal, obtaining average results of the corrosion characteristics. The main techniques belonging to this group are electrochemical impedance spectroscopy (EIS) and potentiodynamic polarization (PP). However, they do not provide details on the location of anodes, cathodes or defects. Other local electrochemical techniques are used to provide this type of information, necessary in many cases to determine the exact mechanism of protection offered by the coatings: scanning vibrating electrode technique (SVET), scanning ion-selective electrode technique (SIET), scanning Kelvin probe technique (SKP) and localized electrochemical impedance spectroscopy (LEIS). In this paper, a brief review of the particularities of these techniques in their application to sol–gel coatings on metals is included. The main part of the paper is focused on the analysis of some of the most representative examples of the application of these electrochemical techniques, trying to analyze different metal alloys.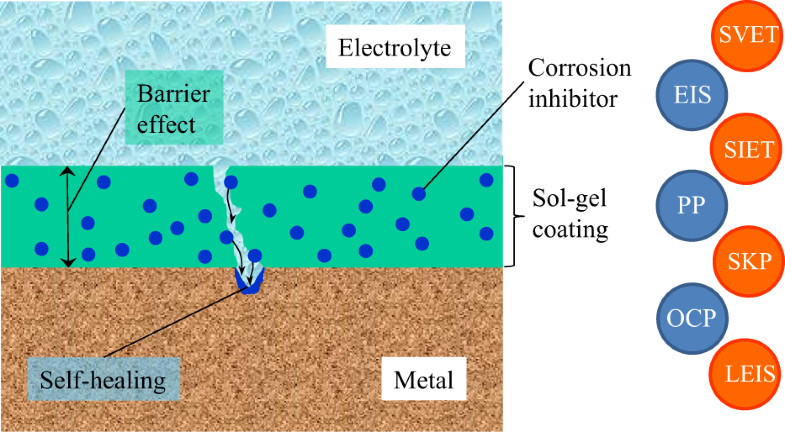 Highlights
Corrosion protection using sol–gel coatings has been enhanced based on the design improvement.

Combination of electrochemical techniques for a precise evaluation of the protection mechanism.

SKP and OCP measurements are very promising electrochemical techniques for the corrosion analysis.

Influence of corrosion products on electrochemical results should be analyzed in a greater detail.
Keywords
Sol–gel 
Coatings 
Corrosion protection 
Electrochemical techniques 
Barrier 
Self-healing 
Notes
Acknowledgements
The authors would like to acknowledge the financial support from Ministerio de Economía y Competitividad, Spain (PCIN-2013-030).
Compliance with ethical standards
Conflict of interest
The authors declare that they have no conflict of interest.
Copyright information
© Springer Science+Business Media, LLC, part of Springer Nature 2018