Sol-gel synthesis of cerium dioxide nanoparticles coated with stimuli-responsive components and the application for conversion of
d-

(−)-fructose into platform molecules
Original Paper: Nano-structured materials (particles, fibers, colloids, composites, etc.)
Abstract
A series of nanosized cerium dioxide particles coated with Pluronic P123, poly(vinyl alcohol) (PVA) or titanium oxide are prepared through a sol-gel process. Characterizations reveal sizes of cerium dioxide particles are maintained below 15 nm along with good crystallinity, and their crystal forms could be modulated by calcination. Furthermore, the organic components such as Pluronic P123 and PVA could be incorporated during sol-gel and affect sample porosity, while loading of titanium into cerium dioxide improves acid amount of sol-gel product. Catalysis reveals both PVA and titanium components show obvious and significant thermo- and pH-responsive properties for conversion of d-(−)-fructose into 5-(hydroxymethyl)-furfural, which mean a lot to the future large-scale production of biomass-derived fine chemicals. This work would not only contribute to the development of stimuli-responsive materials, but also show their promising application for conversion of biomass to platform molecules.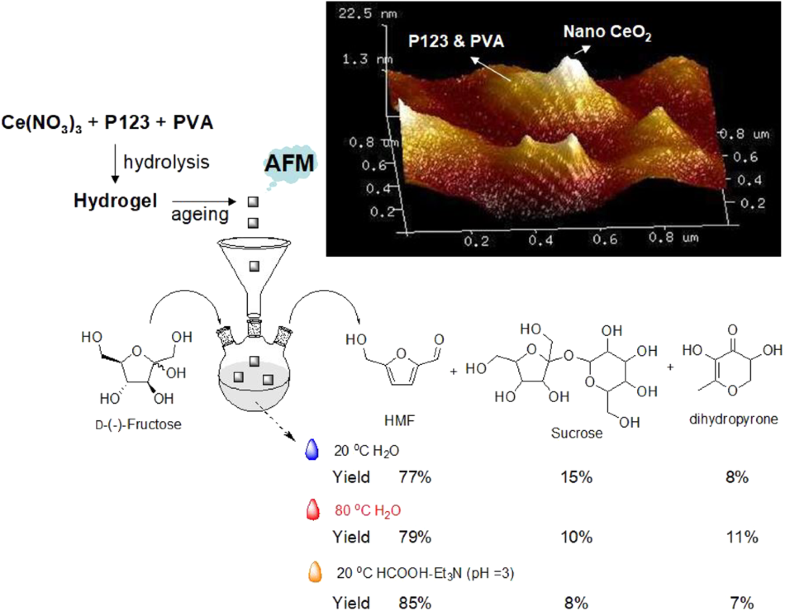 Highlights
The cerium dioxide nanoparticles that coated with Pluronic P123 and poly(vinyl alcohol), or titanium dioxide are prepared through sol-gel.

The coated components such as poly(vinyl alcohol) and titanium dioxide show significant thermo- and pH-responsive properties during catalytic conversion of d-(-)-fructose into platform molecules.

High yields of platform molecules could be obtained in water at 20 °C, and synthetic catalysts show satisfactory recycling behaviors.
Keywords
Cerium dioxide nanoparticle 
Stimuli-responsive component 
d

-(-)-Fructose 
Fine chemical 
Notes
Acknowledgements
This study is supported by the Fundamental Research Funds for the Central Universities (xjj2014005). This work is also supported by Undergraduate Teaching Reform Research Project (No. 1620Y) and Basic Course Teaching Reform Project (No. 1602Z-04) of Xi'an Jiaotong University.
Compliance with ethical standards
Conflict of interest
The authors declare that they have no conflict of interest.
Copyright information
© Springer Science+Business Media, LLC, part of Springer Nature 2018