Influence of pore size and surface area of mesoporous silica materilas (MCM-41 and KIT-6) on the drug loading and release
Original Paper: Sol-gel and hybrid materials for biological and health (medical) applications
Abstract
Mesoporous silica KIT-6 and MCM-41 with different pore sizes has been prepared through the sol–gel and hydrothermal method, respectively. The synthesized mesoporous materials were modified by a chemical modification using 3-aminopropyl triethoxysilane (APTES) to obtain KIT-6-NH2 and MCM-41-NH2 as drug delivery carriers. The mesostructure properties was fully characterized by scanning electron microscope (SEM), N2 sorption isotherm, Fourier transform infrared (FT-IR), X-ray diffraction (XRD). Loading of resveratrol (RSV) drug as a model into synthesized mesoporous carriers and amine functionalized forms were studied using thermogravimetric analysis (TGA) and UV–visible spectroscopy (UV–Vis). The loading uptake and release behavior of RSV was highly dependent on the textural properties (such as pore size and surface area) of mesoporous silica and modified carriers. The release of drugs was carefully studied in different pH. The effect of the synthesized carriers and RSV@mesoporous drug carriers on MCF-7 human breast cancer cell line viability was evaluated. Both carriers alone revealed no toxicity to MCF-7 cancer cells. But, RSV@carriers or RSV@modified carriers indicated an inhibition of cell livability, when compared to the non-encapsulated drug. RSV@modified mesoporous carriers demonstrated cell viability inhibition better than RSV@mesoporous carriers. The inhibition of cell viability of RSV@modified mesoporous carriers depends on surface area and functionalized groups of carriers more than pore size. First order, Higuchi, HixsoneCrowell and KorsmeyerePeppas release kinetic models were applied to the experimental data and the release was found to obey a first-order rate kinetic.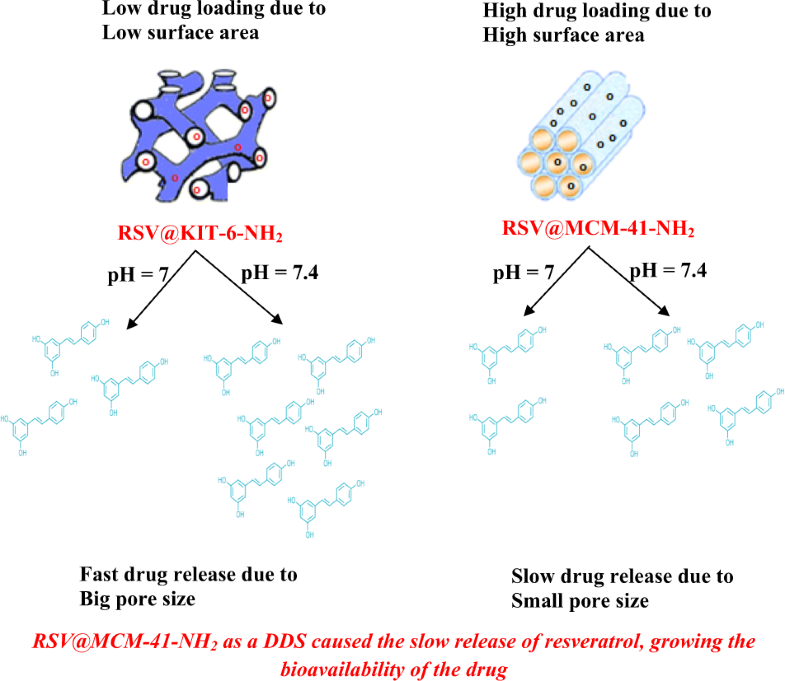 Highlights
The Resveratrol (RSV) is an experimental anticancer drug.

MCM-41 and KIT-6 were used as carriers for encapsulation of RSV drug.

The loading and release of RSV depends on surface area and pore size of carriers.

Amino groups play an important role in increased drug loading and release rate.

The effect of RSV@carriers was evaluated on MCF-7 human breast cancer.
Keywords
Resveratrol 
Controlled release 
Drug carriers 
Breast cancer cell 
KIT-6-NH2 
Notes
Acknowledgements
The authors are thankful to the post-graduate office of Guilan University for the support of this work.
Compliance with ethical standards
Conflict of interest
The authors declare that they have no conflict of interest.
Copyright information
© Springer Science+Business Media, LLC, part of Springer Nature 2018